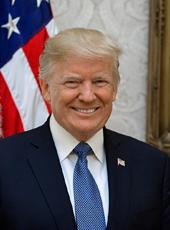 Trump Campaign Press Release - Correct The Record: Fact Checking Biden's CNN Interview?
In a rare national TV interview, Biden peddled falsehoods and outright lies
BIDEN: "Look what [Trump's] tax cut did. The multi-billion dollar, trillion-dollar tax cut that went mainly to the very wealthy and to corporate America."
FACT: Similar claims from Democrats have been debunked; President Trump's tax cuts benefitted Americans at every income level, and are delivering important benefits for American families and workers.
BIDEN: "Why did [Trump] insist that the 44 people we had [in China], while I and others are insisting that they go in and have access to see really what is happening, to know the detail. Why did he not insist on that?"
FACT: The Trump Administration first tried to get American officials into China in early January; Biden didn't call for sending experts into China until February 25, 50 days later
BIDEN: "... what we did in terms of taking a significant portion of the Navy – 60 percent – and getting it into Asia to make sure [China] could not control those sea lanes, which they were doing. What has Trump done? He's done nothing about it."
FACT: Unlike Biden, who has failed to stand up to China, President Trump has taken a strong stance against Chinese aggression in the South China Sea
BIDEN: "Remember, [Trump] didn't – he wasn't the one that pushed [USMCA]. The House amended the bill."
FACT: This is President Trump's USMCA, not Nancy Pelosi's.
BIDEN: "And he calls them losers? He calls them suckers?"
FACT:At least 14 officials who were on the trip to France with President Trump have gone on the record to refute the anonymous sources and allegations in The Atlantic article:
Additionally, The Atlantic's reporting has been refuted by a White House email and Navy documents that directly show a "bad weather call" was the reason for the canceled presidential trip to Aisne-Marne cemetery in 2018.
BIDEN: "[Trump] won't put on a mask. He's talking about, it's ridiculous to put on masks."
FACT: President Trump has strongly advocated that Americans wear masks, and he has worn one himself many times.
BIDEN: "We had firm, firm constraints on what [North Korea] could buy and what they could sell in their economies. He's blown it."
FACT: President Trump has not lifted sanctions on North Korea
Donald J. Trump, Trump Campaign Press Release - Correct The Record: Fact Checking Biden's CNN Interview? Online by Gerhard Peters and John T. Woolley, The American Presidency Project https://www.presidency.ucsb.edu/node/345560