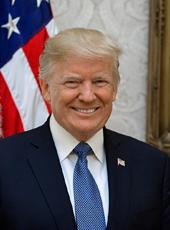 Trump Campaign Press Release - Correct The Record: Fact Checking Biden In Michigan
Another day, another set of false and misleading claims from Biden
BIDEN: "Military COVID infected: 118,984. Military COVID deaths: 6,114."
FACT: Biden grossly inflated the number of military service members who have died from coronavirus by 87,200%.
According to the Pentagon's coronavirus statistics, seven U.S. service members have died from COVID-19, not over 6,000.


This is not the first time Biden has grossly exaggerated the number of deaths, after he stated in June that "120 million" Americans had died from coronavirus.


Biden also grossly exaggerated the number of coronavirus cases in the military, which are roughly one-third of what he claimed.
BIDEN: "The rate of offshoring by federal contractors — big companies being paid with U.S. taxpayer money — more than doubled under President Trump."
FACT: Biden's claim is cherry picked from a limited data set and ignores the bigger picture; fewer jobs are being shipped overseas under President Trump and more jobs are being returned – a positive trend.
The Washington Post gave a similar claim about the same report Biden is citing "two Pinocchios" last year.

The number of jobs being off-shored has decreased under President Trump.


According to Labor Department data, the average number of jobs being certified for Trade Adjustment Assistance (TAA) – aid for workers whose jobs have been moved overseas – each year is down 30 percent under the Trump Administration compared to when Biden was Vice President.


Meanwhile, the number of jobs being re-shored has increased under President Trump.

President Trump has taken several actions recently to crack down on offshoring.

BIDEN: "I pay for everything that I call for, everything without raising a penny on a tax on anybody making less than $400,000 a year."
FACT: Biden's $4 trillion tax hike will raise taxes on 82 percent of Americans, including those making under $400,000, but even this historically large tax hike fails to cover the costs of his far-left policies.
Biden's $4 trillion tax hike is the largest proposed tax hike in recent history.

Five independent analyses have concluded that Biden would reduce after-tax incomes for those making $400,000.

Meanwhile, Biden has not paid "for everything" that he's proposed.


Biden's $4 trillion tax hikes would not cover spending that by his campaign's own estimates would cost close to $6 trillion.

Other independent experts have pegged the cost of Biden's plans at $7 trillion, $8 trillion, or even $11 trillion.
BIDEN: "Would you really expect anything different from this guy? From someone who called those of you and those who are serving in uniform who have given their lives to the country losers and suckers."
FACT: At least 14 officials who were on the trip to France with President Trump have gone on the record to refute the anonymous sources and allegations in The Atlantic article:
Additionally, The Atlantic's reporting has been refuted by a White House email and Navy documents that directly show a "bad weather call" was the reason for the canceled presidential trip to Aisne-Marne cemetery in 2018.
BIDEN: "He has a proposal that sounds really good, to do away with the payroll tax for the employee that's going to put more money in your salary, but guess what, by the year 2023, the Social Security Actuary said Social Security would be busted."
FACT: President Trump's payroll tax deferral does not defund social security, and this attack by Biden and his allies has been debunked.
Donald J. Trump, Trump Campaign Press Release - Correct The Record: Fact Checking Biden In Michigan Online by Gerhard Peters and John T. Woolley, The American Presidency Project https://www.presidency.ucsb.edu/node/345529