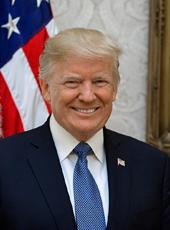 Trump Campaign Press Release - Correct The Record: Fact Checking Biden On Labor Day
This afternoon, Biden spread falsehoods and disinformation as he traveled to Pennsylvania
BIDEN: "[Trump] keeps saying he wants a, a uh ... you know, an infrastructure plan. He said he wanted one in, you know, in 2016, '17, '18, '19, now. He hasn't introduced a thing."
FACT: President Trump released an infrastructure plan more than two years ago, and has repeatedly called on Congress to invest trillions in our infrastructure and included proposals in his budget to do just that.
In February 2018, President Trump unveiled a plan to spur $1.5 trillion in new infrastructure spending.
The President included his infrastructure plan in both his FY 2019 and his FY 2020 budgets.

While President Trump is ready, willing, and able to act; Congress has failed to heed this call.

In his budget this year, President Trump again called for rebuilding our infrastructure, proposing $1 trillion in direct federal investment to rebuild and modernize American infrastructure.
In March 2020, President Trump continued to push for infrastructure funding, calling for a $2 trillion infrastructure package as part of the phase four coronavirus response.
BIDEN: "You had thousands of employees making an hourly wage having to sign non-compete agreements. So if you worked at Burger King, you have to sign a noncompete agreement, you would not go across town to McDonalds to try to get 5 more cents in your hourly wage."
FACT: Biden's claim that fast food restaurants have forced workers to sign noncompete agreements – a claim he has made before – is false.
FactCheck.org: "There is no evidence to support this."
PolitiFact previously rated Biden's claim as "false."
McDonald's spokesperson: "Biden was incorrect in claiming that McDonald's hourly workers are or were required to sign noncompete agreements."
BIDEN: "...calling those who have served, risked their lives, even gave their lives to our nation losers and suckers ... "
FACT: At least 13 officials who were with President Trump in France have gone on the record to refute the anonymous sources and allegations in The Atlantic article:
Sarah Sanders, former White House Press Secretary: "The Atlantic story on @realDonaldTrump is total BS. I was actually there and one of the people part of the discussion - this never happened."
Hogan Gidley, former White House Deputy Press Secretary: "These are disgusting, grotesque, reprehensible lies. I was there in Paris and the President never said those things."
Dan Scavino, White House Deputy Chief Of Staff for Communications: "I was with POTUS in France, with Sarah, and have been at his side throughout it all. Complete lies by 'anonymous sources'..."
Jordan Karem, former Personal Aide to President Trump: "This is not even close to being factually accurate. plain and simple, it just never happened."

Karem: "Again, this is 100% false. I was next to @POTUS the whole day! The President was greatly disappointed when told we couldn't fly there. He was incredibly eager to honor our Fallen Heroes."

Johnny DeStefano, former Counselor to the President: "I was on this trip. The Atlantic bit is not true. Period."
John Bolton, former National Security Advisor: "'I didn't hear that,' Mr. Bolton said in an interview. 'I'm not saying he didn't say them later in the day or another time but I was there for that discussion.'"
Stephen Miller, White House Senior Adviser: The accusation is a "despicable lie ... The president deeply wanted to attend the memorial event in question and was deeply displeased by the bad weather call."
Tony Ornato, White House Deputy Chief of Staff and then-Head of the Secret Service's Presidential Protective Detail has said the story is false.
Derek Lyons, Staff Secretary and Counselor to the President:"I was with the President the morning after the scheduled visit. He was extremely disappointed that arrangements could not be made to get him to the site, and that the trip had been cancelled. "
Dan Walsh, former White House Deputy Chief Of Staff: "I can attest to the fact that there was a bad weather call in France, and that the helicopters were unable to safely make the flight."
Zach Fuentes, former White House Deputy Chief of Staff: "I did not hear POTUS call anyone losers when I told him about the weather."
First Lady Melania Trump: "@TheAtlantic story is not true. It has become a very dangerous time when anonymous sources are believed above all else, & no one knows their motivation. This is not journalism - It is activism. And it is a disservice to the people of our great nation."
Jamie McCourt, U.S. Ambassador to France and Monaco: "In my presence, POTUS has NEVER denigrated any member of the U.S. military or anyone in service to our country. And he certainly did not that day, either. Let me add, he was devastated to not be able to go to the cemetery at Belleau Wood. In fact, the next day, he attended and spoke at the ceremony in Suresnes in the pouring rain."
Additionally, The Atlantic's reporting has been refuted by a White House email and Navy documents that directly show a "bad weather call" was the reason for the canceled presidential trip to Aisne-Marne American cemetery in 2018.
BIDEN: "And Trump has a plan to gut Social Security. If his social security plan, he actually puts forward, it actually became law, the Social Security Actuary has said the entire Social Security system will be bankrupt by mid-2023."
FACT: Fact-checkers have ruled there is no such "plan." President Trump's payroll tax deferral does not defund social security, and this attack by Biden and his allies has been debunked.
The Washington Post's Fact Checker gave this attack by the Biden campaign "Four Pinnochios", saying "there are no planned cuts" to Social Security.
President Trump has said he wants to make the payroll deferral permanent next year, making this deferral a cut "without in any way, shape, or form hurting Social Security."

The President has said he would use the Treasury Department's general fund to reimburse Social Security's trust fund, ensuring zero impact on our nation's seniors.

Biden's attack is not only false, it is hypocritical.

In 2011, Biden wrote an op-ed touting a bill Obama signed to cut the payroll tax, specifically saying it was "misinformation" to suggest a payroll tax cut hurt Social Security's solvency.

President Trump has promised to always protect Social Security, unlike Biden who bragged in the 1990s about his efforts to 'freeze' benefits."
BIDEN: "I'll keep workers safe, use the full Defense Protection [sic] Act to get every worker, jobsite, school in our country the PPE and testing they need. I argued, I was one of the first ones to argue that he invoke the Act. He took so long..."
FACT: Fact checkers have pointed out that Biden was not "one of the first" to argue for using the Defense Production Act; in fact, Biden did not call for using the DPA until after President Trump had already invoked it.
The Washington Post Fact Checker: "The earliest we can find that Biden called for invoking the DPA was March 18, in a news release... Biden's statement came just minutes after Trump first said he would invoke the DPA."
PolitiFact: "Biden was far from the first official to call for use of the Defense Production Act... A full 18 days before Biden made his first public comment on the act, Trump's Health and Human Services secretary had publicly floated the idea, and Trump made it official the same day Biden made his remarks... We rate the statement False."
Associated Press: "[Biden's] call came the same day Trump signed an order to use his authority under the act."
BIDEN: "I get asked the question 'if the President announced tomorrow we have a vaccine, would you take it?' Only if it was completely transparent, that other experts in the country could look at it. Only if we knew all of what went into it. Because so far, nothing he has told us has been true."
FACT: Biden is echoing the sentiments of anti-vaxxers who are calling into question the safety of the vaccine; our nation's public health officials have said the vaccine will be safe when approved.
The coronavirus vaccine is currently going through a rigorous approval process and will be safe for the American people once approved.
Both NIAID Director Dr. Anthony Fauci and Surgeon General Jerome Adams have said the vaccine will be safe when it is approved.
Donald J. Trump, Trump Campaign Press Release - Correct The Record: Fact Checking Biden On Labor Day Online by Gerhard Peters and John T. Woolley, The American Presidency Project https://www.presidency.ucsb.edu/node/344040