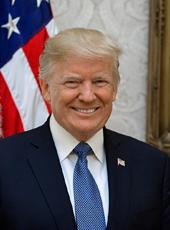 Trump Campaign Press Release - Blue Magazine Names President Donald J. Trump 2020 Man of the Year, Touts His Strong Support for Law Enforcement
Blue Magazine, a publication owned and operated by active and retired law enforcement officers, has named President Donald J. Trump the 2020 Man of the Year for his steadfast support for law and order. While Joe Biden and the radical left have turned their backs on America's heroes in blue by bailing out rioters and threatening to defund the police, President Trump will always support law enforcement officers. As Blue Magazine's article demonstrates, President Trump is the clear choice for all Americans who value peace, prosperity, and security.
"This year it is President Donald Trump being recognized as Man of the Year. In my humble opinion, he has been Man of the Year since his inauguration, because from day one of him sitting in the Oval Office, he has supported law enforcement and first responders like no other president in my lifetime. I have worked for six different presidents starting with Ronald Reagan and I respected every president I ever worked for. However, let me be clear, no president has done more for the men and women that carry that badge and gun than Trump," said Tom Homan, Former Acting Director of the U.S. Immigration and Customs Enforcement.
"America's law enforcement officers have no greater champion than President Trump. While the radical left has cowed the American political establishment into submission, and so-called moderates like Joe Biden have endorsed a far-left anti-police agenda, President Trump will always stand up for law and order. America's law enforcement officers need another four years of President Trump to defend our streets and cities from left-wing agitators and criminals," said Bob Paduchik, Trump 2020 Senior Advisor for Law Enforcement and Labor Unions.
Donald J. Trump, Trump Campaign Press Release - Blue Magazine Names President Donald J. Trump 2020 Man of the Year, Touts His Strong Support for Law Enforcement Online by Gerhard Peters and John T. Woolley, The American Presidency Project https://www.presidency.ucsb.edu/node/345592