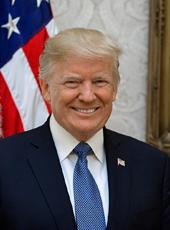 Trump Campaign Press Release - Biden Plays Synonym Games: "Yes! Absolutely!" Defunding, Redirecting, Cutting Police By Any Definition
Biden: "Yes! Absolutely!" would decimate police departments
[APP Note:  As with all "Campaign Documents" archived by the APP, the content of this document was prepared by the presidential campaign. This is not the analysis or work product of the American Presidency Project.  We do not vouch for the accuracy of ANY campaign document published by any presidential campaign. They are provided as part of the historical record.]
President Trump is correct in his assessment that Joe Biden would defund the police. The media is bending over backwards to let Biden get away with playing with synonyms to give him a pass. He has clearly stated that he would "Yes! Absolutely!" redirect funding away from police to other budget areas. This is cutting, or defunding, the police by any definition. Further, the proposed destruction of qualified immunity for police in the Biden-Sanders platform would financially eviscerate local police departments in communities across the United States, effectively bankrupting and destroying them. Joe Biden is an empty vessel, which the extreme left is using to carry their radical agenda. President Trump stands with law enforcement and ensuring safe policing and safe communities.
Statements of opposition to defunding local police departments:
Missouri Governor Mike Parson: "As a former Sheriff, law enforcement officer for over 22 years, and now Governor, when it comes to supporting law enforcement officers and their families who are under attack, I'll always stand with President Trump and have their backs. Republicans and President Trump are working hard to take violent criminals off of our streets and stop these crazy efforts to defund the police. Joe Biden and the Democrats are allowing the radical left to make our communities less safe."
Senator Lindsey Graham (R-SC), Chairman of the Senate Committee on the Judiciary: "Joe Biden won't stand up and stop the 'defund the police' movement being pushed by the most liberal elements in society. As Democrat leadership in cities across the nation allow their communities to burn and violence erupts, President Trump stands at the ready to continue defending our heroes as they preserve and protect our citizens."
Senator Marsha Blackburn (R-TN), Member of the Senate Committee on the Judiciary: "Week after week Joe Biden cowers in his basement lending his silence to the radical left-wing mob as they destroy our streets and viciously attack our law enforcement officers. While Biden has opened the doors of his campaign to a disgusting 'defund the police' narrative, President Trump stands shoulder to shoulder with the men and women in blue."
House Republican Whip Congressman Steve Scalise (LA-1): "Joe Biden has caved to left-wing extremists by vocally advocating for 'redirecting' funds away from police officers, which is synonymous with 'defunding' police. In fact, Joe Biden recently said we 'absolutely' need to redirect police funding, and police departments have 'become the enemy' in our communities. Police are not the enemy. Joe Biden has surrounded himself with radical advisors who are committed to defunding the police, using those exact terms like 'redirecting funds,' and no matter what he says, Joe Biden will fall in line with the radical left's defund-police insanity. Police officers saved my life. I've seen the best of what the men and women in uniform have to offer in America. If Joe Biden were president, our police departments simply wouldn't have the tools they need to protect our communities and keep us safe. President Trump supports the police officers who keep us safe, Joe Biden doesn't. It's that simple."
Congressman Jim Jordan (OH-4), Ranking Member of the House Committee on the Judiciary: "The idea that we should 'defund the police' is pure insanity. The vast, vast majority of law enforcement office are responsible, hardworking, and heroic first responders. Joe Biden and his liberal allies, like AOC, will no doubt give into the left-wing mob's demands and turn their backs against our brave police officers."
Congressman Kelly Armstrong (ND-AL), Member of the House Committee on the Judiciary: "Just when we thought a Biden presidency couldn't be more dangerous, he has appeased the calls from the radical left to defund the police. It is despicable that he has branded the men and women who put their lives on the line to protect our communities as 'the enemy.' Call it 'reimagining,' 'defunding.' or 'disbanding' the Democrats will stop at nothing to pit our heroes in law enforcement against the mob. It's terrifying and at any other time in history it would be considered insane. But not in today's Democratic Party."
Congressman Guy Reschenthaler (PA-14), Member of the House Committee on the Judiciary: "The Joe Biden-Bernie Sanders Socialist Unity Plan will make our nation's communities dramatically more dangerous. Joe Biden's supporters have radical plans for America including defunding police departments, suing police officers out of existence, and releasing violent offenders back on the street without bail. These dangerous, socialist policies threaten the safety and security of law-abiding citizens and their families. As liberal Democrat cities defund police departments and violent mobs attack law enforcement officers and wreck our communities, Joe Biden's silence speaks volumes about what America should expect if he were elected president."
Congressman Pete Stauber (MN-8): "As a 23-year police officer, I am proud to be championing criminal justice reform that provides our police departments with the resources they need to keep our communities safe. Our country can't afford Joe Biden, who currently stands with Democrats demanding to defund and abolish our police departments and allow anarchy, looting, and rioting to rule our city streets."
Congressman David Kustoff (TN-8): "As the former U.S. Attorney for West Tennessee, I had the privilege of working closely alongside our law enforcement. They risk their lives every day to keep our communities and families safe. Former Vice President Biden's support of defunding our nation's police is irresponsible and could jeopardize the safety of our loved ones."
Former Florida Attorney General Pam Bondi: "Joe Biden's plan to redirect funds from the police will harm not only all crime victims but also all Americans who rely on law enforcement to keep us safe. Each day our police perform countless acts of protecting and saving our children that we rarely hear about. Just this week in New Jersey, three officers saved an infant who could not breathe. Under the left-wing agenda, those officers would not have been employed. President Trump stands with the men and women of law enforcement who protect our communities, unlike Joe Biden who has given in to the radical left's demands of the defund the police moment."
Sheriff Bunny Welsh, Former Sheriff of Chester County, Pennsylvania: "Joe Biden and the Democrat Party are on a mission to spread hate and disrespect toward law enforcement officers in an effort to drive their radical agenda of diminishing the police force in our communities. As the Law and Order President, President Trump stands with law enforcement as they risk their lives to protect the American people, and he strongly supports the prosecution of the violent rioters attacking police officers in the streets."
Joe Berg (Ret.) Cape May County Prosecutor's Office: "For the eight years of the Obama/Biden presidency, I saw a steady decline in the respect for police officers and the job we did. Immediately upon President Trump becoming a candidate, he adamantly supported law enforcement officers and the job we did. Sadly, now, Joe Biden is once again playing to those unhappy with the job being done and even promoting the concept of defunding the police. What Biden and the liberal Democrat party are doing is playing a game with our public safety. We cannot allow for our police to be taken off the streets!"
Donald J. Trump, Trump Campaign Press Release - Biden Plays Synonym Games: "Yes! Absolutely!" Defunding, Redirecting, Cutting Police By Any Definition Online by Gerhard Peters and John T. Woolley, The American Presidency Project https://www.presidency.ucsb.edu/node/345774