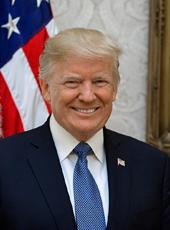 Trump Campaign Press Release - 5 Must-Watch Moments from Real Americans
The final night of the Republican convention highlighted the greatness of America.
Americans tuning in to the final night of the Republican convention didn't see a former lobbyist for Russia, self-described socialists, or people talking about destroying capitalism and defunding the police.
Instead, they saw a party honoring America and heard from real Americans – people who aren't part of the Washington political class and people who are better off today because of President Trump's leadership and accomplishments.
Here are 5 must-watch moments from real Americans at last night's Republican convention:
Alice Johnson was serving life in prison for a nonviolent drug offense under a law authored by Joe Biden. President Trump commuted her sentence in 2018. "I was once told that the only way I would ever be reunited with my family would be as a corpse," Alice said. "But by the grace of God, and the compassion of President Donald John Trump, I stand before you tonight—and I assure you, I'm not a ghost! I am alive, I am well, and most importantly, I am free."
"When President Trump heard about me—about the injustice of my story—he saw me as a person. He had compassion. And he acted," she continued. "Six months after President Trump granted me a second chance, he signed the First Step Act into law. It was real justice reform, and it brought joy, hope, and freedom to thousands of well-deserving people. I hollered, 'Hallelujah!' My faith in justice and mercy was rewarded. Imagine getting to hug your loved ones again. And to think, this first step meant so much to so many. I can't wait because we're just getting started. ... I pray that you will not just hear this message, but that you will be inspired by my story, and your compassion will lead you to take action for those who are forgotten. That's what our President, Donald Trump, did for me. And, for that, I will be forever grateful.
Ann Dorn is the widow of former police captain David Dorn, who was cruelly murdered by violent criminals during the St. Louis riots. "Dave was all about service. He served 38 years in the St. Louis Metropolitan Police Department and six years as Chief of Police at the Moline Acres Police Department," Ann said. "David is never, never coming back to me. He was murdered by people who didn't know, and just didn't care. He would have done anything to help them."
"Violence and destruction are not legitimate forms of protest. They do not safeguard black lives. They only destroy them," she continued. "President Trump understands this, and has offered federal help to restore order in our communities. In a time when police departments are short on resources and manpower, we need that help. We should accept that help. We must heal before we can effect change, but we cannot heal amid devastation and chaos. President Trump knows we need more Davids in our communities, not fewer. We need to come together in peace and remember that every life is precious."
Stacia Brightmon is a single mother of 2 boys who works as a warehouse receiving clerk in Texas. "After serving my country in the Marine Corps, I worked various jobs, but thought I needed a degree in order to have a career," Stacia said. "I put myself into significant debt to earn my bachelor's degree in finance. Despite my degree and all of my efforts, at one point my boys and I even found ourselves homeless. After being laid off yet again, I received an email from the Texas Workforce Commission about S&B's Women in Construction Earn-While-You-Learn apprenticeship program. I thought I'd give it a try... At the start of the program, I was making $16 an hour while I trained to become a pipefitter helper. Looking back, it wasn't easy, but boy was it worth it. I felt empowered that I was learning new skills and able to support my family again. I worked hard, got promoted, and even got a few raises!"
"Later I learned what President Donald Trump and Ivanka Trump were doing behind the scenes to make sure that people like me and you had a chance to rise up and succeed," Stacia continued. "President Trump started the National Council for the American Worker, and the American Workforce Policy Advisory Board. Together with Ivanka, he wrote policies that made it easy for states and companies to give opportunities to hardworking Americans like me."
Pat Lynch is the president of the Police Benevolent Association, which represents 50,000 active and retired police officers. "The Democrats have walked away from us. They have walked away from police officers and they've walked away from the innocent people we protect. Democratic politicians have surrendered our streets and our institutions," Lynch said. "The loudest voices have taken control, and our so-called 'leaders' are scrambling to catch up to them. In city after city, they have slashed police budgets. They have hijacked and dismantled the criminal justice system. They have passed laws that made it impossible for police officers to do our job effectively."
"Here's the sad truth that every cop in this country knows. The violence and chaos we're seeing now isn't a side effect. It isn't an unintended consequence. It's actually the goal. The radical left doesn't really want better policing. They don't really care about making the justice system fairer. What they want is no policing. What they want is a justice system that just stops working altogether. In places where Democrats are in power, the radical left is getting exactly what they want," Lynch continued. "Unlike the Democrats, who are running in fear of the mob in the street, President Trump has never apologized for supporting police officers and standing up for law and order. Unlike the Democrats, who froze in the face of rioting and looting, President Trump matches his words with his actions. He gives law enforcement the support and the tools we need to go out there and put a stop to it – period, end of story... We've been fortunate to have him in office these past four years, and we know that we cannot afford to lose him. When it comes to your safety, your families' safety and the safety of all Americans, there is no other choice. You won't be safe in Joe Biden's America."
Debbie Flood owns a small manufacturing business in Wisconsin and struggled during Joe Biden's time in office. "When we lost nearly 50% of our business to China in the mid-2000s, we wondered how a small company like ours could continue to compete. At the time, Joe Biden was a senator," Flood said. "He voted to normalize trade with China and helped pave the way for them to join the WTO, even though they were hurting American companies like ours."
"Later, we fought our way through the Great Recession. Then Donald Trump was elected, and we breathed a sigh of relief. He actually fought for American workers and American craftsmen. He actually cared about bringing back those three beautiful words, 'Made in America.' We no longer had to succeed despite government," Flood said. "Thanks to President Trump, our business was approved for the Paycheck Protection Program. That allowed us to keep our people working at a time when the future was uncertain. Our President understands that the best solutions unleash the innovation of American entrepreneurs and the creativity of American workers. Joe Biden doesn't know anything about business. Or about creating jobs. He's spent 47 years in government. It is doubtful that he'll finally figure it out in year 48."
Americans who heard these stories were moved:
"I was on the fence but now I'm going towards Trump. I'm definitely gonna go towards Trump," said Susan from Florida.
"He's bringing the morals back. He's bringing God back," said Rosie, a Venezuelan immigrant. "I am very proud to vote for President Trump. I am proud to be pro-life and he being the most pro-life president."
"I'm a longtime Democrat, born and raised," said David from New Mexico. "After watching tonight ... I have made up my mind. I am definitely gonna vote for Donald Trump."
Donald J. Trump, Trump Campaign Press Release - 5 Must-Watch Moments from Real Americans Online by Gerhard Peters and John T. Woolley, The American Presidency Project https://www.presidency.ucsb.edu/node/345616