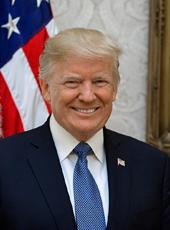 Trump Campaign Press Release - 5 Must-Watch Moments from Real Americans
The third night of the Republican convention packed an impressive punch.
Americans tuning in to the third night of the Republican convention didn't see a former lobbyist for Russia, self-described socialists, or people talking about destroying capitalism and defunding the police.
Instead, they saw a party honoring America and celebrating women's rights and our nation's heroes. They also heard from real Americans – people who aren't part of the Washington political class and people who are better off today because of President Trump's leadership and accomplishments.
Here are 5 must-watch moments from real Americans at last night's Republican convention:
Clarence Henderson isa civil rights hero who participated in the 1960 Greensboro Woolworth lunch counter sit-in. "America isn't perfect. We're always improving. But the great thing about this country is that it's not where you come from, it's where you're going. I was born on what some would call the wrong side of the tracks. I don't even have a birth certificate. I never attended an integrated school and am the only one out of my immediate family who graduated from college – an HBCU. I'm a military veteran and a civil rights activist," Henderson said. "And you know what else? I'm a Republican. And I support Donald Trump."
"Freedom of thought is a powerful thing. There are African-American voters all over the country who the media is trying to convince to conform to the same old Democratic talking points. You know what that'll get you? The same old results. Joe Biden had the audacity to say if you don't vote for him 'you ain't black.' Well to that, I say, if you do vote for Biden, you don't know history! Donald Trump is not a politician. He is a leader. Politicians are a dime-a-dozen; leaders are priceless," Henderson continued. "Donald Trump truly cares about Black lives. His policies show his heart. He has done more for Black Americans in four years than Joe Biden has done in 50!"
Scott Dane is the head of an organization representing loggers and truckers in Minnesota. "Logging is the most dangerous job in the country, but we embrace that risk because we know America was built by strong people building things together," Dane said. "America needs us to keep building and we can't wait to be a part of it. But the last time Joe Biden was in the White House, Minnesota lost nearly half of its mills, thousands of jobs, and experienced nearly a decade of decline... The administration just didn't seem to care."
"In 47 years in Washington, Joe Biden hasn't done anything for the timber industry. When plants closed in Duluth, Sartell, Cook, and Bemidji, they were just numbers on a paper to the Obama-Biden Administration. To me, they were people and jobs and families," Dane continued. "Under President Trump, we've seen a new recognition of the value of forest management in reducing wildfires. And we've seen new support for our way of life, where a strong back and a strong work ethic can build a strong middle class... President Trump, thank you for helping us do just that."
Tera Myers spoke about her son Samuel, who was born with Down Syndrome, and how she fought to make sure he received a good education. "I knew my baby was a human being created by God and that made him worthy of life. I am thankful that President Trump values the life of the unborn," Myers said. "Unlike the doctor who told me to end Samuel's life before it even began, President Trump did not dismiss my son, he showed Samuel he valued him and was proud of what he accomplished. President Trump gave Samuel an equal seat at the table."
"Tonight, I would like to extend my thanks to President Trump and his administration for their work towards making every student's dream of a meaningful education a reality," Myers continued. "And for fighting to ensure every child in America has an equal seat at the table of Education Freedom, and an equal opportunity in life."
Michael "Mick" McHale is a 30-year veteran of law enforcement in Florida and president of the National Association of Police Organizations (NAPO). "Good officers need to know their elected leaders and the department brass have their backs. Unfortunately, chaos results when failed officials in cities like Portland, Minneapolis, Chicago, and New York make the conscious decision not to support law enforcement. Shootings, murders, looting and rioting occur unabated," McHale said. "The violence and bloodshed we are seeing in these and other cities isn't happening by chance; it's the direct result of refusing to allow law enforcement to protect our communities."
"Joe Biden has turned his candidacy over to the far-left, anti-law enforcement radicals. And as a senator, Kamala Harris pushed to further restrict police, cut their training, and make our American communities and streets even more dangerous than they already are," McHale continued. "The differences between Trump-Pence and Biden-Harris are crystal clear. Your choices are the most pro-law enforcement president we've ever had, or the most radical anti-police ticket in history. We invite those who value the safety of their family and loved ones to join the hundreds of thousands of members of the National Association of Police Organizations and support the re-election of President Donald J. Trump."
Sam Vigil spoke about the recent murder of his beloved wife Jackie outside their home. "Every time I open the garage door and stand in the driveway, I hear that horn, I see her slumped in the seat. When I go to bed at night, that sound and image haunt me. That's my life sentence. It's a sentence being served by too many families left behind by senseless killings," Vigil said. "It is a sad irony that Jackie immigrated to the U.S. for a better life than her native Colombia, only to be gunned down in her own driveway. For eight months there were no arrests, no leads in connection with Jackie's murder. The Albuquerque police were overwhelmed, they needed help. Help arrived when President Trump launched Operation Legend in July of this year."
"Almost immediately, the FBI took over Jackie's case," Vigil continued. "In a matter of days, they arrested four people. The fifth suspect killer was arrested in Texas on unrelated charges. He is an illegal immigrant with a long criminal record. He had been deported in September, and had come back in October to terrorize our community. I am extremely grateful to President Trump and the FBI for their efforts to deliver justice for Jackie, and all the other innocent victims of violent crime. I am honored to support the President because he is supporting us. I know he will never stop fighting for justice, for law and order, for peace, and security in our communities."
Americans who heard these stories were moved:
"I think America needs to stay as America. I'm very upset with everything that's going on in this country and I've been a registered Democrat for many years and this is, I'm done, I'm ready, I need a change," said Jennifer, a single mom in New York who voted for Hillary in 2016. "I am so tired of the crime here. I am tired of what's going on here... I think everybody in the United States feels the same way that I feel."
"I've been in the Democratic Party for a long time and see the way that the direction of the country is headed," said Tony in Kentucky. "I want America to stay a place that is free, that is pro-business, that is less regulation, that stands for freedom, that stands for defense of our nation, and I see it going a different way with Joe Biden."
"The Democrats seem to be fighting for corporations and more money for themselves. God bless Donald Trump," said Phillip in Oregon. "I used to be a Democrat, I didn't vote for Donald Trump in 2016 but after they attacked him so brutally, I said, they're not even giving him a chance. And he's fighting for America every day. I've switched completely, I'm now Republican, voting Republican all the way. No more Democrat for me."
"I'm living in the suburbs of Chicago and I'm extremely disturbed at what's going on in the city. I feel like the city is totally lost, along with the state, it's really disappointing," said Timothy, an independent in Illinois. "I really have no idea who even votes for Democrats anymore. I think they're just a huge disappointment."
"As a Democrat my whole life, I have voted for Trump last time around, and I will vote for him again this time," said Rick in Oregon. "It's the violence that the Democrats are allowing to happen in their cities. In Oregon it's just a disaster. President Trump offered to help them out and they refused. I wish that they didn't fight the president so hard on everything he tries to do."
Donald J. Trump, Trump Campaign Press Release - 5 Must-Watch Moments from Real Americans Online by Gerhard Peters and John T. Woolley, The American Presidency Project https://www.presidency.ucsb.edu/node/345602