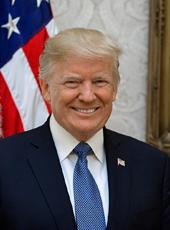 Trump Campaign Press Release - 19 Officials, 13 from Paris Trip, Now on Record Refuting Anonymous Sources in False "The Atlantic" Story
IMPORTANT: A White House email proves that a "bad weather call" was the reason for a canceled presidential trip to Aisne-Marne American cemetery in 2018. Further evidence includes FOIA'd Navy records and even John Bolton's book.
With The President On The Trip
Zach Fuentes, Former Deputy to White House Chief of Staff to Gen. John Kelly: "I did not hear POTUS call anyone losers when I told him about the weather. Honestly, do you think General Kelly would have stood by and let ANYONE call fallen Marines losers?" (Breitbart, 9/7/20)
John Bolton, Former National Security Advisor: "I didn't hear either of those comments or anything even resembling them. I was there at the point in time that morning when it was decided that he would not go Aisne-Marne cemetery. He decided not to do it because of John Kelly's recommendation. It was entirely a weather-related decision, and I thought the proper thing to do." (Fox News, 9/4/2020)
Sarah Huckabee Sanders, Former White House Press Secretary: "The Atlantic story on @realDonaldTrump is total BS. I was actually there and one of the people part of the discussion - this never happened. I have sat in the room when our President called family members after their sons were killed in action and it was heart-wrenching... These were some of the moments I witnessed the President show his heart and demonstrate how much he respects the selfless and courageous men and women of our military. I am disgusted by this false attack." (Twitter, 9/3/20)
Hogan Gidley, Former White House Deputy Press Secretary: "These are disgusting, grotesque, reprehensible lies. I was there in Paris and the President never said those things. In fact, he would never even think such vile thoughts because I know from firsthand knowledge that President Trump absolutely loves, respects, and reveres the brave men and women of the United States military. He always has and always will. These weak, pathetic, cowardly background 'sources' do not have the courage or decency to put their names to these false accusations because they know how completely ludicrous they are. It's sickening that they would hide in the shadows to knowingly try and hurt the morale of our great military simply for an attack on a political opponent." (Twitter, 9/3/20)
Dan Scavino, White House Deputy Chief of Staff for Communications: "I was with POTUS in France, with Sarah, and have been at his side throughout it all. Complete lies by 'anonymous sources' that were 'dropped' just as he begins to campaign (and surge). A disgraceful attempt to smear POTUS, 60 days before the Presidential Election! Disgusting!!" (Twitter, 9/3/20)
Jordan Karem, Former Personal Aide to President Trump: "This is not even close to being factually accurate. Plain and simple, it just never happened."(Twitter, 9/3/20)
Karem: "Again, this is 100% false. I was next to @POTUS the whole day! The President was greatly disappointed when told we couldn't fly there. He was incredibly eager to honor our Fallen Heroes." (Twitter, 9/3/20)
Johnny DeStefano, Former Counselor to the President: "I was on this trip. The Atlantic bit is not true. Period." (Twitter, 9/4/20)
Stephen Miller, White House Senior Advisor: The accusation is a "despicable lie ... The president deeply wanted to attend the memorial event in question and was deeply displeased by the bad weather call." (Washington Examiner, 9/3/20)
Tony Ornato, White House Deputy Chief of Staff and Former Secret Service Special Agent in Charge of the Presidential Protective Division, denied The Atlantic article. (Twitter, 9/3/20)
Derek Lyons, Staff Secretary and Counselor to the President: "I was with the President the morning after the scheduled visit. He was extremely disappointed that arrangements could not be made to get him to the site, and that the trip had been cancelled." (Twitter, 9/4/20)
Dan Walsh, Former White House Deputy Chief of Staff: "I can attest to the fact that there was a bad weather call in France, and that the helicopters were unable to safely make the flight." (Twitter, 9/4/20)
First Lady Melania Trump: "@TheAtlantic story is not true. It has become a very dangerous time when anonymous sources are believed above all else, & no one knows their motivation. This is not journalism - It is activism. And it is a disservice to the people of our great nation." (Twitter, 9/4/20)
U.S. Ambassador to France and Monaco Jamie McCourt: "In my presence, POTUS has NEVER denigrated any member of the U.S. military or anyone in service to our country. And he certainly did not that day, either. Let me add, he was devastated to not be able to go to the cemetery at Belleau Wood. In fact, the next day, he attended and spoke at the ceremony in Suresnes in the pouring rain." (Breitbart, 9/7/20)
Other Administration Officials
Lt. General Keith Kellogg (Ret.), National Security Adviser for Vice President Pence: "The Atlantic story is completely false. Absolutely lacks merit. I've been by the President's side. He has always shown the highest respect to our active duty troops and veterans with utmost respect paid to those who have given the ultimate sacrifice and those wounded in battle." (Twitter, 9/3/20)
Mark Meadows, White House Chief of Staff: "In the time that I've known @realDonaldTrump, both as a member of Congress and most recently serving as his Chief of Staff, I've seen publicly and privately how he treats our men and women in uniform. I've personally accompanied him to Walter Reed and veterans events of all...kinds, where he directly interacts with service members and their families, with and without cameras present. I've seen firsthand the level of respect and admiration he has for those who have stepped up to serve our country. The anonymous allegations... ..contained in the Atlantic story are offensive, false, and utterly devoid of merit. To veterans all over the country reading this nonsense: President Trump loves you, appreciates you, and will ALWAYS be there for you. No false political hit job will EVER change that." (Twitter, 9/3/20)
Alyssa Farah, White House Communications Director: "On that Atlantic piece: It's offensive & patently false. @realDonaldTrump holds the military in the highest regard. He's demonstrated his commitment to the force: delivering a pay raise to our troops, increasing military $$, signing vets reform & supporting military spouses. I've watched @realDonaldTrump solemnly sign letters to the families of fallen heroes. He's honored their memories by doing more than any modern president to get us OUT of endless wars." (Twitter, 9/3/20)
Kayleigh McEnany, Press Secretary for President Trump: "I see President @realDonaldTrump consistently express his heartfelt gratitude and absolute admiration for our brave men and women in uniform. Just yesterday, he was truly humbled to be in the presence of our courageous World War II veterans. This Atlantic story is garbage!" (Twitter, 9/3/20)
Judd Deere, Deputy Press Secretary for President Trump: "Not a soul brave enough to put their name on any of these accusations. That's because they are false. Just another anonymously sourced story meant to tear down a Commander-in-Chief who loves our military and has delivered on the promises he's made. What a disgrace!" (Twitter, 9/3/20)
Mick Mulvaney, Former Acting White House Chief of Staff: "These claims are simply outrageous. I never heard the President disparage our war dead or wounded. In fact, the exact opposite is true. I was with him at the 75th Anniversary of the D-Day invasion in Normandy. As we flew over the beaches by helicopter he was outwardly in awe of the accomplishments of the Allied Forces, and the sacrifices they paid."
Mulvaney: "As you all can probably imagine, I have seen more than my share of outrageous (and false) attacks on the President over the last few years. But this whole injured soldiers thing really, really pushes the envelope. So, just to be clear:" (Twitter, 9/4/20)
Mulvaney: "I never heard the President disparage our war dead or wounded. In fact, the exact opposite is true. I was with him at the 75th Anniversary of the D-Day invasion in Normandy...." (Twitter, 9/4/20)
Mulvaney: "As we flew over the beaches by helicopter he was outwardly in awe of the accomplishments of the Allied Forces, and the sacrifices they paid." (Twitter, 9/4/20)
Donald J. Trump, Trump Campaign Press Release - 19 Officials, 13 from Paris Trip, Now on Record Refuting Anonymous Sources in False "The Atlantic" Story Online by Gerhard Peters and John T. Woolley, The American Presidency Project https://www.presidency.ucsb.edu/node/344039