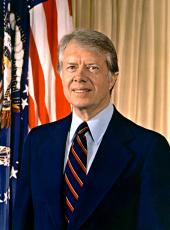 Transatlantic Air Fares Announcement of Approval of New Low-Cost Fares.
President Carter today overruled the Civil Aeronautics Board and approved new low-cost transatlantic air service. The specific fares approved by the President are a $256 budget fare, round trip between New York and London, and a $290 advanced purchase excursion ("super-APEX") fare, round trip between London and New York. Similar super-APEX fares will be offered from Boston, Philadelphia, Chicago, Detroit, Los Angeles, Washington, and Miami.
The CAB has recently allowed a $256 standby fare and a $280 budget fare, but on September 16 it ruled against the $256 budget fare and the $290 super-APEX fare.
In his letter to the Board, the President stated that "I have decided to reject the Board's order as inconsistent with this Administration's foreign economic policy. I must emphasize that my international aviation policy carries with it a commitment to low fare, competitive international air service for the benefit of American consumers."
In its decision, the Civil Aeronautics Board expressed concern that low fare service by scheduled airlines might adversely affect the charter industry.
To make sure that consumers have the widest variety of low fares available to them, the President urged the Board to move as rapidly as possible to remove Federal regulations that impede low cost charter service. The Departments of State and Transportation will also be undertaking discussions with European government aviation authorities to remove restrictions on both charters and other low fare services.
The fares approved today are experimental and will be available to the public through March 31, 1978. Transportation Secretary Adams will study these winter fares to determine how responsive they are to the public need and how these fares and charter services might be made more widely available as the basis for long-term, low-cost transatlantic service.
Jimmy Carter, Transatlantic Air Fares Announcement of Approval of New Low-Cost Fares. Online by Gerhard Peters and John T. Woolley, The American Presidency Project https://www.presidency.ucsb.edu/node/242419