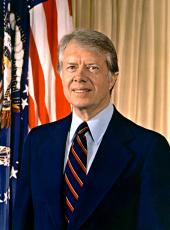 Tokyo, Japan Remarks at a Reception With Members of the Japanese Diet.
Speaker Nadao, President Yasui, distinguished Members of the Japanese Diet, other guests:
It's a great honor for me and my wife to be here with you.
First of all, let me thank those among you who were here 4 years ago when I visited in May of 1975, who welcomed me when I was beginning my own campaign for President of the United States. At that time you gave me a much better welcome than I was getting in my own country. [Laughter]
As I stated yesterday, no other two legislative bodies in the world exchange more visits than do the Members of the Diet of Japan and the Members of the Congress of the United States. It is very reassuring and gratifying to me as President of our country to know that two great democracies are bound together through our people, through the heads of state, and through the great democratically elected congresses.
This strength, derived from friendship and close consultation, permits our countries to bear the burdens of responsibility and the great, wonderful opportunities of a better life in the future. My conversations with your Prime Minister and other officials today in Oiso, at what can be known in our country as a shrine of peace, were very productive and typical of the frank discussions which have bound our nations together through years of trial and years of achievement.
The economic achievements of Japan and the beneficent political influence of Japan throughout the world are a legitimate source of admiration for all other people. This great achievement of yours, which has aroused admiration, is closely bound with the friendship and the quiet gentleness which makes visiting here in your beautiful country such a pleasure for us.
Tomorrow I will go to Shimoda, where the interrelationship between our countries began, and my wife will then visit Kyoto, the more ancient capital of your beautiful country. This will give us an additional opportunity to let the people of Japan know how dearly we cherish the friendship which binds us together, providing a sense of strength as we deal with bilateral questions, as we improve the quality of life and the peace and stability of the Pacific region, as we favorably impress upon other nations the influence of our two countries throughout the world.
On behalf of 220 million Americans, I want to say to you Members of the great Diet of Japan, thank you for this partnership, thank you from the bottom of our heart for your friendship.
To the great people of Japan, to the friendship that binds us together, to peace throughout the world.
Note: The President spoke at 5:40 p.m. at the residence of Hirokichi Nadao, Speaker of the House of Representatives. In his opening remarks, he also referred to Ken Yasul, Speaker of the House of Councillors.
Following the reception, the President went to the National Theater for a Kabuki performance.
Jimmy Carter, Tokyo, Japan Remarks at a Reception With Members of the Japanese Diet. Online by Gerhard Peters and John T. Woolley, The American Presidency Project https://www.presidency.ucsb.edu/node/249205