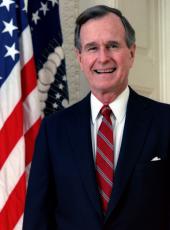 Toasts at the State Dinner for Queen Elizabeth II of the United Kingdom
The President. Your Majesty and Your Royal Highness, ladies and gentlemen, let me welcome you to the White House, to a dinner to salute the relationship between America and Great Britain which has perhaps never been more special. We've got a lot of things in common. Americans share the Queen's love of horses. And I often wonder if I'd be standing here today if it weren't for a horse fancier named Paul Revere. [Laughter]
Most of all, what links our countries is less a place than an idea -- the idea that for nearly 400 years has been America's inheritance and England's bequest. The legacy of democracy, the rule of law, and basic human rights. Recently, this legacy helped our nations join forces to liberate Kuwait. All Americans involved in the crisis will remember as long as they live the resolve of Prime Minister Margaret Thatcher and Prime Minister John Major, the gritty resolution, ma'am, of Your Majesty's services, and through it all, the steadfast support of the British people. We believed that the human will could outlast the bayonets and the barbed wire, and so we told the world aggression will not stand. Our military cooperation in the Gulf harkened back to our joint military endeavors of two World Wars, and four decades of peacetime alliance. And yet it forms just one part of the remarkable British-American friendship.
Your Majesty, as you so graciously put it this morning, showing "marvelous disregard of history," your visit 15 years ago celebrated America's bicentennial. How proud we were to have you here. And incidentally, as in your later visits, you showed then another quality which links us: a love of exercise. Rain or shine, your long walks have left even the Secret Service agents panting away. [Laughter] And I'm glad that my fibrillating heart was not taxed by a competitive walk-off today. [Laughter]
As you remember, on the Bicentennial Bell are inscribed the words, "Let freedom ring." Freedom has been ringing far and wide in recent years. Look at Eastern Europe; to some degree, in the Soviet Union; certainly in South America and other parts of the world. And what that movement owes to the example of Britain and America can hardly be overstated. Nor can the role of those who persevered and the cannons of liberty and who embody the extraordinary ties of sympathy and fellow feeling between our countries.
Let me close with one such man. His name was Abraham Lincoln, whose picture is over our shoulder -- my shoulders here. Perhaps his most perceptive biography was written early in this century by an Englishman, Lord Charnwood. Upon Lincoln's death Disraeli said, "It touches the heart of nations and appeals to the domestic sentiment of mankind."
Your Majesty, you have touched the heart of this nation many times -- and in our bicentennial year; and then visiting our shores in 1983, the 200th anniversary of the Treaty of Paris; and then again in 1989. I know I speak for the American people when I express the belief that the bonds which connect our nation and yours -- bonds of history, principle, interest, and affection -- will endure until the end of time.
In that spirit and conscious of the real honor that is ours tonight, I ask you to rise and join me in a toast: To the liberty we share; to the liberty we seek to keep; to the ties which bind America and Great Britain, the ties which make us one; and to the health of our friend, a true liegeman of democracy, Her Majesty the Queen.
Queen Elizabeth II. Mr. President, I must first thank you for your characteristically generous words of welcome. I was delighted to be able to accept your invitation to pay this state visit to Washington and to renew my acquaintance with Blair House, now magnificently restored. Rumor has it that it was another British guest who was at least in part responsible for the decision to make Blair House into the Presidential guest house. It seems that Winston Churchill spent 3 weeks in the White House as the guest of the Roosevelts over Christmas in 1941. Churchill preferred to work at night. And the story goes that very late one night, or more likely, very early in the morning, he tried to persuade Mrs. Roosevelt to let him talk to the President. And Mrs. Roosevelt is supposed to have decided then and there that henceforth the President's guests -- [laughter] -- should be accommodated elsewhere. [Laughter] It so happens that when we came here at the invitation of President Eisenhower, Blair House was temporarily out of commission. And so we stayed in the White House. I may say that neither the President nor I attempted to disturb the rest of the other. [Laughter]
This is now the fourth time I have had the honor of proposing a toast to the President of the United States in the very place where my father once proposed a toast to President Roosevelt. No wonder I cannot feel a stranger here. The British have never felt America to be a foreign land. Here we feel comfortable and among friends. This is not entirely one-sided. It was Mrs. Roosevelt who wrote in 1939, after the long talks between my father and the President about the world crisis, that in times of danger something deeper comes to the surface, and the British and we stand together with confidence in our common heritage and ideas.
This visit and those which we are to pay to Florida and Texas is, therefore, an occasion to reaffirm what has sometimes been called the special relationship between our two nations. The path of this friendship has not always been smooth. But at a time of unusual tension between us, my great-great-grandmother Queen Victoria noted in her diary shortly before she died that the disputes and disagreements between us are really entirely superficial. I am convinced that this is still true today.
And so, Mr. President, while much has changed since those days, events still demand that our two countries use their mutual understanding to work together with our allies and partners towards a world in which more people and more nations can live in freedom with confidence in the rule of law. As you put it in your Inaugural Address, we know that freedom works. During the Gulf crisis, your country and mine have together shown that freedom works. In the ceaseless task of promoting freedom and free institutions and in standing up for them wherever they may be threatened, the United States has given courageous and unwavering leadership.
The free world has to thank you, Mr. President, for your clarity of vision and firmness of purpose. You have led not with bombast and rhetoric but with steadiness and quiet courage -- what Thoreau described as "three-o'clock-in-the-morning courage." And you made the decisions that had to be made.
Mr. President, I raise my glass to you and Mrs. Bush; to the friendship of our two nations; and to the health, prosperity, and happiness of all the people of the United States of America.
Note: The President spoke at 8:07 in the State Dining Room at the White House. In his remarks, he referred to His Royal Highness Prince Philip, the Queen's husband; Margaret Thatcher, former Prime Minister of the United Kingdom; and current Prime Minister John Major.
George Bush, Toasts at the State Dinner for Queen Elizabeth II of the United Kingdom Online by Gerhard Peters and John T. Woolley, The American Presidency Project https://www.presidency.ucsb.edu/node/265301