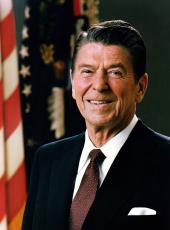 Toasts at the State Dinner for Prime Minister Rajiv Gandhi of India
The President. Good evening, and welcome to the White House.
Prime Minister and Mrs. Gandhi and other distinguished guests from India, it's a pleasure to have you here. Yours is among the most ancient of cultures and ours is one of the youngest. Ours is, however, the oldest constitutional democracy and yours is relatively new—38 years of age. Although young, Indian democracy has achieved strength and maturity, and today I have found that's also true of India's Prime Minister, who's just 3 years older than independent India.
And, Mr. Prime Minister, I'm happy to report to all present this evening that although a few years separate us—just a few— [laughter] —we hit it off, and just as with relations between our countries, I predict good things ahead.
Mr. Prime Minister, you were recently quoted as saying about our two countries that basically we stand for the same things—freedom, democracy, independence. And I'm sure that our meetings today reinforce that observation. To paraphrase Tolstoy, undemocratic societies are all undemocratic in their own way, but democratic societies are all alike. And so it is with India and the United States; we are ultimately so similar. And yet like family members, we often find it hard to communicate. Today we opened up personal channels of communication that will serve our countries well.
India and the United States, Mr. Prime Minister, have enormous strengths on which we can draw in seeking to improve our relations. Democracies have valuable experience in reconciling differing points of view within their own national societies. This is particularly true in our great nations, both mosaics of diverse cultures, religions, and languages. And the key to our success domestically is dialog—the quality of careful listening and serious speaking one to another. Dialog can be the key to better understanding between our nations as well.
Our meetings this week build upon the working relationship established by your late mother. Mr. Prime Minister, India and the United States have just begun to write the history of our relations. As the magnificent Festival of India will illuminate, you have enriched the world with beauty, culture, science, and philosophy. Perhaps your most precious gift to us has been the many Indians who have become proud citizens of our country. Some are here tonight, and they embody the human bond that is between us.
Being the Year of India in America, your visit and the Festival of India couldn't have been better timed. We have today set out an agenda for deepening our cooperation across a broad spectrum of issues ranging from political to economic and scientific.
This afternoon our two nations agreed to extend by an additional 3 years the very successful science and technology initiative launched as a result of my meetings with the late Prime Minister Indira Gandhi in 1982. This is one example, an important. example, of the kind of cooperation that bodes well for the future of Indo-U.S. relations.
So, let us move forward together. And with the greatest of admiration for you and the great nation you lead, I propose a toast to Indo-American friendship.
The Prime Minister. Mr. President, First Lady, ladies and gentlemen, I feel privileged to be in this historic house once again. My wife and I are grateful for the warm and generous words you have spoken about India and about your meeting with my mother.
I recall the esteem that she had for you. I recall, also, the last time she was here, a wish that you had then expressed about holding a Festival of India has come true. It is good of you to dedicate that festival to Indira Gandhi's memory. We appreciate the special interest Mrs. Reagan has taken in it as patron of the U.S. national committee.
Every encounter between the peoples of the United States and India is an essay in understanding. It provides an opportunity for the reaffirmation of our commitment to personal liberty, to the rule of law, and to free expression. We both are rather outspoken people, not known for keeping quiet about what we feel and what we believe. But being candid with each other is a measure of the stability of our relationship. Both of us are animated by that capricious tolerance which marks the democratic spirit. It is one of the reasons why, in spite of some differences on policies and particulars, a firm people-to-people relationship endures between us.
It is in that spirit that we had our conversation today, at which we discussed our assessments and concerns; you have referred to some. I mentioned to you about our apprehensions at the growing militarism around the region around India, which is increasing our burdens. We have always been against outside presences and pressures, which can lead to instability. To reduce tensions in south Asia, India has taken several initiatives with its neighbors. But the success of our efforts depends very much upon what the big powers do in our region in pursuit of interests. A stable, united, peaceful India, I should think is in everyone's interest.
That is the India we are engaged in developing. For that purpose, we need peace in our neighborhood; we need peace in the world. We desire a global partnership for socioeconomic development, for the satisfaction of human needs, for the promotion of mutual understanding, and for the prevention of war.
Development and peace are closely linked. If disarmament is important for developed countries, it is even more relevant for the developing. We are appalled at the destructive fire that men have built over the years. We are concerned about the new dimensions in the arms race. The very survival of mankind today rests in the hands of a very few countries, leaving mankind to wait in fear and hope.
Six nations, including India, recently issued an appeal for disarmament. Any positive steps taken towards disarmament will be acclaimed and supported by India, the nonaligned community, and by peoples all over the world.
We welcome the negotiations between the United States and the Soviet Union at Geneva and hope that their deliberations will lead to positive results. Nonalignment has been a positive force for peace; it stands for friendship and cooperation with all. Any nation's independence must include the option to steer clear of bloc identification. One friendship need not be at the cost of another. We want to enlarge cooperation between our two countries in numerous fields.
India today is poised for greater growth. We have taken up plans and policies to generate new employment in our rural areas and to harness the productive energies of our young. We want the nation to benefit from the enterprise latent in our people. Growth has to be carefully calibrated so that in enlarging national production, it redresses regional imbalances and ensures social justice. This is indeed the basis of planning within our democratic system.
In three decades we have tried to catch up with what others have achieved in a century or more. We have narrowed the industrial and technological gap. Our seventh plan envisages an investment of $150 billion. We need new technology in a big way. A good part of it we will develop ourselves, but we must necessarily acquire the most advanced knowledge wherever it is generated.
The United States is preeminently the land of high technology. Recently, our two countries have reached an understanding on transfer of high technology; these arrangements must be worked out with great speed.
Mr. President, one of your great predecessors, Franklin Roosevelt, had said, "The only limit to our realization of tomorrow will be our doubts of today." These words bring out the spirit of striving which marks America. Each generation must reestablish freedom and justice; each generation must respond to new situations. There is just enough time to dip in time's refreshing river. Situations change, peoples change, good ideas become dull and unexciting; sometimes they undergo distortion.
The great personalities who created modern India—Mahatma Gandhi, Jawarahal Nehru, Indira Gandhi—have taught us to be humble and firm and to persist. Our ancient book, the Bhagavad-Gita, told us, "You have a right only to do your duty, not to the fruits thereof." In that spirit, we shall strive.
Mr. President, I thank you again for your warm welcome and generous hospitality. We hope that you will give us the pleasure of welcoming you and Mrs. Reagan in India.
I now request you to join me in a toast to the health of President and Mrs. Reagan, to the prosperity of the American people, and to growing cooperation between our two countries in the interest of our two peoples and in the cause of a better world.
Note: The President spoke at 9:45 p.m. in the State Dining Room at the White House.
Ronald Reagan, Toasts at the State Dinner for Prime Minister Rajiv Gandhi of India Online by Gerhard Peters and John T. Woolley, The American Presidency Project https://www.presidency.ucsb.edu/node/260300