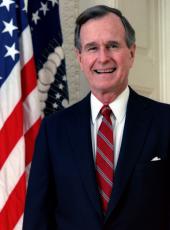 Toasts at the State Dinner for Prime Minister Jozsef Antall of Hungary
The President. Mr. Prime Minister and Mrs. Antall and to our Hungarian and American friends, I am glad you are all here, especially those from out of town, because so many are grounded or circling at this very moment trying to get here. [Laughter]
But it is a great pleasure for Barbara and me to welcome you both to the White House tonight. There's a great poet of Hungary's 1848 Revolution, Sandor Petofi, once wrote: "Let me address you in the name of millions." And so, tonight, Mr. Prime Minister, let me greet you in the name of millions who convey their warmest welcome, the people of the United States.
And as I look around this room, I see why Americans feel so enriched by our long friendship with the Hungarian people. We see the kinship in the nearly 2 million Americans of Hungarian descent: in giants like nuclear scientist Edward Teller -- we're honored to have here with us tonight -- or conductor Eugene Ormandy, who proved that music is the universal language, or Colonel Kovacs, who gave his life for America's struggle for freedom way back during our own Revolutionary War.
But this kinship isn't just one way. Americans admire Hungarians whose deeds so inspire us, heroes like the great founder of the Hungarian state, St. Stephen, and great composers like Liszt and Bartok, or Hungary's many winners of Nobel prizes or Olympic medals, or that great patriot Janos Hunyadi, who more than five centuries ago stopped foreign invasion. In his honor, the Pope ordered each Catholic church in Europe to ring its bell at midday. And since then, Catholic church bells all over the world ring precisely at noon. Heroes, yes -- American, Hungarian.
Today, more than ever, this kinship binds the people of the United States and Hungary. And our nations are linked by many things: hard work, the role of community, religious devotion, and of course a fierce love of freedom. And especially during the past 2 years, your gallantry has evoked our admiration. Your example has been our inspiration.
When we were in Budapest last year, I was given a piece of the Iron Curtain. And I keep it there in my office that you visited today, sir, as a stark symbol of Hungary's courageous decision to open its borders, unleashing a force that helped transform Europe and eventually brought down the Berlin Wall.
If Kossuth could be with us here tonight, he would see that his dream of a free and democratic Hungary had been fulfilled, and he would see that this new day in Hungary's history is the result of the Hungarian people's determination to live in freedom. Your presence here tonight, Mr. Prime Minister, bears testimony to Hungary's new role as a sovereign member of the new and growing partnership of nations.
The darkness lifts, the bell resounds, and the light grows brighter by the day. And so, Mr. Prime Minister, let us raise our glasses, and let us raise what Kossuth called the morning star of liberty. God bless you, and as your national anthem proclaims so unforgettably, "God Bless the Hungarians." We are very pleased you're here, sir. To your health.
The Prime Minister. I consider this day a great day in the life of the Hungarians and to all of us. We feel that you have done a lot for our freedom, because you have been determined, because you have stuck to all those moral principles that your forefathers and the Founding Fathers have brought home in this country.
And this past also binds both you and ourselves. We are proud that Hungarians were able to do a lot for America. It is a special, very good feeling to be able to be here. And it is also a good feeling that, with your national flag, the Stars and Stripes, the humble Hungarian tricolor is also on the same level with you.
We have restored the old Hungarian coat of arms and the holy crown -- according to tradition, the crown of King Stephen the Saint was preserved by you. And sometime in the future, historian may find that the return of the crown played a very important role to once again being able to identify ourselves within our own self. Thousands and thousands of people pay tribute in front of it when the party state still was operating and was in function. We at home, we once again felt we were Hungarians, and we also felt the great pressure of this old traditional symbol. Afterwards, Hungarians came back to visit Hungary who had not been to Hungary before.
Your visit last year, Mr. President, took place at a time when the opposition carried out with the first negotiations in the framework of the opposition in roundtable talks. Your presence has once again encouraged us. And I am sure that you may also have felt the feeling that the United States of America, and personally you, are so popular. And please accept my apologies for this exaggeration that, perhaps, not so popular anywhere else in the world. [Laughter]
Well, Mr. President, suppose you don't have a chance to be a third-time President of the United States. I am sure the Hungarian nation would willingly elect you as President. [Laughter]
I raise my glass to eternal friendship of the United States of America and Hungary and to you, personally, Mr. President and Mrs. Bush.
Note: The President spoke at 8:15 p.m. in the State Dining Room at the White House. In his opening remarks, he referred to the interruption of commercial air service caused by inclement weather. The Prime Minister spoke in Hungarian, and his remarks were translated by an interpreter.
George Bush, Toasts at the State Dinner for Prime Minister Jozsef Antall of Hungary Online by Gerhard Peters and John T. Woolley, The American Presidency Project https://www.presidency.ucsb.edu/node/265159