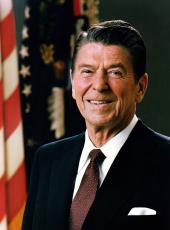 Toasts at the State Dinner for President Raul Alfonsin of Argentina
President Reagan. President Alfonsin and distinguished guests and ladies and gentlemen, it's a great pleasure for me to welcome you to the White House. And I thoroughly enjoyed meeting with President Alfonsin today.
Our discussions were cordial and productive, and of course today was not the first meeting that we've had. Last September we met just before attending the United Nations General Assembly. That was in the midst of our Presidential campaign last September, and I remember that you remarked that although being President is a hard job, sometimes getting there is even harder. [Laughter]
President Alfonsin and I have much in common. We both have gone through many campaigns and asked for votes from many different kinds of people. Down in Texas during the 1976 primary, they had me out knocking on doors. And I remember one kind of rural area—I'd been Governor of California, but I wasn't all that well known in Texas—and I knocked on the door, and an old fellow in his undershirt and jeans came to the door. And I told him I was running for President. And having been in the occupation I'd been in for a number of years, I was kind of surprised when he asked me what I'd done for a living. [Laughter] And I told him I'd been an actor. And then he asked me what my name was. And I thought, well, maybe if I give him a hint. So I said, "Well, my initials were RR." And with that his face lit up, and he turned, and he ran back into the house, and he was yelling, "Ma, Ma, come on out here quick—Roy Rogers is outside." [Laughter]
But, seriously though, as I mentioned at our ceremony this morning, the people of our two countries have so much in common, not the least of which is the spirit of the frontier exemplified by the gaucho and the cowboy. More significant, however, is the bond of democracy, the love of freedom that's found in the hearts of our people. I'd like to take this opportunity to congratulate President Alfonsin, who is, on behalf of the Argentine people, accepting the international democracy prize from the Center for Democracy. And I can think of no finer example to others than Argentina's inspiring return to democracy. Congratulations, Mr. President.
This generation of Argentinians is laying the foundation for what will be enjoyed by your fellow countrymen hundreds of years hence. And this is in keeping with the tradition of San Martin, an heroic individual significant not only in your history but in that of the entire hemisphere. I think it's interesting to note that once San Martin was successful in freeing half a continent, he assumed the title of protector.
And that, perhaps, captures the essence of our responsibility. Those of us who enjoy the freedom and independence passed to us by brave and noble individuals like San Martin, Washington, and others, especially those of us in elected office, must be the protectors of liberty. This is our trust, our obligation. San Martin once said: "You will be what you must be. If not, you are nothing."
President Alfonsin, you've already demonstrated to your countrymen and to all the world that you're willing to live up to the enormous trust that you hold in your hands. I look forward to working closely with you in the years ahead. I salute you. And I ask all of you to join me in a toast to President Alfonsin, Mrs. Alfonsin, and the free people of Argentina.
President Alfonsin. Mr. President and Mrs. Reagan, ladies and gentlemen, we have ended a day of intense, frank, cordial, and mutually enriching consultations. The success of this day, characterized from the beginning by exceptional American hospitality, is due in great part to your warmth, Mrs. Reagan, as well as to the informal and friendly atmosphere that you, Mr. President, imparted to our meetings. My wife and my friends are sincerely grateful for this hospitality, and I sincerely thank both of you.
In discussing the different aspects of international affairs, we have discovered that on many points our views converge. And if we also discovered a few differences in our analysis, it should neither surprise us nor alarm us. As I imagine it, the relationship between Washington and Buenos Aires presupposes—and I said that when I arrived-that we assume the defense of our respective national interests from a perspective of cooperation, foresight, and mutual sincerity.
It seems to me that within this framework we should explore with a certain amount of audacity, imagination, and good will the profiles of a realistic and enduring relationship between Latin America and the United States.
Mr. President, in your Inaugural Address—I mean your last Inaugural Address—I was moved by a suggestive evocation you made of the revolutionary past of the United States, and I quote you: "For the first time in history they said government is not our master, but rather our servant, and the only power of government—the government will be that which we, the people, allow it to have."
How can we not link these words to the basic grounds that explain what the forces of democracy have achieved in Argentina to reestablish the sovereignty of our people. Why should two peoples whose convictions are nourished by such principles not be able to understand one another in fundamental matters?
And I am also aware of the fact that you and I share an intense concern about peace in the world. Of course, no doubt, our responsibilities are different. But in our area, we've made, I think, a great contribution to peace, because in the southern cone we've settled peacefully a century-old dispute with Chile.
Mr. President, Mrs. Reagan, as I toast for your personal well-being and that of all of you here tonight, I do so having specially in mind the American people. To your people we also offer this deeply felt tribute: They are a people who are the architects of the civilization where material achievements have always been united to a great spiritual force. Thank you very much.
Note: President Reagan spoke at approximately 9:45 p.m. in the State Dining Room at the White House. President Alfonsin spoke in Spanish, and his remarks were translated by an interpreter.
Ronald Reagan, Toasts at the State Dinner for President Raul Alfonsin of Argentina Online by Gerhard Peters and John T. Woolley, The American Presidency Project https://www.presidency.ucsb.edu/node/259253