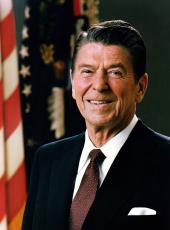 Toasts at the State Dinner for President Moussa Traore of Mali
President Reagan. Mr. President, it's a pleasure to welcome you here this evening. We're honored by your visit to the United States, both as the President of Mali and as the Chairman of the Organization of African Unity. During your visit, we've been discussing issues of concern to Mali, the Organization of African Unity, and the United States. And I'm gratified that you share our concerns about regional stability and economic development in Africa. And we've appreciated your efforts to promote peace and development.
I want you to know that we'll continue to work with you and be as supportive as possible in addressing these areas. But Africans and Americans do not just share a concern for various international problems. We share a rich cultural heritage as well. One out of six Americans, Mr. President, trace their ancestry to Africa. And indeed all of us are very proud of that African heritage and are eager to learn more about the African cultures from which they came.
I think this points to another common cultural thread between Mali and the United States. Mali has a proud and ancient history. It had three empires before Europeans first settled in what is now the United States. Malian explorers sailed the high seas and may even have visited America. All Americans, even if they know little else about Africa, have heard of the great and historical city of Timbuktu. It once meant to us a distant place. Your visit has brought both our nations closer. Mali, like the United States, is a country made up of people from different ethnic and religious groups. We admire Mali's respect for diversity that is both in your constitution and in practice. I know you're all amazed at my ability at French. [Laughter]
Americans believe that the ethnic diversity of the United States is one of our country's greatest strengths. And I think this is best summed up in one of your proverbs: One person, one thought; two persons, two thoughts. From the ideas of many different people and the freedom to express those ideas comes the strength of a nation.
Mr. President, I look forward to continuing to share ideas with you. By exchanging ideas and working together with the leaders of a great and ancient continent, I believe we can find solutions with a human face to the problems confronting the world. I salute you as a good friend, a great leader of your people, and as the Chairman of the Organization of African Unity. And so, can we raise our glasses, to President Traore and Madame Traore.
President Traore. Mr. President, Members of the Congress and Members of the Senate, members of the administration, your excellencies, Ambassadors, ladies and gentlemen: May I on this occasion renew my very sincere thanks to you, as well as the thanks of my delegation for the warm welcome and very cordial hospitality that we have been enjoying ever since we arrived in the United States, this great and beautiful land of freedom.
Mr. President, Mali and the United States have excellent relations in the areas of political, economic, social, and cultural relations. The many agreements for cooperation between our two countries cover all fields of activity, and they fall very clearly within our strategy for development. We seek, first of all, self-sufficiency in food production, control of our water resources, breaking away from the landlocked situation of our country—both domestic and foreign—and training our human resources.
I'm happy to salute here the very valuable assistance that your government has been extending to us in securing these objectives. In order to have a better performance for our economy, we have undertaken, together with international financial institutions and friendly nations, a very profound and exhaustive reform which touches upon all sectors of development—public finances, state-owned enterprises, developments of the rural area, and private sector. Basically, we are seeking to mobilize all energies and all the creative potential of the people-Mali. The people of Mali, just like the people of the United States, has a very highly developed sense of enterprise.
Mr. President, ladies and gentlemen, concerning Africa, our principal concerns remain the total liberation of the continent and the social and economic development. Recent trends in southern Africa allow us to think that it may soon become a reality that Resolution 435 may soon become implemented helping Namibia accede to independence. The international community must spare no effort and gather all its strength in order to force the governments of South Africa to comply with the requirements of the implementation of this pertinent resolution. Side by side with the fighters of South Africa, the Organization of African Unity will continue to struggle for the taking down of the intolerable system of apartheid. We seek to establish in South Africa a more humane, more just society which has been rid of all forms of segregation.
In this connection, Africa enjoys very much the ever-growing support of the great American people. Your Constitution, your democratic traditions have inspired many people throughout the world.
In the economic area, Mr. President, it is urgent to find a just and lasting solution to the problem of the African debt. Thus, the Organization of African Unity has been calling for the convening of an international conference on that issue. In solving the problem of the African debt, we will have to factor in the issue of raw materials and commodity prices as Africa is a producer because it is only through a just remuneration of their production that the African nations will secure the steady resources necessary to their development and to payment of the debts.
May I, in closing, ladies and gentlemen, ask you to raise your glass with me to the health of President Ronald Reagan, to the health of Mrs. Reagan, the strengthening of the friendship between our two nations, and closer bonds of cooperation and solidarity among all people of the world. I thank you.
Note: President Reagan spoke at 10 p.m. in the State Dining Room at the White House. President Traore spoke in French, and his remarks were translated by an interpreter.
Ronald Reagan, Toasts at the State Dinner for President Moussa Traore of Mali Online by Gerhard Peters and John T. Woolley, The American Presidency Project https://www.presidency.ucsb.edu/node/253385