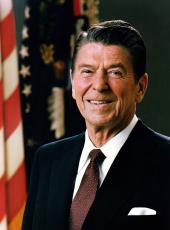 Toasts at the State Dinner for President Mohammed Hosni Mubarak of Egypt
President Reagan. Wendell Phillips once said that "you can always get the truth from an American statesman after he has turned 70 or given up all hope of the Presidency." [Laughter] Well, today I welcome you, President Mubarak, as a friend. Coming from a 76-year-old constitutionally prohibited from seeking another term, you can rest assured those sentiments are genuine and come from the heart. [Laughter]
This visit is a particularly happy occasion as it provides the opportunity to congratulate you personally on your reelection to a second term as President of Egypt. As a second term veteran myself, however, let me suggest, Mr. President, it doesn't get any easier. [Laughter] The referendum that approved your second term reflects the strong confidence that the Egyptian people have in your leadership. We share that same confidence. Nevertheless, Mr. President, we both know that governing a country in which there are divergent political views and a lively opposition is a tough job. We respect your work to broaden participation in the political process and are confident it will help create the stable political environment needed for Egypt to move forward.
Egypt today, under your guidance, is resuming its rightful place in the forefront of world leadership. This is particularly important at a time when the forces of fanaticism and blind hatred threaten the security and stability of the Middle East. Egypt, by again exerting its wise and calming influence, provides the world hope that the serious challenges facing the Middle East can and will be overcome and that the region will be restored to a happier and more tranquil course.
Likewise, President Mubarak, you have wisely and effectively led Egypt onto a course of economic reform and development. The difficult obstacles you and the Egyptian people face are well understood here, too. We, too, learned in our own efforts to strip away years of government intervention in our marketplace how monumental this task can be, how ingrained is the dependence on intervention, and how powerful are the interest groups that resist change. But we're convinced that such vigorous reform is the surest path to economic progress. And, Mr. President, Americans will stand and work with Egyptians in the cause of growing prosperity, just as we do in the cause of peace.
Mr. President, our meetings today were enjoyable and enlightening. And so, you are most welcome. And in saying that, I propose a toast to you, Mr. President, Mrs. Mubarak, the people of Egypt, and to the close and amicable ties that will continue between our peoples and our governments.
President Mubarak. President Reagan, Mrs. Reagan, dear friends, thank you for your kind words and the gracious hospitality. The elegant and warm reception you have accorded us reflects the best tradition of American friendship and genuine openness. It is a tradition that has deep roots in our culture, too. We value friendship and loyalty to friends. As usual, President Reagan and his graceful spouse have made us feel welcome and quite at home the minute we arrived at the White House this morning. They symbolize the American spirit at its best.
My meeting with the President today was another confirmation of my belief that he is a man of wisdom and vision. He is an American in the true sense of the word. I expressed to him my admiration of the relentless efforts he exerted for years to make the world more safe and secure for future generations. His recent achievement in this area will certainly have a lasting effect on world peace and stability. I have no doubt that other steps will follow in the same direction during the months ahead.
I am certain that regional conflicts will figure high on the agenda throughout the year. Of these conflicts, the Middle East problems deserve special attention and priority. Strenuous efforts are needed to stop the war, which is still raging in the Gulf, and set the peace process in motion again. We have to demonstrate to all the parts concerned that peace is the only meaningful and effective way to settle disputes and solve problems. No other formula would work. No other alternative is acceptable. There is no justification at all for the continuation of bloodshed and destruction. As Benjamin Franklin once said: "There never was a good war or a bad peace."
With this in mind, Egypt has not hesitated at any point to take pioneering steps in order to make peace. It is for this reason, too, that I have proposed a few days ago a moratorium on all forms of violence and repression. I am quite convinced that this proposal, which is conceived as a preparatory step towards comprehensive peace, reflects the real sentiment of people of good will and human principles everywhere. No one who looks ahead and thinks of the future can accept the continuation of occupation and oppression. No one can, in good conscience, condone a policy of shooting and beating in a land that is holy to all of us.
What I am proposing here is a policy of hope and positivity to replace despair and fear. I am sure that I am not alone in that, for I am backed by millions of men and women of courage and conviction everywhere. Let me seize this opportunity to thank all those Americans, Israelis, and others who raise their voices in support of peace and in defense of liberty. Their stand will never go unnoticed or unrewarded.
Dear friends, American leaders have worked with Egyptian leaders over the years in order to construct a model for friendship and cooperation among nations. In particular, President Reagan has made a great contribution to the development of friendly relations between Egypt and the United States. We are proud of this friendship, which has been mature enough to overcome all obstacles we have encountered and deep enough to look to the future with hope and promise. The talks we had in the morning added to the reservoir of good will and mutual understanding that exists today between our peoples. As ever, the President was both receptive and responsive. I highly value his opinions and ideas. We shall continue to work together, as we did in the past, in order to serve our common goal of reinforcing peace and promoting progress and stability.
In conclusion, permit me to ask you, ladies and gentlemen, to rise in a tribute to President and Mrs. Reagan, to all our friends who are present this evening, and each and every American. Thank you.
Note: President Reagan spoke at 10:07 p.m. in the State Dining Room at the White House.
Ronald Reagan, Toasts at the State Dinner for President Mohammed Hosni Mubarak of Egypt Online by Gerhard Peters and John T. Woolley, The American Presidency Project https://www.presidency.ucsb.edu/node/255225