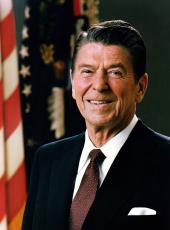 Toasts at the State Dinner for President Kenan Evren of Turkey
President Reagan. Ladies and gentlemen, I've been told of a Turkish proverb that states: "A cup of coffee will bear the fruit of 40 years of friendship." Well, my sense of this expression is that in the give and take of conversation over coffee people establish the sense of caring and loyalty, and of shared hopes and expectations, that define friendship.
Now, Americans and Turks sitting here will soon be sharing a cup of coffee. And earlier today, you and I shared our ideas and our hopes for the United States, for Turkey, and for the partnership between our peoples. And that's why I've long hoped that you would come to the United States, and that's why I'm glad you're here.
But you and I are building on a solid structure. The United States and Turkey have, for more than 40 years, shared much more than a cup of coffee. We've worked together to preserve the integrity of Turkey when it was threatened by aggression in 1947. We've been partners in the world's most successful partnership: the NATO alliance of democracies. Together with our allies, we have withstood aggression and made progress toward peace. Turks and Americans shed blood together in Korea. Americans have been proud to help Turkey in securing its democracy and seeking prosperity.
Our aspirations for our partnership remain large: peace, security, and freedom for our peoples; close cooperation in securing these objectives; and success in defending them. I am confident that 40 years from now Turks and Americans will look back and say that through their friendship Turks and Americans secured for themselves the kind of world we have envisioned together.
And now please join me in a toast to President Evren, to the Turkish-American relationship, and to the friendship between our two peoples. And as you say in Turkish: Serefinize [To your honor].
President Evren. Mr. President, Mrs. Reagan, distinguished guests: Mr. President, I thank you for your kind remarks. I am indeed moved by them. Our talks today with you and with the distinguished members of your administration have reaffirmed the strength and depth of the bond of friendship which we have continuously developed over the years between our countries. I am most pleased to observe this.
During your administration, Turkish-American relations have gained additional momentum, and the scope of our cooperation has vastly expanded. I am confident that I speak for the Turkish people in stating that we see you not only as a distinguished statesman of our era but also as a good friend of Turkey. We hope that future administrations will carry and further build on the revitalization process in our relations.
The strategic interdependence between our two countries, which we mutually identified almost 40 years ago, retains its validity today. But Turkish-American cooperation rests not only on strategic interests but also on common values embedded in the principles of respect for human rights, freedom, and democracy. We in Turkey are proud that, like other NATO countries with whom we share a common destiny, we have succeeded in establishing a democracy with all its institutions based on respect for human rights. Though this characteristic may not be all that well-known, it is the basis for Turkey's position as an island of peace and stability in a region in turmoil.
Mr. President, we followed with satisfaction and great interest the positive developments at the Moscow summit. It is the hope of Turkish and other peoples that the historical step taken by concluding the INF agreement will be followed by more comprehensive ones in the direction of disarmament. I would like to express my appreciation for this constructive initiative on the part of the United States and the Soviet Union and congratulate you for your tremendous success. We support the efforts of your administration to seek better relations with the Soviet Union without neglecting our defense requirements. It would be a tremendous achievement if, through these efforts, we could leave to future generations a more secure world.
Mr. President, with its present capabilities and future potential, Turkey can become an important economic partner. Internal stability and peace have fostered and sustained high rates of economic growth. This encourages us as we look to the future with confidence for a prosperous Turkey. We consider the economic dimension of our relations with the United States as integral to our traditional friendship and security partnership. Expanded economic cooperation will be an additional source of strength for our political and security relations. That is why we seek more dynamic and comprehensive economic collaboration as part of a multifaceted and therefore more robust relationship. We want our American friends to know of our desire for wide-ranging cooperation in this regard.
Mr. President, I thank you once again for your kind invitation, for the generous hospitality that the American people have extended to us, and for this beautiful evening. And I propose a toast to you; to your charming wife, Mrs. Reagan; and to the continuation of the excellent relations between Turkey and the United States.
Note: President Reagan spoke at 9:54 p.m. in the Rose Garden at the White House.
Ronald Reagan, Toasts at the State Dinner for President Kenan Evren of Turkey Online by Gerhard Peters and John T. Woolley, The American Presidency Project https://www.presidency.ucsb.edu/node/255197