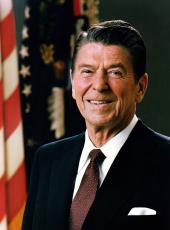 Toasts at the State Dinner for President Julio Maria Sanguinetti of Uruguay
President Reagan. Greetings, and welcome to the White House, if you don't feel welcome already. Tonight we mark not only the visit of a friend, but also we celebrate a nation's return to democracy. Historic events such as the rebirth of Uruguayan democracy do not just happen. They're the outcome of the hard work, courage, and commitment of extraordinary individuals. Tonight it's my honor to be hosting such an extraordinary individual, a man who shepherded his country through the rocks and crevasses of military rule and safely back to freedom.
Speaking for his fellow countrymen earlier this year, President Sanguinetti said, "We know we want democracy; we know we want the observance of human rights; we know we want the self-determination of the people; we know we want the enforcement of the principles of international law within our America; we know we want peace." Well, Mr. President, we share those goals, and we also know what we want: We want to be friends with those who love liberty, people like yourself and your fellow citizens of Uruguay.
As I indicated in my welcoming remarks this morning, a love of freedom is an integral part of the national identities of our two countries. One need only think back to the hero whose birthday your country celebrates this week—General Jose Artigas, a romantic and dashing figure if there ever was one. This brave man, along with his army of gauchos, fought a courageous fight for freedom and independence. Once he had won the day, unlike so many other So-called leaders throughout the world, he did not march to the capital. Instead, he lived in the countryside, content with the title, "Protector of Free Peoples," which his countrymen had affectionately bestowed upon him. Mr. President, as the elected leaders of democratic governments, we, too, are the protectors of the people—not just at home, but wherever people struggle for liberty. And, if you'll pardon me for turning around a quotation from General Artigas, today, for those who live in democracy, the challenge is for us to be as brave as we are enlightened.
So, I would ask all of you to join me in a toast to a modern-day hero of freedom, President Sanguinetti, and his good lady and the people of Uruguay.
President Sanguinetti. Mr. President, dear friends, you have spoken just now of some two things which are especially dear to us Uruguayans: friendship and General Artigas. I would like to speak about both of these things because they are both related historically.
The friendship between our peoples was born during the time of Artigas' life. Artigas had only the support of the United States. He was received with very great misunderstanding all over the Americas as well as in Europe. All of his political culture and education came from here. He was a man of arms, a man of the country. The common sense of Thomas Paine had already explained to him what the ideas of freedom were. And he had taken them into his heart, and with incredible tenacity and honesty, he stuck to them throughout.
I would like to remind you that in 1815, precisely when the provinces of the River Plate region gave him the title or the name, "Protector," he found himself quite alone. At that time, he was fighting not only against the Spanish Empire but also against the Portuguese, which at that time was very strong. So, the Secretary of State of President Madison, who was—of President Monroe, rather—who was James Madison, at the time, sent a mission to see General Artigas, and General Artigas asked for American support against the Portuguese. The Americans gave that support in the form of seamen from Baltimore. So, supported by these naval people from the United States, from Baltimore, Artigas broke the Portuguese blockade.
It was from then that the idea of political freedom and freedom of trade appeared in association. The next year the situation got a lot worse for Artigas, and a very interesting debate took place in the U.S. Congress. Fortunately, by that time James Monroe was President, and he was very well aware of the situation. The Secretary of State then was James Quincy Adams. And Clay, who was a bit ahead of them politically, assumed a position against Artigas. Then came a debate which would be slightly difficult to reproduce here. But I can tell you that the U.S. Congress debated this in great depth and, in the final analysis, the position of Monroe and John Quincy Adams prevailed. And there it was said that General Artigas was the only real democrat of the River Plate provinces. And I think, if I'm not mistaken, the phrase was, "This brave and chivalrous Republican."
We could continue talking about this longer, but I would just recall that in 1820, the star over Artigas set, and he was defeated. Abandoned then, he chose the road of exile. And he received then a letter from James Monroe which, fortunately, still survives. In this letter, Monroe offered asylum in the United States. This letter said that not only would he be allowed to lead a peaceful life here, but that he would be given also a stipend or a pension in keeping with his condition in life and his rank. At the very saddest moment in his life, the only voice he had nearby was that one. And that man, who was defeated militarily, triumphed spiritually because he created a country with an idea, an ideal, and that ideal was the ideal of freedom.
So you see, Mr. President, how old are the ties which bind us in this friendship. A century and a half have passed. Our nations have prospered, have grown, and have had their history. The important thing is that we continue inspired by the same banner, the same flag—the flag of freedom. I would like to propose a toast that that flag of friendship and of freedom never be struck down. So, together with your wife and you and all our friends here present, I would like to propose a toast to that old friendship, which is always renewed.
Note: President Reagan spoke at 9:47 p.m. in the State Dining Room at the White House. President Sanguinetti spoke in Spanish, and his remarks were translated by an interpreter.
Ronald Reagan, Toasts at the State Dinner for President Julio Maria Sanguinetti of Uruguay Online by Gerhard Peters and John T. Woolley, The American Presidency Project https://www.presidency.ucsb.edu/node/258864