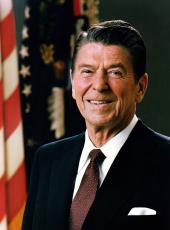 Toasts at the State Dinner for President Jose Napoleon Duarte Fuentes of El Salvador
President Reagan. It's been a pleasure to have you, President and Mrs. Duarte, and all of you as our guests this evening at the White House. This year is the 200th anniversary of the Constitution of the United States. It's appropriate then that we have as our guest an elected leader who has laid the foundations for freedom in his country and whose courage and strength of conviction are an inspiration to us all. President Duarte, having fought the brutality and repression of left and right, has come to symbolize the struggle for democracy in this hemisphere.
I have little doubt that our forefathers, who sacrificed so much to secure the blessings of liberty for the United States, would see President Duarte as one of their own. Thomas Jefferson, who walked these very halls, once described what it is all about: "Freedom of religion, freedom of the press, and freedom of person under the protection of the habeas corpus and trial by juries impartially selected," he wrote, "these principles form the bright constellation which has gone before us." Well, this is the same bright constellation whose majestic light President Duarte would shine on El Salvador. As our Founding Fathers came to know, winning liberty and establishing democratic institutions are not without great personal sacrifice.
In 1972 President Duarte won an election but was prevented from assuming the office and forced into exile. Years of frustration followed. Then there was the immense pressure President Duarte found himself under when he returned to his country in 1979. It would have broken a lesser man.
One of the most moving moments of my Presidency was the visit to the Oval Office made by President Duarte and his daughter, Inez, shortly after her release from kidnapers 2 years ago. This terrible travail was part of the personal price President Duarte has paid to help secure the freedom of his country. Yet tonight can anyone doubt President Duarte has not only survived, he has triumphed. He's proven himself one of those rare individuals who will be remembered by his people and by people throughout the hemisphere as a hero of freedom.
In the last century, another such hero was Jose Simeon Canas, champion of Salvadoran independence, the Abraham Lincoln of his country. This moral giant, seriously ill, made an impassioned speech against slavery to the Salvadoran Congress. In it he said: even if dying, he had to speak out for powerless people. "I ask," he said, "before everything else, that all our brethren be declared free."
This is the kind of spirit I see in President Duarte. It's been my honor over these years to have known him and worked with him, to have assisted, where possible, his efforts and those of the brave Salvadoran people to win peace, establish democratic institutions, and, before anything else, to declare all our brethren free. President Duarte, God, unity, and freedom—the spirit of El Salvador, the spirit of all the citizens of the hemisphere. So, I ask all of you to join with me in toasting President Duarte, Mrs. Duarte, and the people of El Salvador.
President Duarte. When you were telling, Mr. President, all those beautiful things of what you have valued, what we're doing in our country, and when I was enjoying this wonderful dinner tonight, I was seeing that picture there, the picture of Abraham Lincoln. And I wonder why he has his hand here and his face firm? What was happening in his own heart when he was the President of a country who was struggling? He was seeing not only slaves, he was seeing war—hate in the heart. And this wonderful man had love in his heart. He never hated anybody. He wanted to have his country free, and he even gave his life for that. That picture to me is a symbol of this country. It's a symbol of you, Mr. Reagan, the President of the United States, the President of this country who is doing the best so that other countries can also have what you have dear in this country, which is freedom and democracy.
Let me be simple and ask you to just raise your head and give a prayer for my people of my country, for the poor people, for the suffering people of my country, and also for the soldiers who die and the guerrillas who will also die. We all are Salvadorans, and we all want peace.
So, Mr. President, let me raise and ask you to raise your hand with me to a toast to President Reagan—to a toast to Mr. Reagan, to Mrs. Reagan, and to a toast to the American people.
Note: The President spoke at 9:58 p.m. in the East Room at the White House.
Ronald Reagan, Toasts at the State Dinner for President Jose Napoleon Duarte Fuentes of El Salvador Online by Gerhard Peters and John T. Woolley, The American Presidency Project https://www.presidency.ucsb.edu/node/251878