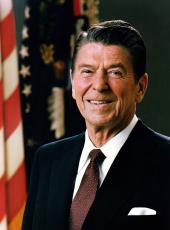 Toasts at the State Dinner For President Chaim Herzog of Israel
President Reagan. Well, what a pleasure it is for Nancy and me and all our distinguished guests to have the President of Israel and his lovely wife with us at this festive dinner. It's a special occasion for us to have you with us, Mr. President, because of your personal distinction and because you represent Israel, one of our closest friends and partners.
Moreover, Mr. President, your visit has special significance for yet another reason: It's a great day for the Irish! [Laughter] I can't help but note that Ireland is so successful at producing national leaders and that an Irish brogue carries as much influence in Jerusalem as it does here. [Laughter]
That you were born in Ireland and that my ancestors came from there may seem accidental, but it speaks to the history of both Israel and the United States. Ours are nations of immigrants and nations of opportunity. Israel was established with an open door to the Jewish people from around the globe. The epic drama of the ingathering of those who came to Israel to find freedom, escape persecution, and rebuild their lives has captured the imagination of all Americans. We, too, come from distant shores, and in different circumstances struggled for our own freedom.
Israel has never lost sight of its destiny to be a nation of free people living by the principles of democracy. Israel's vibrant democracy offers the best and strongest rejoinder to those who denigrate its achievements or who try to equate Zionism with racism, as the U.N. General Assembly did in 1975. In that connection, I welcome recent action by the Congress calling for the overturning of the U.N. General Assembly's misguided and reprehensible resolution.
Over the last four decades, Israel has grown and prospered. Your farmers and pioneers have made the land green. Your universities and research institutes have created miracles of technology and science that have added to human welfare. And your people have set the world an example in courage and fortitude.
In these 40 years, we Americans have been proud of our friendship and partnership with Israel. Few nations enjoy richer or stronger ties. Support for Israel is not limited to one group or region; it is felt and expressed throughout the United States. It reflects genuine affection, admiration, and mutual respect.
Since Harry Truman extended diplomatic recognition to Israel, every American President has cared deeply about Israel's security and its quest for peace. I carry on that tradition, and I renew tonight the pledge I've made before: The United States will always ensure Israel's security and work with her in partnership for peace.
Mr. President, Nancy and I extend our best wishes to you and Mrs. Herzog and the people of Israel, for health and prosperity and for the continued close friendship between our two great countries and peoples: L'Chaim! [To life.]
President Herzog. Mr. President, Mrs. Reagan, I rise to thank Mrs. Reagan and yourself for the kind hospitality extended by you to Aura and myself on this historic occasion, the first state visit of the President of Israel to the United States of America.
It is very difficult, well nigh impossible, to give adequate expression to what one feels on such a moving occasion. Not even something you and I have in common can help to overcome this difficulty. I'm referring, of course, to the fact that somewhere in our personalities we have a common advantage over many others: that of the gift acquired from the Blarney Stone. [Laughter]
Despite the enormous differences between our two countries, as we celebrate our 40th anniversary, one cannot but remark on many similarities. When the director of our railroads first visited the United States, he was asked by his hosts how many miles of railroad we had. Too embarrassed to tell the truth, he replied that he could not recall the distance, but he knew that we had the same width as in the United States. [Laughter]
The common foundations which both our countries have based on the teachings of the Hebrew Bible have been used to build a superstructure of relationships which is really quite special. I do not know whether history has another example of a great, free democracy extending so broad a hand of friendship to a young, although also very old, state so far from its borders and so different from it in size of population and area. Indeed, our partnership led to the fact that in this building was signed the peace treaty between Israel and Egypt. It was a truly unique occasion in the history of peace. It signified the first great achievement of the peace process, which we and, I believe, the vast majority of the peoples in the adjacent Arab States pray will lead to a lasting peace to the Middle East.
America's support for Israel, a free, open, democratic society in which the dignity of man is enshrined as a supreme value, has been a pillar of American policy, a commitment of all American Presidents, a consensus uniting the American political spectrum, and a reflection of the will of the American people. You, Mr. President, have brought our relationship to unprecedented heights, to a closeness that is symbolized by this evening. Mark Twain once said: "Always do right. This will gratify some people, and astonish the rest." [Laughter] Indeed, the main thing is to continue to do what we believe to be right, as you, Mr. President, are doing with your resolve and leadership in the Middle East and in the Persian Gulf.
It is always important to remember what it is that we represent: two peoples with a rich heritage and a message that the destiny of mankind is freedom, that the greatness of a nation is determined by its commitment to freedom, and that peace and international cooperation are the only parts to a secure future.
Mr. President, on behalf of the people of Israel, I thank you for your friendship and unfailing support. Your name is inscribed indelibly in our history as a dear and close friend who appreciates the importance for the free world of a strong and stable Israel, as an outpost committed to the defense of democracy in a region swept by the winds of fanaticism and fundamentalistic bigotry.
I ask you, Mr. President, to give us, the people of Israel, the opportunity to express to yourself and to Mrs. Reagan, who has a special place in the hearts of our people, our profoundest feelings for you both by coming to Israel and meeting a grateful nation and by seeing for yourselves the realization of an ancient peoples' dream. I would ask your excellencies, ladies and gentlemen, please rise so that I may drink to the health of the President of the United States and Mrs. Reagan.
Note: The President spoke at 9:47 p.m. in the State Dining Room at the White House.
Ronald Reagan, Toasts at the State Dinner For President Chaim Herzog of Israel Online by Gerhard Peters and John T. Woolley, The American Presidency Project https://www.presidency.ucsb.edu/node/251604