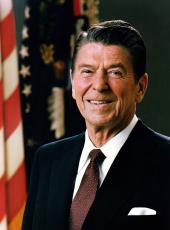 Toasts at the State Dinner for President Chadli Bendjedid of Algeria
President Reagan. Mr. President, Madame Bendjedid, distinguished guests: Welcome to the White House. It's our pleasure to have as our guests friends from a distant land. And today we've worked and, I might add, succeeded in bringing our nations and the leaders of our nations closer together.
Mr. President, we're proud that the United States was among the first to recognize Algeria's independence in 1962. In the years which have passed since that time, we've not always seen political issues in the same light, but total agreement is not the basis of friendship; instead it's based on respect and forthrightness. And if this be the case, Algerians and Americans should and ought to be friends.
I enjoyed our conversations today, Mr. President. They were productive, and the spirit was positive. These talks have reinforced the ties between our two governments and our peoples. In the course of our discussions, we covered a wide area—trade and economic planning, humanitarian efforts in Africa, and cultural exchanges. And I believe that the steps forward we made will be followed by many more. And we look forward to that progress.
After getting to know you, Mr. President, I'm certain you agree that nothing would better serve the joint interests of our peoples than peace and stability in the Middle East. We're aware of your particular concerns, ties, and friendships in the region, as you're aware of ours. Let us, Mr. President, use our influence toward positive ends. Let us urge our friends toward peaceful resolution of disputes. Let us encourage them to build and to create and to do those things that make for a better life.
Americans have had a challenging Middle Eastern role for almost four decades. We've done our best to create new opportunities for peace. And we'll continue our efforts, but peace depends on all those of good will in the region, on all sides of the conflict, taking the initiative.
For our part, we continue to believe Middle East peace must emerge from direct negotiations between the parties based on U.N. Security Council Resolution 242. As you so eloquently have noted, a solution to this complex problem must address the legitimate rights of the Palestinians and provide security for all in the region, including Israel.
Algeria lies at the northern edge of a continent beset by drought and famine. Mr. President, we applaud your government's humanitarian efforts to help your less fortunate neighbors, both by donating funds to supplement food and shelter for the people of the Sahel and by accepting and caring for thousands of refugees from the famine. Algeria has been a leader in African self-help efforts in this crisis and a shining example to others.
President and Madame Bendjedid, your visit to the United States is a new high point in Algerian and American relations, and we're honored to have you here. I'm happy to have the opportunity to get to know you as a leader of a great people and as a man of vision and strength.
To His Excellency, the President of the Democratic and Popular Republic of Algeria, and Mrs. Bendjedid. And we thank you.
President Bendjedid. Mr. President, first of all, I appreciate your kind words to me and in speaking of the Algerian people. I take great pleasure in expressing to you and through you to the American people, the sentiments of respect and friendship felt for you by the Algerian people.
Mr. President, Mr. Vice President, Excellencies, ladies and gentlemen, in this hospitable city that carries the prestigious name of one of the Founding Fathers of your great nation, allow me to evoke the deep historical roots of the relationship between our two countries, illustrated by the treaty of peace and friendship signed on the 5th of September 1795.
It equally pleases me to point out the similarity between the resistance of our two peoples to colonial occupation. Perhaps the best testimony to that is the foundation in 1846 of the city of Elkader—or in Arabic, [different pronunciation] Elkader—in the State of Iowa in memory of the Amir Abdel Kader Al Jaza'iri and of the Algerian national resistance. There is certainly in that symbol that our two people share the ideals of liberty and independence, as confirmed during our struggle for national independence.
It is thanks to your invitation, Mr. President, that I am here with you today at this important time in the development of our relations. I took personal pleasure in meeting you at Cancun. I also learned from Vice President Bush during his visit to Algeria the personal interest that you attach to a dialog between our two countries. It is indeed satisfying to observe that under your Presidency, exchanges between our two countries have been greatly reinforced and that many members of your Cabinet have contributed to that process.
Mr. President, beyond existing trade relations there is, in the development of our national economy, considerable potential for multifaceted cooperation between our countries. The genius of the American people has enabled man to conquer nature. Algeria aspires to enter an era of scientific and technical progress that will lead to the acquisition and mastery of advanced technology in various fields in order to spur our national development. This is another field for fruitful cooperation. On the whole, cooperation between our two countries has produced appreciable results. The expansion of these ties is both possible and desirable.
Confronted with the demands of peace, security, and development, nations known for their power and prosperity should make an even more substantial contribution. But whether the matter concerns reversal of the arms race, disarmament, or improving international political atmosphere through crises reduction and the elimination of tensions, or establishing more equitable economic relations and eradicating world hunger, the challenge is to create a better world for all.
The course of nonalignment, which inspires and guides the international policies of Algeria, seeks to promote harmony between all peoples, whatever the path they have chosen. The African Continent has witnessed the cumulative anguish of institutionalized racism, of desertification, of drought, and of famine. A universal outcry is necessary to achieve the dismantling of apartheid, the achievement of Namibian independence, and bring peace in southern Africa.
In the Middle East, it is Algeria's conviction that the Palestinian problem is at the heart of the crisis in that region. Therefore, Mr. President, recognition of the inalienable national rights of the Palestinian people is the only path to a just and durable peace in that region.
In the Maghreb, Algeria will never cease to work in the interest of regional stability. An effort must be made to find a negotiated solution based on an African and international consensus over the question of the Western Sahara.
In regard to the conflict between Iraq and Iran, Algeria will spare no efforts to achieve a reasonable peace and good relations between these two neighbors.
Mr. President, the dialog that we profoundly desire between Algeria and the United States is nourished by the need for greater understanding, agreement, and cooperation between nations.
In thanking you once again, Mr. President, for your kind invitation and for your courtesies to me and my delegation during our stay, I would like to propose a toast to friendship between the American and Algerian peoples; to understanding, agreement, and universal cooperation; to the health of Mrs. Reagan and yourself; to the health of Mrs. Bush and Vice President Bush; to the health of all the friends gathered here this evening.
And thank you very much.
Note: President Reagan spoke at 9:44 p.m. in the State Dining Room at the White House. President Bendjedid spoke in Arabic, and his remarks were translated by an interpreter.
Ronald Reagan, Toasts at the State Dinner for President Chadli Bendjedid of Algeria Online by Gerhard Peters and John T. Woolley, The American Presidency Project https://www.presidency.ucsb.edu/node/260129