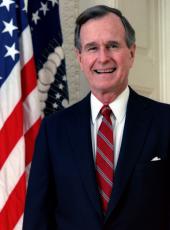 Toasts at the State Dinner for President Carlos Salinas de Gortari of Mexico
President Bush. To President and Mrs. Salinas and honored guests and ladies and gentlemen, Barbara and I are just delighted to welcome you to the White House. Your country, sir, has often extended to us that kindness for which Mexico is so famous. And tonight, we are honored to have you both here.
We first met last November, sir, in Houston, Texas. We met, if I might add this personal note, the day after your Harvard football team fell to the mighty men of Yale. It seemed at the time like an inauspicious start, somehow, but we've learned anew how special the relationship -- you're trying to get even -- [laughter] -- the relationship between Mexico and the United States can be, this relationship which has been and continues to be bound by so many ties. And we've become good friends. And those ties, of course, include our 2,000-mile border and billions of dollars in trade.
And they're educational, they're political, they're economic, they're environmental. And our ties rest on respect, maturity, and communication, consultation. And the values that we cherish links our cultures -- values of faith, family, and respect for tradition.
As a young man, Mr. President, you did study in the United States. And you know us well, and you came to understand our ties. And I, too, revere them, for as a Texan, I've lived many years side by side with Mexico and know and appreciate your beautiful country and its wonderful people. Such understanding, I think, leads to trust, and such trust can lead to progress.
Speaking of trust, I trust that you dried out from the golf cart tour of Camp David on Sunday. [Laughter] There was a true downpour. President and Mrs. Salinas came up there in the mountains. But I was anxious for the President to look around, so he and I set out on a golf cart in this driving rain. Barbara was convinced that I had just dealt a severe blow to Mexican-United States relations. [Laughter]
It is this kind of trust that I'm talking about. For, from its earliest days, your administration has acted as our neighbor and equal partner, and known that by applying our resources to common problems we can ensure a richer life for all.
Now, let us determine to do more. And let us increase bilateral trade and achieve economic growth. Let's expand cooperation and enhance investment opportunity. And let us support democracy in our hemisphere, and thus, regional security and stability. We must also reaffirm our commitment to combating narcotics -- that is both a national priority and a hemispheric crusade. And I thank you, sir, for your fantastic cooperation in this regard, for unless we defeat drug use and trafficking, we will help rob our children of their very dreams.
There's an ancient proverb which goes: "God guides whom he wills to a straight path." Mr. President, let our path be straight and true, affirming all that which unites us, and so enrich this generation and all the generations to come. In that spirit, I ask all of you, our guests here this evening, to rise and raise your glasses to Mexican-American friendship, to a better world for our children and all children, and to the health and happiness of our friend and colleague, the President of Mexico, and Mrs. Salinas.
President Salinas. President George Bush, Mrs. Barbara Bush, ladies and gentlemen, dear friends: I would like at this dinner to express my gratitude to the people and Government of the United States for the warmth they have shown towards the Mexican delegation which I head. I have found in President George Bush a friend who is not only worthy of esteem, but also an outstanding leader who, in the short time he has been in office, has managed to give a new thrust to the United States and to national relations based on the human understanding that is the legacy of freedom handed down by the Founding Fathers of this great republic.
We Mexicans, President Bush, have been witnesses to your willingness to engage in frank, open, and substantive dialog. This has been a good starting point for embarking on a different phase in our bilateral relation. The same applies to the Congressmen and officials with whom we have held fruitful talks on both sides of the border that have led to improved understanding between our peoples.
I have come to the United States with the intention of establishing a new relationship of friendship free of myths and mistrust. I have come determined to stress common points of view and shared ideals, to pave the way for a mutually respectful, united and solitary progress as neighbors towards the future. We are aware of the historical difficulties that we have had in our relations and of the problems that are still pending. Nevertheless, we are sure that the time has come to derive mutual benefits from the advantages of the border that joins us, thereby strengthening the identity of each nation at a time of profound worldwide changes.
In Mexico, we are presently experiencing a time of renewed social optimism. On concluding an important stage in the process of renegotiating the foreign debt a few months ago, we provided Mexicans with a new horizon for progress. I extend my gratitude to President Bush for the understanding and solidarity he has shown, which enabled us to reach a successful outcome to this important process so essential for our growth.
In Mexico, we are determined to modernize our country. We Mexicans are seeking the best way to mobilize the full potential of social energy, of groups, and of regions. Despite a severe economic crisis, we have not succumbed to apathy or despair. With strong institutions, we are currently striving to regain our growth and to continue transforming our economic structures and renovating our political practices. Rights and responsibilities are now becoming a salient feature of all social activities, the economy, and politics. The needs and dreams of Mexicans, especially those of modest means, demand this major transformation.
Trade exchanges worldwide have intensified significantly with the shortening of distances. Accordingly, exchanges between our countries are increasingly dynamic and diversified. Trade offers an extraordinary potential for mutual benefits and for growth, which is essential for my country. Few economies have opened up as much and as rapidly as Mexico's. A similar opening up of the American market would not only represent reciprocal treatment but a stimulus to our new friendship. A renewed period of gradual growth will enable us to assign resources to investment, to the strengthening of the domestic market, and to the generation of employment for the one million young people who currently demand it. My aim is for all Mexicans to find work in Mexico. However, the differences between our economies attracts Mexican labor to contribute to the development of the United States. We can do much to abolish mistreatment of workers on both sides of the border and to ensure respect for their dignity.
My government views the in-depth fight against drug trafficking as a tireless battle. We have not hesitated to resort to political will and economic resources to put an end to the international crime. Many Mexican lives have been lost in this struggle. We know, however, that stamping out the traffic in drugs is a matter of national security to us, of preserving the health of our youth and the basic principle of international solidarity in the face of an evil that affects us all. No one can feel untouched by it as long as there are teenagers trapped in addiction while their families look on helplessly.
Bilateral cooperation between our countries will be enriched by concrete actions undertaken by both governments to halt environmental pollution on our common border, to make joint progress in restoring the purity of the air and water in both territories, and to engage in common efforts to protect the tropical forests that are the lungs of the world. Allow me to add, Mr. President, that with this cooperation regarding the environment and to halt environmental pollution, that will enable the children in Mexico to paint the sky blue again and to find the stars in the sky.
Out of culture, a valiant history -- invincible in the face of adversity -- has been forged. It is the source of our self-assurance, our identity, in opening our doors to the world and participating in its transformation. By strengthening ourselves as an independent nation in today's interdependent world, cooperation between us will prosper and our relation as neighbors will become the new friendship of the coming decade.
President Bush, Mrs. Bush, you have given us a cordial welcome. In it, we see the spirit that sums up what has always existed between our peoples: the hope of sharing an era of mutual benefits, of exploring areas of agreement, and of working side by side to shape a future of mutual prosperity. By joining our efforts, our two governments can more clearly hear the wise, generous voice of the men and women who give meaning to this meeting.
President Bush, in this new stage of respect and friendship, let us join now in a toast to the strength of Mexico and of the United States; to a hemisphere with peace, democracy, and development; to the beginning of a new friendship that inspires us to live up to the expectations of our peoples; and to your own well-being and that of your family.
Note: President Bush spoke at 8:11 p.m. in the State Dining Room at the White House. President Salinas spoke in Spanish, and his remarks were translated by an interpreter.
George Bush, Toasts at the State Dinner for President Carlos Salinas de Gortari of Mexico Online by Gerhard Peters and John T. Woolley, The American Presidency Project https://www.presidency.ucsb.edu/node/263719