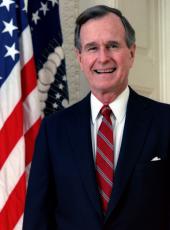 Toasts at the State Dinner for President `Ali `Abdallah Salih of the Yemen Arab Republic
President Bush. Mr. President, Barbara and I are delighted to welcome you to the White House. And as I told you earlier today, we have many fond memories of that fascinating visit to Yemen almost 4 years ago. All of us here tonight recognize President Salih as a man of extraordinary accomplishment -- a man who served his nation as a soldier and as a statesman, a man who's led his country at a time of great economic progress and is responsible for Yemen's growing role in Middle Eastern affairs.
Mr. President, as I hope you know by now, I value your views. I believe our discussions and your talks, both today and tomorrow, with so many key members of our administration and the Congress, will encourage understanding between our nations and help us advance the many interests that our nations share. It's been an opportunity to assure you of America's commitment to security in the Middle East and to the pursuit of a just and lasting peace in the region.
In the next few days, you'll be traveling across America -- New York, San Francisco, and on to Dallas, in my home State. And I hope that at every step along the way, you encounter the warm welcome that Barbara and I enjoyed wherever we walked in the streets, in the markets of San`a.
It has been a great pleasure, sir, to welcome you, to be your host on this historic visit -- a visit that signifies the growing ties between our nations and a growing friendship between the people of Yemen and America. And so, tonight I ask all our guests to join me in wishing President Salih health and happiness. In the words of the old Arabian saying, "He who has health has hope, and he who has hope has everything." Once again, you are most welcome here in the White House, sir.
President Salih. Dear friend President George Bush; the First Lady, Mrs. Bush; distinguished guests: Allow me first, Mr. President, to congratulate you on the first anniversary of your first term in office. I also wish to express my great pleasure to visit your country, hoping to establish closer linkage between the very ancient in our country and the most modern in yours.
Mr. and Mrs. Bush, dear friends, in October 1962, Time magazine wrote about a country almost unknown to the outside world called Yemen. It said that in this country, which is just rushing toward the 13th century, a revolution took place against a despotic ruler. Since then, human ingenuity and mankind's ability to learn and adapt have made the impossibility an actual reality, because less than 25 years later -- that is, in 1986 -- the people of that unknown country received the Vice President of the most modern and perhaps most famous country in the world.
Mr. President, it was then a wonderful occasion when you and the First Lady joined us in inaugurating our first refinery using Yemeni crude oil at the ancient town of Marib, which once was the cradle of one of the most advanced civilizations of the world. That visit was, in my view, a good omen because it came at the threshold of your campaign for the President of the United States of America. Therefore, I am extremely happy to greet you again and, through you, extend my greetings to the friendly people of the United States.
Thank you, Mr. President.
Note: President Bush spoke at 8:15 p.m. in the State Dining Room at the White House. President Salih spoke in Arabic, and his remarks were translated by an interpreter.
George Bush, Toasts at the State Dinner for President `Ali `Abdallah Salih of the Yemen Arab Republic Online by Gerhard Peters and John T. Woolley, The American Presidency Project https://www.presidency.ucsb.edu/node/263693