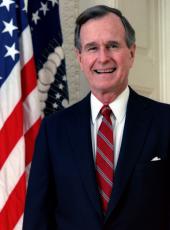 Toasts at the State Dinner for King Hassan II of Morocco
The President. Your Majesty, Barbara and I are truly delighted to have this opportunity to welcome you and your daughter, Her Royal Highness Princess Lalla Meryem, to the United States.
You know, the pomp and circumstance at dinners like these never grows old. As we were descending the lovely staircase this evening, I have to confess that Barbara and I felt like movie stars. To steal a line from Humphrey Bogart, "Welcome to Casablanca." [Laughter]
But, Your Majesty, the friendship between our two countries stretches back more than 200 years, back beyond even the autumn of 1788, when the Emperor of Morocco, Mohammed III, sent warm words of support and encouragement to the then newly-elected President of the United States, a brand new President receiving these greetings back in 1788. And for me, the friendship between Morocco and the United States has been quite personal.
Of course Barbara and I remember our visit. I fondly remember this visit to Morocco as Vice President in 1983, the crowds in Fez and in Rabat who welcomed us as we drove through those cities in an open car. And I recall your gracious invitation to put aside some of the pomp of state and inviting us to dine together along with many members of your family, surrounded by friends. It's something we will never forget.
And at critical moments in history, our two nations have acted in concert: earlier this century, when 300,000 Moroccans fought with the Allies against the Axis powers in World War II; and last year when Morocco once again demonstrated its commitment to shared ideals by sending its troops to the defense of Saudi Arabia.
Just as we've worked together to frustrate aggression, so we can work together to promote peace and stability in the Middle East, in the Gulf, and in Western Sahara. It will be the work of old friends, building a new world order.
So, let me ask all of you to stand and to raise your glasses to the health of King Hassan and his family, to a future blessed by peace, and to the common bonds of friendship that link the people of Morocco and the United States of America. Welcome, Your Majesty.
The King. Mr. President and dear friend, Mrs. Bush, Your Excellencies, ladies and gentleman: I want first to ask you to pardon my bad accent, please. I am delighted to say that my present state visit in the United States of America will certainly be for me a memorable one; for not only was the welcome party very warm, but the talks we had were suffused with that same openness and sincerity which have always characterized our contacts for the last 10 years.
Mr. President, God's will has always been to grant you success in whatever position you held, and in all the issues you had to handle. This is certainly due to your personal abilities and qualities, but also due in part to Mrs. Bush, a God-given companion. Constant support and dispenser of affection and serenity, so indispensable to any head of state. With Mrs. Bush here present, kindly accept the expression of my sincere consideration and admiration.
Mr. President, may the United States of America enjoy under your clairvoyant leadership an era of prosperity, and participate fully in the edification of harmonious and constant free cohabitation among the nations of the Earth.
As I thank you again for your gracious hospitality, I invoke, hoping you, Mr. President, the help of the Almighty, wishing you excellent health and full success in your endeavors. Long life to the United States of America. Long life for kingdom of Morocco.
Note: The President spoke at 8:30 p.m. in the State Dining Room at the White House.
George Bush, Toasts at the State Dinner for King Hassan II of Morocco Online by Gerhard Peters and John T. Woolley, The American Presidency Project https://www.presidency.ucsb.edu/node/266612