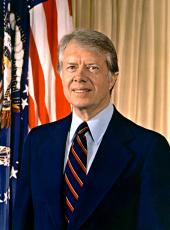 Toasts at the State Dinner During the Visit of Prime Minister Ohira of Japan
THE PRESIDENT. A poem written by the Emperor Meiji says, "All the seas everywhere are brothers to one another. Why, then, do the winds and the waves of strife rage so violently to the world?"
I think that there are two countries on Earth which have seen the winds and the waves rage violently between them, and then to realize that all the oceans on Earth are brothers—it would be Our country and Japan.
We are honored tonight to have you here as guests. And we are also honored, of course, to have our friends from Japan, a delegation come to visit us, headed by Prime Minister Ohira, accompanied by his lovely wife.
Prime Minister Ohira has been a Finance Minister. He's been Foreign Minister, I think, twice. He's been the Minister of Trade and Development, and now he has been elected in the most popular type of election in the history of Japan, to hold the highest office, the highest elective office in his country.
Recently I have read his autobiography, and I have noticed with great attention that he comes from one of the southernmost islands of Japan. [Laughter] I'm not surprised. [Laughter] I have always had a conviction, never yet contravened, that statesmanship is not incompatible with residence in the South. [Laughter]
I met Prime Minister Ohira in 1975. And in a very concise, but interesting, even an exciting interview—I did not hold public office; I was a relatively un-' known candidate, in May of 1975, while Bob Strauss was supporting two other candidates— [laughter] —and I could not get an appointment with him- [laughter] —Mr. Ohira was kind enough to give me his ear and to give me his advice. And when I got through talking to him, he said, "Well, what do you think your chances are?" And I said, "My friend, Mr. Ohira, the next time I see you we'll be in the White House." [Laughter]
And I never thought he would be Prime Minister. [Laughter] So, I was really much more frank with him than he was with me. [Laughter]
But I can say for the benefit of this audience and for the benefit of the press, after my own experiences today, consulting with Bob Strauss, our trade representative, consulting with Secretary Vance, that this has been one of the most productive days in my own diplomatic life.
The economic problems are well on the way to being resolved. And I believe that I can state without concern to the American people that we have made tremendous progress and that the hopes for success are very good, thanks to the statesmanship of Prime Minister Ohira and thanks to the common purpose that binds our nations so tightly together, that I can't think of any predictable problem that could possibly separate us for more than a few months.
This is a powerful nation. Japan is emerging, as you well know, as one of those countries on Earth bound most closely to us because of their commitment to democratic principles; because of their deep commitment to peace; because of their concern, based on experience, about the proliferation of nuclear explosives; a nation of great economic achievement, based on the dedication, the hard work, the innovation, the scientific knowledge, the cohesiveness of their society, the individual workers; intense competitors who keep us all on our toes; but still a nation comprised of people who are gentle and who are polite and modest, who are cultural in their inclinations, dedicated to the finest, most sensitive exhibitions of artistic achievement.
I have never talked to a diplomat, a public official, or an average American tourist who came back from Japan disappointed. But there's always been a sense of compatibility and a realization of hospitality and of a mutual destiny. This is important to us, as you well know.
I will be going to Japan next month, at the end of the month, for an official state visit to return this one. My wife and Amy will go with us. And I look forward to that opportunity.
And Japan, for the first time in its history, will be the host for a multinational summit meeting, where the leaders of several of the great democratic nations will meet to discuss mutual problems and mutual opportunities.
My prediction is that this will be one of the most exciting visits that I myself have ever made to a foreign country. And I look forward to it with a great deal of anticipation and pleasure.
Japan is a nation, too, that's been able to accommodate extremely rapid change, which has aroused the legitimate admiration of the world. But at the same time, the Japanese people have been able to preserve the cohesiveness and the unity of their society, their nation, and the cohesiveness and unity of communities, and I think perhaps even more importantly, the cohesiveness and unity of the Japanese family.
We have a great future together, and I think all of you realize that with the explosion of technology and communications and population, the shortage of food, the intense competition in trade, the potential divisiveness between developed nations and nations still struggling for the basic elements of life, the vast advancement in the quality of weapons, the contentiousness of regional arguments spreading instantaneously throughout the world—it's become increasingly difficult for nations to live in harmony, but it's become increasingly imperative for nations to live in harmony.
And I believe that our own experience with Japan is a very good pattern or model for other nations to emulate in the future, not only distant nations but our Nation in its relationship with other countries. When we have differences which are profound and of great importance, we are absolutely dedicated to resolving those differences without delay. And the negotiators, the Presidents, the Prime Ministers have no doubt that that inclination to restore friendship and to restore understanding and to eliminate disagreements is an imperative forced on us by the deep feelings of the citizens whom we represent.
Well, in closing, I would like to say that I'm very proud of the productive partnership that we enjoy now with Japan and which will be a foundation for our Nation's foreign policy in Asia and one of the foundations for our worldwide foreign policy throughout the 1980's. And a great deal of the credit for this achievement can rest upon the superb leadership which has represented the people of Japan so well.
Trees in America are kind of a precious thing, and I know that the first assignment that Prime Minister Ohira had to a foreign nation was to Inner Mongolia. He accepted the assignment with a great deal of anticipation. When he arrived there—I won't go into detail—but one of the disappointments was that there was not a tree in the city where he had to live for 18 months.
But when the people of this Capital City think of Japan, or when the people of Georgia think of Japan, the first thought is the beauty of a cherry tree in April. And the Japanese, recognizing this characteristic of Americans, on our 200th birthday for a gift gave us a superb collection of bonsai trees, which we enjoy frequently in the White House and which visitors also enjoy.
I would like to say, in closing, that I have learned a lot from Prime Minister Ohira. I'm a little too impulsive, perhaps, as a politician, and maybe this is a characteristic of Americans—we don't have the patience to deal with intransigent problems in a careful, considered, often a productive way.
And in his book, in one of the latter chapters, when a young politician asked him for his best advice, he said something that's caused me to think a great deal today. He said, "It's better to correct a wrong than it is to initiate many rights."
We had quite a discussion here at the table between Bill Rogers, our finest athlete, who's won the Boston Marathon three times, and Joan Benoit, who is one of the most superb women athletes in the world, and Peter Falk, who's a great actor and who has one of his finest fans sitting across the table from him—two of his finest fans. But we discussed what the Prime Minister meant about that. And we decided that to correct wrongs was a great attribute of a political leader.
I would like to propose a toast: To the Prime Minister of Japan, Mr. Ohira, to his wife, to the wonderful people of Japan, to peace, to prosperity, to progress, and through the political system, to the correction of wrongs.
Mr. Prime Minister, we are proud to have you here, sir.
THE PRIME MINISTER. President and Mrs. Carter, excellencies, ladies and gentlemen:
I appreciate your kind words, Mr. President, for my countrymen and for me.
When we last met in 1975—you, as the former Governor of Georgia, and I, as Japan's Minister of Finance—I recall that you said, "Next time, let us meet in the White House." And here we are. [Laughter]
Mr. President, I also recall one piece of my personal history. Some 30 years ago, I was a guest of your Government's National Leaders program, under the auspices of the Department of Army, for a 3-month orientation visit to this country. It was a deeply rewarding experience.
On my return to Japan, I visited towns and villages of my constituency to make speeches on contemporary American affairs by making good use of my American experiences. It was my first campaign for a seat in the Diet. In a sense, therefore, the political career that has brought me to the White House this evening began three decades ago, in my first exposure to your great country.
Both of us, Mr. President, have been given by our fellow citizens the highest trust they can bestow—to lead them, as best we can, and with faith, through the difficult choices, domestic and foreign, which our two democracies now face in the world.
The responsibilities of the President of the United States are indeed awesome, because of America's unique power and mission in the maintenance of global peace, and because of your wide commitments in leadership of the free world.
Japan's responsibilities are also great and growing, and I am determined that we shall play an increasingly creative and effective role in world economic and political affairs, in closest partnership with our trusted friend and ally, the United States.
One of the great satisfactions of my present post as the Prime Minister of Japan is the opportunity to work with you, Mr. President, and your Government and people. I am eager to work to make the Japanese-American partnership a more powerful and productive force for the progress of the world community toward a more stable peace and a more widely shared prosperity.
I welcome this opportunity, because I know you share the deep conviction that there is spiritual meaning to man's being. I also believe that the eternal now is the only time we have to act on our convictions, and that you and I will, therefore, always be ready to make the difficult decisions which cross our desks each day.
I look forward to our collaboration.
Ladies and gentlemen, will you join me in toasting the health of the President of the United States, and the well-being and success of the American people.
Thank you.
THE PRESIDENT. Thank you very much. That's beautiful English—beautiful.
Note: The President spoke at 10 p.m. on the West Terrace of the White House.
Jimmy Carter, Toasts at the State Dinner During the Visit of Prime Minister Ohira of Japan Online by Gerhard Peters and John T. Woolley, The American Presidency Project https://www.presidency.ucsb.edu/node/250331