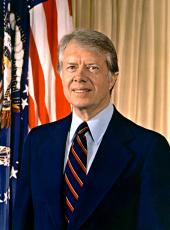 Toasts at the State Dinner During the Visit of President Shagari of Nigeria
PRESIDENT CARTER. I can already tell that this is going to be a delightful evening, because there's kind of a spirit of friendship and excitement in the guests that we've had here at the White House. The reason for that is that we've got a great new leader of a wonderful new democracy who's come here representing one of the largest and most influential democracies in the entire world.
I've been trying to find something where I was better than he was to make me feel better tonight. He's younger than I am. I thought he was born in 1924, he's born in 1925. I've got four children, he's got nine children. [Laughter] And he's got 3 more years to serve in this term, I've only got a few more months to serve in this term. [Laughter] I grow peanuts; he told me he grows ground-nuts on his farm, which is a much more all-pervasive worldwide name for the same genus. And I'm very delighted that we've already had a chance to get acquainted and to become, I believe, at least embryonic personal friends.
We have as a guest tonight a man who represents a great nation, 80 million freedom-loving people committed to free elections and democracy, the end of racial discrimination throughout the continent of Africa, a nation committed to peace, a nation like ours blessed by God with great natural resources, the nation of Nigeria, committed to preserving those resources for the benefit in perpetuity of the people who look to him for leadership, a nation which has had an unbelievable transformation from a military regime, under General Obasanjo and his Cabinet, whom I know very well, in the most generous and constructive change that I have ever known in politics, where they all voluntarily committed themselves not to seek further office, but let the people of the nation choose through free and unrestrained elections a civilian government. And none of those former leaders who did such a superb job for Nigeria were willing or able through their own self-imposed constraints to serve in the new government. It's an exciting thing to see the spread of democracy and the spread of influence of this great, new nation throughout the continent of Africa and indeed the entire world.
Obviously, there is a need for exchange of ideas. The first official visit that an American President ever made to a nation in Africa was made when I visited Liberia and Nigeria in April of 1978. I visited Nigeria first, and it was not an accident that I chose Nigeria in all the 50 or more nations in the continent of Africa to express our country's new commitment to the interests and the importance of the continent of Africa, which had been neglected too long by my predecessors who've lived in this house.
Later, indeed this year, Vice President Mondale made a return visit to Lagos. He was received with hospitality and warmth. And then following that we had a very constructive economic mission who went to Lagos to explore new ways that we could share in a partnership fashion the economic development and the innovations that can benefit all of our people by this close cooperation in trade and commerce. And only 2 weeks ago my science and technology adviser, Dr. Frank Press, went back to Nigeria to explore ways where new ideas can be used to benefit the lives of both our peoples.
We have literally thousands of young Nigerian students who come to our universities. This is a further tie that binds the people of these two great nations together. I think, perhaps, more important of all though is the spirit that permeates the consciousness of the people, a spirit dedicated to freedom, a spirit dedicated to democracy, a spirit dedicated to deep religious convictions and the right of each person to choose his or her own religion, a spirit that permeates the consciousness that a human being is a precious thing in the eyes of God, and that government has a responsibility and a duty to enhance the worth of that individual and to let whatever talents that person might have be expanded.
The President of Nigeria, who's our honored guest tonight, along with one of the most distinguished delegations that has ever come to our country, is a man of great experience in government. He's also a farmer who loves the earth and sees in his country the tremendous potential for the future of greater production of food and fiber and things that are good for people in a peaceful way. And he's also a teacher, he's also an author, and he's also a poet. A man of ideas and a man of action. So, in many ways, this is an exciting evening which is important to us all.
Nigeria is now using its tremendous economic and political influence throughout the continent of Africa to promote stability and to honor international boundaries, but to let the aspirations which are legitimate among people who have been too long suffering from suppression and discrimination be realized. And to promote majority rule and to promote the end of apartheid and the end of racial discrimination is a deep commitment of the people of Nigeria which we share.
There's never been any equivocation in my own administration about a common approach to these concepts of the enhancement of freedom and the enhancement of the worth of individual human beings.
And finally, I'd like to say that we have worked together very closely. It wasn't very many months before I became President in the previous administration here that the borders of Nigeria were closed to the Secretary of State of our country. But we've opened those borders and those arms of friendship in a mutually beneficial way across the ocean, and we have worked together to promote majority rule and democracy and independence of Zimbabwe. And we're now working to realize the same aspirations in Namibia cooperating closely. And throughout South Africa we're working to end apartheid and to see this same concept that's been exemplified in Zimbabwe under Prime Minister Mugabe extended to all people who live there.
And finally, let me say that as a leader in the Organization of African Unity, President Shagari and the people of Nigeria have a great reason to be proud. One top official in the OAU said that Nigeria acts as an umbrella over the continent of Africa to realize the finest aspirations of all people who live there. And I'm very glad to raise my glass in a toast tonight to the man who holds that umbrella and who exemplifies to the utmost degree the qualities and aspirations of the people who he leads.
I'd like to ask you all to rise and join me in a toast: to President Shagari, to the great and free and independent and democratic nation of Nigeria, and to the people who join with us in friendship and in peace to the promotion in the finest way of human rights for all. Mr. President.
PRESIDENT SHAGARI. President Carter and Mrs. Carter, Vice President Mondale and Mrs. Mondale, Your Excellencies, distinguished guests, ladies and gentlemen:
It is 1 year since I was in an electioneering campaign, and you are, Mr. President, now in a period of election, which from my own experience, I know, is a period which is a very busy period. And the fact that you can spare the time to meet us and entertain us, I, more than anybody else, know that it is a great sacrifice, and it is done in your love to Africa and to Nigeria, which we greatly appreciate.
I feel highly honored to be your special guest, and I want to take this opportunity to thank you, Mr. President, your Government, and the people of the United States for the wonderful hospitality accorded to me and my entourage since our arrival in your great country. The toast which you have proposed to me and to my country is an expression of the deep and true friendship that has always existed between our two countries.
We in Nigeria, indeed, I daresay in all Africa, welcome and value this friendship with your country, a friendship which we have consistently enjoyed since the beginning of your administration. Before your time Africa and African affairs did not receive adequate and positive American attention as a matter of official policy. While it is true to say that African leaders have always been welcomed to the White House, it is also a fact that you, Mr. President, are the first American President to make an unprecedented visit to Nigeria, in the spring of 1978. Your state visit, which was in return for the visit of my predecessor, General Obasanjo, whom you received in this same gracious setting, is a landmark in the friendly relations between our two peoples.
These and other activities between our two countries reflect your commitment not only to seek to understand us better but also to build a very strong bond of friendship and cooperation between our two countries. In that way Nigeria and the United States have come to treat each other with the deserving respect and now cooperate in the material advantage of our two peoples.
Our relationship is one which is based on interdependence. The friendship which characterizes it has made it possible for us to maximize those advantages that are derivable from it. We have, for example, set up the machinery of bilateral economic cooperation between our two Governments to provide the framework within which contacts at various levels in the public and private sectors of the economy will be facilitated. Our population of some 80 million people needs to be fed, housed, educated, and provided with good medical services to enable us to engage unhindered in the task of nation-building. Also, we know that your country is the biggest and most advanced producer of food in the world. We will, therefore, need expertise and investment by your people in our green revolution, to which my administration attaches the greatest importance and has devoted substantial proportion of our resources.
In addition, we take this opportunity to invite your planners, architects, and engineers to collaborate with their Nigerian counterparts to plan, design, and construct low-cost housing for our people. We will welcome, in short, American participation and partnership in the national development, as we have welcomed other countries. The combination of American technology and our own resources and manpower will enable us to contribute our output to the challenge of providing the material needs of our people. Massive American investment in the relevant areas of our development programs, apart from having many other advantages for our own two countries, will be yet another method to reverse the payment deficit which the U.S. now runs in its trade with Nigeria. I know that this is a matter of considerable importance to you, Mr. President, and all Americans.
Mr. President, the voluntary return of the Nigerian armed forces to their milltap/ function and the assumption of power by democratically elected government both guarantee an atmosphere of stable government security and security for those who may wish to come to our country. Our laws in this regard are fair and the most likely to assure mutual satisfaction and political stability.
Mr. President, we in Nigeria realize clearly that in order to achieve our goal of national development we need an atmosphere of international peace and security. The United States is one of the superpowers of this world whose actions help to determine the future of mankind. It is for this reason that we have watched with great interest and concern the fortunes of your talks with other superpowers in respect of nuclear disarmament and the control of strategic arms. Indeed, we applauded your efforts in the conclusion of the SALT II treaty last year, because we believe that mankind deserves to live without the fear of nuclear annihilation and that the treaty was one positive step towards freedom from nuclear holocaust. We are your friends and we trust that you will not relent in your efforts to save us this anxiety.
The fear of nuclear catastrophe, dreadful as it may be to contemplate, is not only our main concern. The yawning gap between the North and the South cannot fail to demand our prime attention, because in spite of our oil resources we belong to the Third World.
My friends, this is not the time to bother you with data on economic control of the wealth of the world by developed nations, data of deprivation of essentials of life in the South, data on the staggering rise in death through famine and starvation, data on the soaring number of refugees in Africa and other parts of the world, and endless data of procrastinations and refusals on the part of developed countries to respond to calls from the poor South to come to meaningful agreements. However, I feel this is an opportune moment for me to call on America, an influential voice in the North, for a rethink on the matter which poses a real threat to the stability of the world if not arrested.
For those of us gathered here tonight we must realize that failure to act meaningfully to correct this economic imbalance between the two worlds may mean the loss of democracy and human rights as we know them in this part of the world. I believe America has the will and the capacity to lead the rest of the. North in coming to an understanding of the developing countries. It is in your best interest to lead the way be opening up to the demands of the developing countries. On the other hand, the message should also go out to our friends in Eastern Europe that they need to ensure this world stability by extending substantial development aids to the developing countries. To argue, as they have done in the past, that they were never colonial powers and therefore unable to enter meaningful dialog is nothing but an escapist posture.
Another equally pressing problem is that of racism, which you have mentioned, Mr. President. The problems of colonialism and apartheid in southern Africa from the beginning—I have to say that I am particularly pleased with the fact that the efforts of our two countries contributed immensely to the final liberation of Zimbabwe. However, we in Nigeria do not regard our independence as complete so long as there remains a parcel of land in Africa, on the African Continent, which is still under foreign domination, nor shall we rest in our struggle so long as racism and racial discrimination as a philosophy of government is practiced in our continent.
Your Vice President restated very clearly your Government's policy in this regard when he was in Lagos a few months ago, and we were very pleased to hear it anew. But may I ask, Mr. President, to let us work more closely and more diligently together to eradicate this evil which the whole international community has declared abominable. It is our hope that your administration and the entire American people, who have purged racism from your own society by law, will collaborate with us in doing the same by our votes in the United Nations in the case of our continent. It is better for South Africa to heed the voice of these nations now and work for peaceful change than to wait 'to be engulfed in a violent upheaval.
In closing, Mr. President, let me entertain the pleasant wish that these happy relations between the friendly peoples of the United States of America and the peoples of the Federal Republic of Nigeria, which we celebrate here tonight, will endure and that they will serve to make this world a better habitat for all mankind.
Your Excellencies, distinguished guests, may I, in the fond hope, invite you to raise your glass and drink with me a toast: to the personal well-being of the President and Mrs. Carter, to the happiness of the American people.
PRESIDENT CARTER. Thank you, Mr. President.
Note: President Garter spoke at 8:15 p.m. in the State Dining Room at the White House.
Jimmy Carter, Toasts at the State Dinner During the Visit of President Shagari of Nigeria Online by Gerhard Peters and John T. Woolley, The American Presidency Project https://www.presidency.ucsb.edu/node/250793