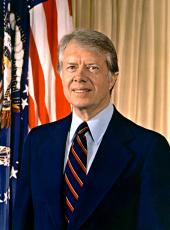 Toasts at the State Dinner During the Visit of King Hussein of Jordan
THE PRESIDENT. A lot of people have accused me of inviting Their Majesties to Washington just so we could have Queen Noor visit the White House. [Laughter] That's not entirely accurate, because there are many reasons why we should want His Majesty, King Hussein, to come back to visit with us, as well as his beautiful bride and the new mother of his new child, to come with her parents and her brothers and sisters and to be with us this evening. It's a delightful experience for us, and her presence vividly demonstrates the close relationship and the unbreakable ties between our two countries.
The first time that King Hussein came to visit a President of the United States was in 1960, when President Eisenhower lived in this home. And he's been here many times since, a great leader, one who represents accurately the courage and the dynamism and the commitment and the progress of the people of Jordan.
He has led his nation over more than a quarter of a century, in good times and in dangerous times, in successful times and in disappointing times, but always with a deep commitment to what's best for his own people and the preservation of stability and peace and the honoring of human rights not only in Jordan but throughout the Middle East.
He's indeed been an inspiration to many people who have served as the leaders of other nations. This is a troubled time in the history of the world, and to have a leader like him, still young, but with deep experience, reaching out his hand of friendship and peace to those neighbors of Jordan who look to him with confidence and with admiration, is reassuring to us all.
We share a great deal in common—a commitment to the integrity of international boundaries; a commitment to the unity of nations in the Middle East, to the preservation of peace, to the security of all, and to the enhancement of those principles which guide human beings and which never change. But, at the same time, he has exhibited to a remarkable degree an ability to ensure economic progress and utilization of modern science and technology to give his people a better life.
King Hussein is a good counselor and adviser for other leaders of nations who meet with him. And although sometimes our two nations do disagree on the technique for achieving a goal, we share completely a common commitment to the same goals—to the realization of the full rights of the Palestinian people, to the security of Israel and all the nations in the Middle East, to the honoring of deep religious feelings, and to the knowledge that people of good will ultimately, with courage and with perseverance, sometimes with patience, can triumph.
We have had good discussions so far today—much better than would have been expected—because of his frankness and because of his generosity, his eagerness to understand different points of view without yielding at all on the deep principles which have guided his life and which he holds so dear. We have expressed our concern about aggression demonstrated by the Soviets' invasion of Afghanistan. We've expressed our concern about international terrorism, exhibited in Iran with the unwarranted holding of innocent Americans hostage for many months, and we've expressed our commitment to stability in the Persian Gulf region and to peace in the Middle East.
I would like to say in closing that because of his own leadership and because of geographical circumstances of his own nation, Jordan will indeed play a central role in the realization of the hopes and dreams of all who want peace and stability and freedom and security in the Middle East.
At this time, I would like to propose a toast, if you will stand and join me. To Their Majesties, King Hussein and Queen Noor, to the friendship which binds our two nations and our two people together, and to the commitment to peace and the enhancement of human rights and a better life for all those of faith and good will everywhere throughout the world.
THE KING. Mr. President, Mrs. Carter, ladies and gentlemen, my good friends:
I'd like to thank you, sir, for your kind and warm words of friendship towards both Noor and I, towards a friendship that I value, towards the ties and relations that have grown between our two nations over many years, and through good and difficult times, the ties that we treasure, for the fact that there are links of people who uphold the same ideals and principles and are dedicated towards fulfilling the same objectives for a better tomorrow which, hopefully, will bring a preservation of dignity to human beings, peace, justice, and a better life.
It's true, sir, I have had the privilege of visiting the United States over many years. I'm a firm believer and have always been dedicated to the cause of friendship between our people, a better understanding, and I'm proud to have been able to serve this objective and will continue to do so to the end of my days.
Throughout these many years and many occasions, I've had the privilege of meeting with leaders of this great Nation. I said it today, and I've said it often: throughout all these meetings, none gave me more of his time to discuss the problems of our part of the world and indicated as much of an interest in the problems that we face in the area from which I came and the determination to contribute towards solutions to those problems as have your good selves.
It is true that we may have differences in approach, but we respect your dedication to the cause of peace in our part of the world. It's a dedication that we share. We look into the future with hope, with determination, to contribute our full share for the establishment of a just and durable peace in the Middle East which will affect not only those who live there but future generations there and elsewhere in the world.
We thank you for the opportunity to be with you, to have this opportunity to discuss our problems, to discuss all matters as friends, as brethren, and I'm convinced that this opportunity will enable us to address ourselves more adequately to the challenge in the times to come. We have been overwhelmed by the kindness and warmth with which we have been received once again, almost at home and amongst friends.
Thank you very much, sir, from both Noor, myself, and all who accompanied me from Jordan on this visit to the United States. May God bless you; may your efforts always meet with success in the times to come. Thank you, Mr. Carter.
Ladies and gentlemen, please, I call upon you to rise and join me in drinking a toast to the President and Mrs. Carter, to the United States, to friendship and fruitful cooperation in serving our mutual and common objectives. To peace and a better future.
THE PRESIDENT. Thank you very much.
Note: The President spoke at 8:08 p.m. in the State Dining Room at the White House.
Jimmy Carter, Toasts at the State Dinner During the Visit of King Hussein of Jordan Online by Gerhard Peters and John T. Woolley, The American Presidency Project https://www.presidency.ucsb.edu/node/251043