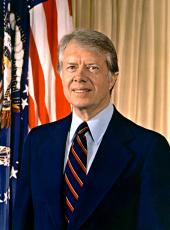 Toasts of the President and the Shah at a State Dinner in Tehran, Iran
THE SHAH. Mr. President, Mrs. Carter, Excellencies, ladies and gentlemen:
It gives the Shabanou and myself great pleasure to welcome you to our country. This reception is particularly auspicious since it takes place on the eve of 1978, and your presence here represents a New Year's gift for your Iranian friends.
In our country, according to ancient tradition, the visit of the first guest in the new year is an omen for that year. And although the annual new year is celebrated with the advent of spring, nevertheless, since the distinguished guest tonight is such a person of good will and achievement, naturally we consider it as a most excellent omen.
Mr. President, you now have come to a country which has always had unshakable links with your country and your great nation. We are united together by a special relationship made all the closer by a wide community of mutual interests, which we share in our firm determination to contribute to the maintenance of world peace and security in assuring human progress and betterment.
History has been witness to the growth and development of an outstanding relationship Between two nations motivated by common trust, good will, and respect which has repeatedly withstood the test of time.
Humanitarianism, liberty, good will, constructiveness, and creativeness, which are the distinctive qualities of the great American nation, have always been highly regarded by us. Fortunately, our American friends have also perceived this friendship and regard of our people from the very beginning.
The Reverend Mr. Smith, the first American that set foot on the land of Iran in the year 1832, wrote in his assignment report that living among good people like Iranians and serving them was more' pleasant for him than anything else, and that he considered the best days of his life those spent in this country.
It gives me pleasure to state that the fruitful cooperation, the social and cultural fields between our two nations have commenced even prior to the establishment of diplomatic relations.
The first modern school was established in Iran in the year 1836 by American missionaries. The American College in Tehran, which was established 100 years ago, was an outstanding center for the education and training of Iranian youth during the whole course of its activities. Our people carry such good memories of its beloved principal, Dr. Samuel Jordan, that one of the highways of Tehran has been named after him.
Now that we are reminiscing on our meritorious American friends, it is perhaps suitable to cherish the memory of Howard Baskerville, a young American who, upon completion of his studies at Princeton, was assigned as a teacher in the Memorial School at Tabriz and, during the constitutional revolution of Iran, heroically and bravely lost his life in the fight for freedom.
This feeling towards Iran has always been evidenced in the literary works of your nation. For instance, the poetry of Ralph Waldo Emerson, in glorifying Iran, is .one of the most beautiful examples of its kind in the world of literature. The basic and comprehensive work of Arthur Upham Pope regarding the art of Iran is the best research work that has ever been prepared in this field. Likewise, the extensive studies of William Jackson regarding the culture and civilization of Iran are among the most valuable researches in the history of Iranology.
Numerous universities in the United States have expanded activities in the fields of Iranian studies and its language. Also valuable treasures of the culture and art of Iran are preserved in various libraries and museums of your country. Moreover, American archeologists have played an eminent role in archeological discoveries in Iran.
In the political field, our nation carries unforgettable memories of the role of America in our crisis and times of stress, from the beginning of the present century. For instance, we will never forget that in the great political and economic adversity of our country, in the second decade of this century, William Morgan Shuster, upon the invitation of the government of Iran, sincerely endeavored to bring order into the finances of Iran. Moreover, when, following the 1919 agreement, Iran was in danger of losing its independence, America ,raised its voice to the world in support of the sovereignty of Iran, as also in the years after the Second World War, America provided us with vital economic and political assistance.
During World War II, I personally had the pleasure of meeting President Franklin Roosevelt in our capital city. Since then I had the opportunity of welcoming in Iran several Presidents of the United States. And I personally have also traveled repeatedly to your great country. I am glad to state that all these visits have been accompanied with the spirit of friendship and cooperation, which is the distinct quality of our relationship.
An example of this cooperation is the long-term economic exchange agreement between Iran and the United States, which was recently signed and, in its scope, is the largest agreement ever signed between us and any other country.
Almost 100 years ago the first American Ambassador, Samuel G. W. Benjamin, who had been assigned by President Chester Alan Arthur, came to Iran. In his book, "Persia and the Persians," he wrote, "Iran today is a weak and unknown country, but certainly this country will step into the path of progress and in the not too distant future will again play an important role in the world."
Now with this prediction coming true, our country has started its role within its potentialities and possibilities. Perhaps it need not be mentioned, but this is a positive and constructive role and in conformity with the principles that your great country has always supported independent and of which you, Mr. President, are the most notable advocate.
From the early days of your election campaign you indicated how much you will attach to high ideals of right and justice, moral beliefs in human values. These are all qualities that have elevated the American society in such a short period of time to its present high prestige in the world, and a nation like ours with its ancient culture can very well feel to what extent such concepts in moral principles are vital, especially in the world of today, which is suffering from some sort of a civilization crisis.
I entertain excellent memories of the fruitful discussions which I had with you in Washington a few weeks ago. The cordial hospitality extended by Mrs. Carter and yourself and the warmth of your attitude and the understanding which you showed in our discussions have deeply touched me. I am glad that our discussions were so meaningful, particularly in the case of energy, which is one of the most important and vital problems of our era.
We, who are among the greatest producers, share the same view that the present unrestricted use of oil--which is an expendable and finite resource--is not logical and that this valuable commodity, instead of the present, normal daily use, should be utilized mainly in the petrochemical industry. In the meantime, efforts should be exerted to find a substitute in new resources of energy.
Fortunately, we enjoy close cooperation with your country in the field of energy, which will no doubt be consolidated in the future. We also share the same opinions regarding the establishment of an honorable and durable peace, and we sincerely hope that 1978, which begins tomorrow, will be a year of such a peace of which you are the harbinger.
I wish every success to you,Mr. President, and Mrs. Carter, who has proved to be such a successful ambassador of good will, motivated, as she is, by high humanitarian ideals in your present tour, and hope that this will prove to be fruitful trips in the interest of the whole world and that of peace, security, and welfare for human society.
With this hope I propose a toast, Mr. President, for your and Mrs. Carter's health and happiness, for the further progress and prosperity of the great and noble American people, for the ever increasing friendship and cooperation between our two countries, and for international peace and understanding.
THE PRESIDENT. Your Majesties and distinguished leaders of Iran from all walks of life:
I would like to say just a few words tonight in appreciation for your hospitality and the delightful evening that we've already experienced with you. Some have asked why we came to Iran so close behind the delightful visit that we received from the Shah and Empress Farah just a month or so ago. After they left our country, I asked my wife, "With whom would you like to spend New Year's Eve?" And she said, "Above all others, I think, with the Shah and Empress Farah." So we arranged the trip accordingly and came to be with you.
These visits and the close cooperation that we share, the intense personal and group negotiations and consultations are very beneficial to both our countries. They are particularly beneficial to me as a new leader of the United States. I might pause parenthetically and say I apologize for taking 10 years off your service this afternoon when I said 27 years. It should have been 37 years. And Empress Farah, thank you very much for correcting me on that. The Shah said he felt 10 years younger when I did that. [Laughter]
But we do have a close friendship that's very meaningful to all the people in our country. I think it is a good harbinger of things to come--that we could close out this year and begin a new year with those in whom we have such great confidence and with whom we share such great responsibilities for the present and for the future.
As we drove in from the airport this afternoon to the beautiful white palace where we will spend the night, and saw the monument in the distance, I asked the Shah what was the purpose of the beautiful monument. And he told me that it was built several years ago, erected to commemorate the 2500th anniversary of this great nation. This was a sobering thought to me. We have been very proud in our Nation to celebrate our 200th birthday, a couple of years ago. But it illustrates the deep and penetrating consciousness that comes from an ancient heritage and a culture that preceded any that we've ever known in our own lives.
Recently, Empress Farah gave us a beautiful book called "The Bridge of Turquoise"--and we get many gifts of that kind from visitors--and for a few days I have to admit that we didn't pay enough attention to it. And one night I started to thumb through the pages, and I called my wife, Rosalynn, and I called my daughter, Amy, who climbed into my lap, and we spent several hours studying very carefully the beautiful history that this book portrays of Persia, of Iran, of its people, of its lands, of its heritage and its history, and also of its future. It caused me to be reminded again of the value of ancient friendships and the importance of close ties that bind us as we face difficult problems.
Iran, because of the great leadership of the Shah, is an island of stability in one of the more troubled areas of the world.
This is a great tribute to you, Your Majesty, and to your leadership and to the respect and the admiration and love which your people give to you.
The transformation that has taken place in this nation is indeed remarkable under your leadership. And as we sat together this afternoon, discussing privately for a few moments what might be done to bring peace to the Middle East, I was profoundly impressed again not only with your wisdom and your judgment and your sensitivity and insight but also with the close compatibility that we found in addressing this difficult question.
As we visit with leaders who have in their hands the responsibility for making decisions that can bring peace to the Middle East and ensure a peaceful existence for all of us who live in the world, no matter where our nations might be, it's important that we continue to benefit from your sound judgment and from your good advice.
We also had a chance to discuss another potential troubled area, the Horn of Africa. And here again we live at a great distance from it. But this region, which already sees the initiation of hostility and combat, needs to be brought under the good influence of you and others who live in this region. And we will be glad to cooperate in any way that we can. We want peace Go return. We want Somalia and Ethiopia to be friends again, border disputes to be eased and those of us who do have any influence at all to use that influence for these purposes.
We have also known about the great benefits that we derive in our own nation from the close business relationships that we have with Iran.
As I drove through the beautiful streets of Tehran today with the Shah, we saw literally thousands of Iranian citizens standing beside the street with a friendly attitude, expressing their welcome to me. And I also saw hundreds, perhaps even thousands of American citizens who stand there welcoming their President in a nation which has taken them to heart and made them feel at home. There are about 30,000 Americans here who work in close harmony with the people of Iran to carve out a better future for you, which also helps to ensure, Your Majesty, a better future for ourselves.
We share industrial growth, we share scientific achievements, we share research and development knowledge, and this gives us the stability for the present which is indeed valuable to both our countries.
We are also blessed with the largest number of foreign students in our country from your own nation. And I think this ensures, too, that we share the knowledge that is engendered by our great universities, but also that when these young leaders come back to your country for many years in the future, for many generations in the future, our friendship is ensured. We are very grateful for this and value it very much.
I have tried to become better acquainted with the culture of Iran in the preparation for my visit here. I was particularly impressed with a brief passage from one of Iran's great poets, Saadi. And I would like to read a few words from him. Empress Farah tells me that he lived about 600 years ago.
"Human beings are like parts of a body, created from the same essence. When one part is hurt and in pain, others cannot remain in peace and quiet. If the misery of others leaves you indifferent and with no feeling of sorrow, then you cannot be called a human being."
I asked Empress Farah why this poet was so famous here in Iran, because he had impressed me so greatly, too. And she said that because he had the greatest facility for professing profound thoughts in the simplest possible words that the average citizen could understand.
Well, this brief passage shows that there is within the consciousness of human beings a close tie with one's neighbors, one's family, and one's friends, but it also ties us with human beings throughout the world. When one is hurt or suffers, all of us, if we are human beings, are hurt and we suffer.
The cause of human rights is one that also is shared deeply by our people and by the leaders of our two nations.
Our talks have been priceless, our friendship is irreplaceable, and my own gratitude is to the Shah, who in his wisdom and with his experience has been so helpful to me, a new leader.
We have no other nation on Earth who is closer to us in planning for our mutual military security. We have no other nation with whom we have closer consultation on regional problems that concern us both. And there is no leader with whom I have a deeper sense of personal gratitude and personal friendship.
On behalf of the people of the United States, I would like to offer a toast at this time to the great leaders of Iran, the Shah and the Shahbanou and to the people of Iran and to the world peace that we hope together we can help to bring.
Note: The exchange began at 10:18 p.m. in the Niavaran Palace.
Later in the evening, the President met with the Shah and King Hussein of Jordan at the Niavaran Palace.
Jimmy Carter, Toasts of the President and the Shah at a State Dinner in Tehran, Iran Online by Gerhard Peters and John T. Woolley, The American Presidency Project https://www.presidency.ucsb.edu/node/242827