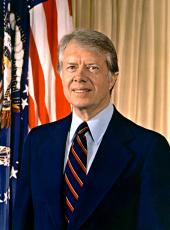 Toasts of the President and the Prime Minister at a Dinner Honoring Prime Minister Trudeau of Canada
THE PRESIDENT. In preparing for this visit, I learned that we have some very serious and very intense competition with our friends in the north. Dr. George Gallup ran a poll recently, and he asked the people who live in the United States to name their favorite nations. The United States got 95 percent; Canada got 91 percent. [Laughter] So, I feel that I'm in an intense and constant and very challenging competition with Pierre Trudeau for the hearts of my own people.
I think this does indicate the great compatibility and friendship and sense of warmth and mutual admiration that has always existed among American people toward Canada. We share a border that's more than 5,200 miles long. And for 200 years, our people have lived with one very brief interval, around 1812--in a spirit of friendship. And that's important to us. Even more than we think, in our daily lives, we are dependent on Canada for many things.
Canada has about 22 million people. And every year, 60 million people cross the border. And there is a kinship and a sharing of delight and challenge and enjoyment of life that transcends the political realities of a modern, fast-changing, technological world.
Of course, the technologies are important as well. We are now beginning to see that many of the things that we took for granted--the purity of water in the Great Lakes, an unlimited supply of oil and gas, security in our borders, free of possible direct attack in a time of war--those things are now no longer sure. And I think, in a way, that's bound us even closer together.
I know that on the other side of the border, the Canadians feel what we are. The last time Prime Minister Trudeau came to our country, he said that being a neighbor to the United States was like sleeping with an elephant--[laughter]-that you could very quickly detect every twitch or grunt. Well, the elephants are gone. The donkeys are here--[laughter]-and the donkeys are much more companionable beasts, I think.
I do want to thank the Canadian people and Prime Minister Trudeau for their gracious offer during this time of energy shortage for our people, for their offer to help us. They exported some of their cold weather, but they followed it up with all the natural gas.
And we had a very delightful meeting this afternoon to discuss some of the international problems that face us both. Tomorrow, we're going to talk about some things that affect both Canada and us in a bilateral fashion.
Prime Minister Trudeau's wife, Margaret, came a couple weeks ago to visit Rosalynn and to open up a display in one of our famous art galleries of contemporary Canadian art. And I think this indicated, first of all, that we are interested in the same things, but also, that our nations are distinctive.
Although we live in close proximity, we are quite different. And the differences are carefully preserved. Them is an understandable determination not to be dominated and not to be pressured and to be unique and to maintain individuality. And that's a sign of strength on our side and their side of the border that is precious to us both.
I feel that we have approached an era of recognition, of mutual purpose and ideals and hopes and dreams and aspirations and also, concerns and problems that might bind us even closer together now than in the past. And in a way, I'm thankful for it. I'm proud of the personal friendship that was almost instantaneous when I met Pierre Trudeau this afternoon. I had a sense of relaxation and a sense of compatibility that I hope will 'be an accurate indication on a permanent basis of what our nations feel towards one another.
I would like to close by saying that we have been close in time of war. And quite often, when our own Nation had made a mistake 'because of an excessive dependence on our own military strength, Canada and its people have maintained kind of a standard of ethics and morality and commitment to unchanging truths that were a subtle reminder to us to reassess our own position.
So, we learn from one another. And I'm very grateful to our visitors for coming to honor us with their presence.
I'd like to propose a toast: To the Queen of Canada, to the Prime Minister of Canada, and to the people of Canada.
THE PRIME MINISTER. Mr. President, Mrs. Carter, friends:
I want to thank you, first of all, for your very warm hospitality and for the informality of the dinner that we are attending tonight. The informality was to be expected from a household where you have a child of school age and a puppy, I understand, and the hospitality and the warmth of it was to be expected from you, sir, and from your very charming wife.
I want to say that I am always a little bit moved and perhaps even intimidated when I am in the White House. It has such history; it has such great memories of remarkable statesmen, American leaders.
And it is particularly moving to be here on George Washington's birthday. I find some consolation in that, because I was told an anecdote about George Washington when he was retiring from office. The Philadelphia Aurora--there was then a paper called that name, I don't know if it still exists---but it had been rather unkind to President Washington during his term of office. And when he retired, they had an editorial saying that if ever there was a day for great rejoicing, this was it. I feel, sir, that an old politician like myself takes some consolation in feeling that times never change. [Laughter]
You don't have to seek solace in this type of anecdote. But indeed, you added to the sense of hospitality when you were good enough to quote this finding of Dr. Gallup, of which I knew nothing. And it makes me feel that if ever I get in trouble in Canada politically, maybe I'll come down here. [Laughter] I can assure you that if you are ever in trouble, which I pray will never happen, you would be very handily chosen to be the leader of the Canadian people.
Your generous remarks are something which are very much in keeping with the friendship and the long history of cooperation Between our peoples. It began, I think, around 1781, when the Articles of Confederation proposed that Canada be admitted, be invited to join the Confederation, just by applying. I believe other colonies had to have the consent of nine States in order to be admitted, but Canada was to be admitted just on invitation and acceptance. Well, whether it is good or not that we didn't accept in those days, is perhaps very hard to speculate upon except to say that if Canada had accepted, I'm sure we wouldn't be having such a fine dinner here tonight. [Laughter]
Apart from that very short incident of hostilities to which you alluded very gently, we have since then, since the past 165 years, I guess it is, had very good neighborhood relations, indeed. We've cooperated in many, many ways. We've built together some of the greatest of men's enterprises. We've maintained democracy alive within our countries, and we've cooperated in assisting wherever we could around the world in helping other nations in one way or another.
And I think it's fair to say that if in those days, 150 years ago, we were the hope of the new world, a large part of the hope of the new world, I would think that today, perhaps, in large part, we represent the hope of the Third World. This joins many of the discussions we had this afternoon.
And I must say on behalf of the Canadian Government and people that we are more than delighted--we are excited with the generous approach that your ideas convey as regards the world order, which would be based on equality and justice.
In our case, sir, we have done our part. In terms of foreign aid, Canada is amongst the top four or five nations of assistance to the Third World, and in terms of our proportion of our GNP. Since the end of the Second World War, we have admitted more refugees, political refugees, to Canada than any other nation barring the United States. You have a slight edge on us. But they have come to Canada by the tens of thousands from Czechoslovakia, from Hungary, from Tibet, from Uganda, from Chile, and many, many other places.
So, we do try to, as Canadians, show this hospitality to the world which corresponds to the generosity of the Canadian people. I was telling you this afternoon, sir, that though we have been a nuclear power for some 30 years, and though we have the technology and the financial means of building a bomb, we have chosen not to do so. We have tried to put our technology towards a more creative and fraternal use.
We, with the United States, are the only member of NATO which has troops on both sides of the Atlantic. We're into our fourth term in the Security Council. We have been in every. peacekeeping operation, United Nations peacekeeping operation, since the end of the Second World War. We were in Korea. We were in the four Indochina Control Commissions.
I say these things, sir, partly to be slightly chauvinistic, but also because we in Canada today tend to be a little bit cynical towards the role of Canada in the world and towards its generosity. And I think that you won't be angry at me for using this occasion and these .hidden microphones to talk a little bit about Canada's contribution, because these things would not have been possible without a strong and united Canada. And I just want to assure you, sir, that we intend to keep Canada that way.
It is said that Daniel Boone, when giving advice to those who wanted to join him on the frontier, said that there were three essentials--to have a good gun, a good horse, and a good wife.
Well, now the frontier has changed in kind. We are still very much living on a new kind of a frontier. And in these days when changing values in the world and the increasing closeness of mankind to each other and where a new, special kind of brotherhood is called for, I think we could replace Daniel Boone's three essentials by three others. I would say it is to have good goals, good discipline, and good friends.
Well, I know we have good goals, and we discussed them a great deal this afternoon. We found that together, we shared many, many of the goals in foreign relations and, indeed, in internal affairs.
In terms of having good friends, well, you have shown us tonight through your hospitality and your friendship that that is a reality.
What has to be achieved is good discipline. I speak for Canada, and I feel that it is a virtue that we can do with a bit more of--if I can twist my grammar that way. We are going through a period now when discipline, self-discipline, is being understood as the only substitute for discipline from the outside or discipline from the state. And I must say that I personally was very, very enthusiastic to see the measure of discipline that appears in your thoughts, sir, in your approach to problems, and in your way of life.
I would propose a toast, not to the friendship that we have, and not to the goals that we share, but to the disciplines of our people--may it increase, and to President Carter and to Mrs. Carter, who will help President Carter in imparting some of those disciplines on the industrialized democracies.
Note: The President spoke at 9:23 p.m. in the State Dining Room at the White House.
Jimmy Carter, Toasts of the President and the Prime Minister at a Dinner Honoring Prime Minister Trudeau of Canada Online by Gerhard Peters and John T. Woolley, The American Presidency Project https://www.presidency.ucsb.edu/node/242254