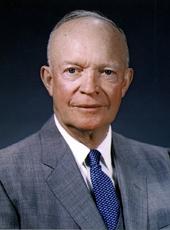 Toasts of the President and the President of Mexico at the White House
Mr. President, Senora Lopez Mateos, our Distinguished Guests from our sister Republic across the Rio Grande, Chief Justice and Mrs. Warren, and My Fellow Citizens:
I assure you, Mr. President, that every individual in this company is proud to be here to have the opportunity to join with me and Mrs. Eisenhower in extending to you, your family and your party, and through you the people of Mexico, a warm welcome and expressions of our lasting friendship.
With you we fed a special feeling of affection. Despite our troubles, the troubles between us of the 1830's and the 1840's, the history of our true friendship begins in 1864. We in this country were then engaged in a tragic, fratricidal war, and at that moment a European monarch decided that by force and with a European soldiery he would take over and rule Mexico through a puppet government.
When our war was over--this internecine strife--our Commander-in Chief sent down to the border trained, battle-wise veterans, and with the statement and with the notice to the Europeans, "Get out or the United States will do something about it."
This, I am sure--and I have been so told by my Mexican friends--was of the greatest value to your great patriot, Benito Juarez, as he struggled so manfully to sustain the freedom of his people and the independence of his nation. And from that moment on, despite our difficulties, irritations and frictions of different kinds, we never have lost that feeling of friendship.
And happily, I think, in these recent years, more particularly since World War I, there has been a steady increase in those sentiments of friendship, mutual respect, and confidence between our two great countries.
To my mind, Mr. President, and if I may, permit me to pay you a compliment of a personal kind, as I have seen you and known you and listened to you, I think you are carrying on in the tradition of Juarez. I believe that other Americans, other citizens of this country, that know you, believe the same thing. For that reason they respect and love not only your country, but they respect and admire what you are doing for your country--dedicated as you are to the same ideals on which this country likes to feel it was founded, and the ideals which it attempts to sustain with its full strength, material and spiritual.
So you can understand, sir, why I deem it a special privilege this evening to ask this company to rise with me and to drink a Toast to the President of Mexico.
Note: The President proposed this toast at a state dinner at the White House. President Lopez Mateos' response (as translated) follows:
Mr. President, Mrs. Eisenhower, Distinguished Guests, Ladies and Gentlemen:
I would like to express my warmest thanks for the kind words that the President has spoken, that he has addressed to my country, to the people of my country, and to those who are traveling with me, to the members of my family and to myself. I am doubly grateful for these words, because I know they were spoken on the basis of warm friendship.
And another reason for which I am grateful, was the reference you made, Mr. President, to Benito Juarez, who on two occasions led his countrymen in the fight for freedom and independence, who taught the Mexican people how to fight in defense of these high ideals. And when one thinks of Benito Juarez, one invariably thinks also of Lincoln--the great admiration that Mexicans have for the many virtues which we see in this great figure of your history, and in thinking of him, the affection and admiration which we have for your people.
This afternoon, when I arrived in this most beautiful city, Mr. President, I expressed to you the admiration which the people of my country feel for you, and as a great statesman who after having fought for freedom on the battlefields of war, fights for freedom and peace and justice today on the battlefields of peace, and promotes the welfare of mankind.
For all of these reasons, Mr. President, I would like to ask all of those present to join me in raising their glasses to the happiness and prosperity of the great American people, to your personal good fortune, happiness, and prosperity, and that of your charming wife, Mrs. Eisenhower.
Dwight D. Eisenhower, Toasts of the President and the President of Mexico at the White House Online by Gerhard Peters and John T. Woolley, The American Presidency Project https://www.presidency.ucsb.edu/node/234472