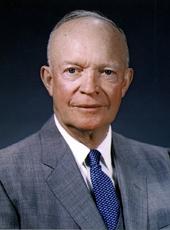 Toasts of the President and the President of Liberia
President Tubman, my friends:
I think it would be difficult to conceive of a social occasion in which could be symbolized more of improbable romance and sheer grandeur than we have in this room this evening.
In this House have been entertained proud representatives of proud nations--individuals who, with only an occasional bow to unexplainable twists in the family tree, can go all the way back to the Plantagenets and the Yorks and indeed to Charlemagne.
In 1865 a Negro in Alabama, lately freed from bondage, learned or knew of the rather young nation of Liberia in western Africa. And he left the United States to go there. Some years later, in the early 1870's a young girl from Georgia, apparently going with her parents--although this point I have not checked--also went to Liberia.
Tonight--some 90 years later than that first departure from our country-we meet here to greet, to entertain, and to pay our salute to the grandson of that man--the son of that little girl. If Horatio Alger or G. A. Henty, or indeed Shakespeare could do better than that in writing drama--the drama of real life--into a story, I have yet to find where they did it.
I feel that we meet also with a very deep affection not only for the individual whom we honor, but for the country that he represents and heads. There has been indeed a very close association between America and Liberia. And it is transcendent of mere sentiment. Present with us this evening are the heads of two of America's great industrial corporations. Each has significant--indeed very important--business arrangements and investments in this country of Liberia. Its association with us has, therefore, not been entirely a one-sided arrangement, even in the let us say "sordid" avenues of trade. We as a country have profited because of the great resources of this country, now of two million people-a people whose constitution is written largely in the pattern of our own, for whom--because of their origin, or part of their origin, because of the parenthood of their President and because of our close business connections--we have every kind of intimate association.
Consequently, we are indeed happy and proud that President Tubman has come over here to visit us, to express something of his own nation's readiness to live in friendship with us, to promote that friendship, to learn more of us--although indeed he has been here often enough now that he probably knows us pretty well. But it is the kind of thing that is certainly most welcome to us, one that we respect, one that we welcome from every standpoint.
And for all those reasons, I am sure that everyone here will, with real enthusiasm, rise to join me in a Toast to President Tubman of Liberia.
Note: The President proposed this toast at a state dinner at the White House. President Tubman responded as follows:
President Eisenhower, and Mrs. Eisenhower:
I had prepared some written remarks that I had intended to read tonight, because there were some things that I desired to say. But President Eisenhower has, by his speech, compelled me to pursue a different course.
I am particularly touched, Mr. President and Mrs. Eisenhower, by your most generous gesture in extending to us an invitation to come to Washington in these times of stress, of extreme difficulties, when Washington has become the capital of the world and your hands are so filled with national and international problems-even politics.
The relationship that has existed between our two countries for more than a century has given the people of Liberia an unshakeable confidence and trust in the Government of the United States. And there are several reasons for that. There are several things that justify this position. One of them is that when Liberia was first founded as a colony by the American Colonization Society and other American philanthropic interests, within 25 years thereafter traders refused to recognize the authority of the colony to impose laws and collect excise duties. It was then that the Colonization Society suggested that the only way out of that situation was for them to declare themselves an independent state. And that was the reason why the Republic of Liberia declared herself an independent state so early. On the other hand, we look at that situation and we wonder what would have happened had Liberia been a colony of one of the colonizing powers, within 25 years--what would have happened? One hundred years now, possibly still a colony.
But it was the broad view, outlook of American statesmanship and American policy that enabled us, at the time, to become an independent, a sovereign state, and their contributions from time to time have assisted us to maintain our independence and sovereignty.
And another thing your people--the United States, the people of America, have justified, or one of your greatest poets has written correctly of, and concerning, when he said:
Be great without seeking to be great
By fraud and conquest.
Rich in gold, but richer in the vast
estate of virtue
For thy children hold.
Mr. President and Mrs. Eisenhower, I thank you again--to you all.
And it is our ardent desire that the ties of friendship heretofore existing between our two countries, shall be maintained and increased with the years.
I ask you, ladies and gentlemen, in that spirit to rise and join me and drink a Toast to the health of the President of the United States and of Mrs. Eisenhower.
Dwight D. Eisenhower, Toasts of the President and the President of Liberia Online by Gerhard Peters and John T. Woolley, The American Presidency Project https://www.presidency.ucsb.edu/node/232839