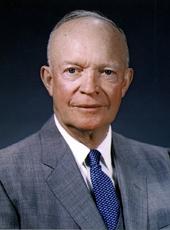 Toasts of the President and the King of Thailand
Your Majesty the King, Your Majesty the Queen, ladies and gentlemen:
It is a very particular privilege that we have this evening in welcoming to this city and to this house the King and Queen of Thailand. fortunately, between these two countries there are no great problems. Our history is that of friendship. And the experience that I have had over the last few hours with the King and Queen convinced me that we are just personal friends as well as official. We welcome them not only as the head of a friendly and great state of Southeast Asia, but as a true friend.
Now I have seen some speculation in papers, and heard it, as to what heads of state can possibly talk about when they meet. People worry about this. Now so far as we are concerned, we can talk of course about the differing cultures. I can't tell him much about ours, because he was born here. But I can learn something about his, which is helpful. But by and large those are subjects that are just, I say, auxiliary to our main purpose, and that is to find out what each is like.
Well, he likes noodle soup. He said so publicly today, and so I think we have the right to ask him for the recipe. After all, I have four grandchildren who demand that the old gentleman occasionally get out and take charge of a cookout; and when I can surprise them with a new dish, it's a great triumph, and if I can do it with noodle soup, sir, I am going to be very grateful to you.
So this is the kind of thing we talk about. And he showed me reproductions of his paintings, which he tells me he has been practicing only a few months. I promptly retired my brushes, because he is talented and mine is what you would call a daub.
I find that they have four children, one boy and three girls. That's just how many grandchildren I was able to get, so everything seems to be going along splendidly on the basis of friendship.
What I am trying to say in this rather round-about fashion is that it is indeed a pleasure and a great privilege and honor to meet someone who bears the responsibilities that fall upon the King in his country, in his great country of 24 million people, and still who comes with the same family concerns, the same human feelings toward his children, toward what he and his wife are doing, as each of us does. This kind of thought brings us closer.
So when I ask you to stand and drink a Toast this evening to the King and to the Queen, and to the happiness and prosperity of the people of Thailand, I do so. not as just my duty to. ask you to drink a Toast to the head of a friendly state, but to true and real friends of America. Ladies and gentlemen, the King!
Note: The President proposed the toast at 10:12 p.m. at a state dinner at the White House. King Bhumibol responded as follows:
Mr. President and ladies and gentlemen:
In a formal dinner like this, I usually have this prepared speech to read to you, but this speech has been prepared for many days, so perhaps it would not reflect the true sentiment that is in our heart, only what we thought that would be. I had put in about the appreciation of the kind words. Well, I appreciate very much the very kind words and touching words that Mr. Eisenhower just spoke now. I wanted to tell you that since our arrival in this country we have received many marks of friendship and good will.
Now, tonight, I have experienced something more, to know, really know, Mr. Eisenhower, Mrs. Eisenhower, personally-and to know like I thought they were: very human. So this is the confirmation of my--what you call thoughts that I had thought beforehand.
And so I don't have anything to say very much because Mr. President has stolen my words--something about the noodle soup. It's the same thing as I asked Mr. President to make ice cream for me. Well, I asked the recipe for ice cream, and perhaps I will find out the recipe for noodle soup so I can give to Mr. President for his grandchildren.
And ice cream is the delight of my children. They have, since their arrival in the United States, always asked for ice cream, and yesterday, as a parting or as a farewell ice cream party, we brought them to an ice cream shop near Los Angeles and they enjoyed it very much.
So for all this, I must say that it is because Mr. President has invited us to come that it has been possible to show my children what a great country America is. And all the people here are so friendly. That is a great lesson to show our children, that the world is big and everybody is friendly if you are friendly.
Now I want you to rise and drink to the health of Mr. Eisenhower, Mrs. Eisenhower, and to the great American nation.
Dwight D. Eisenhower, Toasts of the President and the King of Thailand Online by Gerhard Peters and John T. Woolley, The American Presidency Project https://www.presidency.ucsb.edu/node/235001