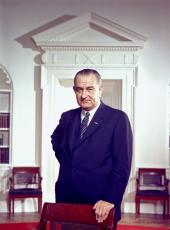 Toasts of the President and Queen Frederika of Greece
Your Majesty, Your Royal Highness, Mr. Chief Justice, Senator Russell, Senator Fulbright, ladies and gentlemen:
What we are and how we feel today is linked to what happened in a little Greek city 2400 years ago. What was born then in art and ideas and politics has never been surpassed and has seldom been equaled. Everything in the realm of creative thought bears its stamp and its mark. The Western World is the child of Greece and we are its inheritors.
The Greek people are proud people with more reason to be than any other nation on earth. They understand freedom, because their ancestors invented it. They appreciate liberty, because their soil has been watered with the centuries old blood of those who died for it.
When Mrs. Johnson and I visited Greece last year, we saw this modern Greece and we liked what we saw. There in that ancient land was the mingling of the old and the hopeful, the new and the great. Here in the United States thousands upon thousands of Greeks, who are now Americans, have made this land of ours stronger and wiser. Part of Greek culture is now part of the American tradition and America is better for it.
And it is quite appropriate that the courageous King and his beautiful Queen are today's living symbols of the questing Greek conscience; the unquenchable Greek spirit. Yes, the Greeks have a word for it and the word is Frederika, as lovely today as she was that happy afternoon that Mrs. Johnson and I first met her.
So, on this delightful occasion in the presence of so many of her friends and our friends and upon the occasion of Her Majesty's visit with us, and Princess Irene, I should like to ask all of you to rise and lift your glass in a toast to His Majesty the King of Greece.
NOTE: The President proposed the toast at a luncheon in the State Dining Room at the White House. Queen Frederika responded as follows:
"Mr. President, Mrs. Johnson:
"Thank you very much for having given me your hospitality. I shall never forget this day. My stay here in your country has been wonderful from the beginning. I have been deeply touched by the American people and today is the crowning of it all. You have come to our country with your beautiful wife a few months ago and the Greek people have learned to love you.
"I think the two of you have brought a new approach to our human problems by being human beings yourselves. You smile, you are kind, you have a good word for everyone. I firmly believe that the leadership of the United States is, just that, to bring humanity to a troubled world.
"Mr. President, you told me that today amongst us is a former citizen of Greece who, when you were a little boy, had told you that one day you would be President. Mr. President, I did not know that the Oracle of Delphi also had left my country and come to yours. But, Mr. President, if America's gain should be the loss of Greece, then Greece will be proud that America has now got the Oracle.
"Mr. President and Mrs. Johnson, I would like to tell you that we in Greece are very conscious of what your country has done for us. I know that very often you don't always from us smaller nations have the right word of thank you. I know that often you are misunderstood. I know that very often some of us are presumptuous to ask for more. But, Mr. President, I would like to tell you that in my country we appreciate what the United States has done for us and we will always say thank you.
"And, Mr. President, will you allow me to toast the President and Mrs. Johnson."
In his opening words the President referred to Queen Frederika, her daughter Princess Irene, the Chief Justice of the United States, Earl Warren, and U.S. Senators Richard B. Russell of Georgia and J. W. Fulbright of Arkansas.
In the third paragraph of the Queen's remarks, she referred to a "former citizen of Greece," John Govatos, restaurant owner of Corpus Christi, Tex., who, with his wife, was present at the luncheon.
Lyndon B. Johnson, Toasts of the President and Queen Frederika of Greece Online by Gerhard Peters and John T. Woolley, The American Presidency Project https://www.presidency.ucsb.edu/node/240107