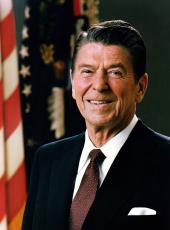 Toasts of the President and Prince Rainier III of Monaco at a Benefit Gala for the Princess Grace Foundation
The President. Thank you very much. Your Serene Highness, Prince Albert, Princess Caroline, Princess Stephanie, Mr. Casiraghi, members of the Kelly family, and distinguished guests:
Tonight we're gathered to honor a woman who touched our lives deeply and to inaugurate the foundation to support in her name the arts she loved so much.
Princess Grace was a woman of great beauty—one of the greatest beauties of our time. Yet she possessed not only outward beauty but inward character, sincerity, strength of purpose, and loving kindness. Throughout her life Princess Grace had a passion for the performing arts. As a young woman she became an actress, and no one will ever forget Grace Kelly in "Rear Window" or "High Society." As a princess, she constantly worked to support the arts in her own Monaco and in America. And now it falls on us to carry on her work.
The Princess Grace Foundation will dedicate itself to the encouragement of emerging artists, the young performers who need support to succeed in their work. The foundation will concentrate on two of the fields that the Princess loved best—the theater and the dance. And the foundation will conduct its work with the same dignity and commitment to excellence that were so characteristic of Princess Grace.
Princess Grace once said that "each individual always has opportunities to do good and, in doing good, to repay the kindness of God who gives us life." So, Princess Grace led her life doing good, spreading joy, uplifting the spirits of so many, and now it's our turn to follow her example. And I just have to believe that by establishing this foundation we, in our small way, will be thanking God for giving us Princess Grace.
Would you please join me in a toast to the memory of our beloved Princess Grace and to the good work of the foundation that bears her name.
The Prince. Thank you, Mr. President. Allow me to express to you and to Mrs. Reagan, not only in my name but also in the name of my children, our deep gratitude and true appreciation for your presence here tonight.
I fully measure the special meaning and value of your gesture as President of the United States of America and, may I add, as a friend of my dear wife. My children and I are indeed honored and pleased to be here with you and Mrs. Reagan on this very special occasion.
We are all gathered here to continue what Grace had begun and do all we possibly can to turn her wish into reality. Many of us know how deeply and genuinely concerned she was in the support and help to emerging young artistic talent. It is certainly wonderful that her many friends and loved ones are here not only to witness but also to take part in this inauguration of the Princess Grace Foundation.
None better than you all can feel and know how important it is for the foundation to continue the legacy of the patronage of the arts that Grace set herself to assure with such care and heart. Most of you share in Grace's great passion for the theater and dance, and your presence here this evening demonstrates to me and to the world that her commitment to the arts will be continued. For this, my children and I are profoundly grateful.
Grace's two great loves were her family and the artistic world that beckoned her from an early age. Her personal endeavors as an artist not only taught her great appreciation of the art but also imbued her in an empathy for the tremendous dedication all artists make to bring light, love, music, and laughter into the world.
This is not just another gala evening, but because it is gratified by your presence, Mr. President, on the occasion of this inauguration, it is an evening to remember. The launching of the Princess Grace Foundation has most certainly a special significance for us all. As of now, we and all those who wish to can actively take part in the fostering of new talents in this country who will one day thrill the world with their art and skill.
As Grace is the inspiration for this great impulse, so the foundation will be the inspiration for countless people who may otherwise be prevented from sharing their talents with those who love theater and dance. It will strive to maintain the same commitment to beauty and excellence that are the hallmarks of Grace's life.
The foundation created in her name has a mission: to encourage and assist aspiring young artists in the fields of theater and dance. To fulfill that mission, the Princess Grace Foundation will provide scholarships and awards to outstanding young theater and dance students or professionals. And, of course, as time goes by, other ways and means of helping and encouraging talents may be discovered to fulfill the mission of this foundation.
And it is not without emotion that I wholeheartedly give my support to the work of the Princess Grace Foundation, confident as I am that it will achieve its goals. For you, Grace's friends and admirers, I express my most sincere gratitude for your unswerving support and the honor you bring to her name.
Thank you.
Note: The President spoke at 10:22 p.m. following the dinner at the Departmental Auditorium. In his opening remarks, the President referred to Stefano Casiraghi, the husband of Princess Caroline.
Ronald Reagan, Toasts of the President and Prince Rainier III of Monaco at a Benefit Gala for the Princess Grace Foundation Online by Gerhard Peters and John T. Woolley, The American Presidency Project https://www.presidency.ucsb.edu/node/261596