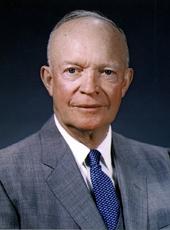 Toasts of the President and Prince Albert of Belgium
Your Royal Highnesses, ladies and gentlemen:
We are privileged today to have as our honored guests Their Royal Highnesses the Prince and Princess of Liege. It is a peculiar privilege also to tell you people about one thing that I have learned here today. The Princess is a citizen of the United States by reason of the fact that she is a descendant of Lafayette.
I have been trying to persuade her to stay here until November 8th, and I am doing a little bit of electioneering to see her vote is on the right side.
However, it is a great honor to tell you about this particular relationship of hers, because as far as I am concerned, it is the first time I have met one of the relatives of any of the descendants of our great french hero in America.
The country of Belgium is one of America's closest friends. We served with Belgium in two wars, and we saw her bring about her renaissance after the tremendous destruction of World War II. Today she is a happy, prosperous country, a champion of liberty. And because she is a champion of liberty, she is a close relative of ours, because any two peoples that have this kind of similar dedication cannot fail to be brothers.
So I today deem it a great privilege that I can ask you--this company--to rise with me to drink a Toast to His Majesty the King of the Belgians.
Note: The President proposed this toast at a luncheon at the White House in honor of Prince Albert and Princess Paola. Prince Albert responded as follows:
Mr. President, Madame, ladies and gentlemen:
First of all, I want to apologize for doing very, very short and uninteresting speech, because of my knowledge in English is incomplete. I hope you will excuse me.
Mr. President, I want to thank you for your very kind words to us, my wife and I, and to our country--and also to my brother.
Madame, let me thank you in the name of my wife and me for that delicious meal. We enjoyed it.
As you know, I have the honor of heading an Economic Mission which main purpose is to foster economic cooperation, especially from the industrial point of view. In name of the Belgian Economic Mission, I want to thank you especially, Mr. President, and all the American people, for the warm welcome they have given to us everywhere where we have been until now. We have received the nicest welcome we have ever received. When we were talking together, my wife and I, over our mutual impressions of America and the American people--we were completely de le coeur to use a french word--that really the American people are terribly kind and terribly nice. I am sure that this visit will have as a result to bind us more--if I can use this expression--the relationships between Belgium and America.
May I ask you, ladies and gentlemen, to join me in drinking a Toast to the health and the happiness of Mr. President of the United States, and Madame Eisenhower.
Dwight D. Eisenhower, Toasts of the President and Prince Albert of Belgium Online by Gerhard Peters and John T. Woolley, The American Presidency Project https://www.presidency.ucsb.edu/node/235478