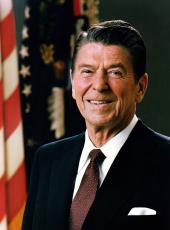 Toasts of the President and Prime Minister Yasuhiro Nakasone of Japan at a Luncheon in Tokyo
The Prime Minister. Mr. President, Mrs. Reagan, distinguished guests, please allow me to say a few words on behalf of the Government and people of Japan and on my own behalf. Welcome to the President of the United States of America and Mrs. Reagan.
I wish to express anew my gratitude to the President and Mrs. Reagan and the American people of all walks of life for the most heartwarming welcome accorded to me during my visits to Washington in January and May.
In particular, I will never forget the wonderful birthday surprise the President and Mrs. Reagan arranged for me at the White House in May. Today I am deeply pleased to be able to reciprocate your thoughtfulness in my humble way.
Mr. President, you may recall that in our meeting in May, we promised to cooperate with each other, you as a pitcher and I as a catcher. We have been living up to our promise since then, not only as a formidable battery over the Pacific but also as excellent teammates of the free world.
While in the world of baseball both the World Series and the Japan Series are over, the World Series in the world of politics in which the President and I are together taking part still has quite a few innings left. [Laughter] I am convinced that we will achieve brilliant results in this World Series by putting our efforts together. [Laughter]
In closing, I wish to propose a toast to the continued health of the President and Mrs. Reagan, as well as the members of his suite, and to the prosperity of the United States of America.
The President. Mr. Prime Minister, Mrs. Nakasone, members of the Diet, distinguished guests, and ladies and gentlemen, just before this delightful luncheon we finished the second of two long, productive talks. I don't know who was pitching and who was catching— [laughter] —but those talks demonstrated that despite the 5,000 miles of ocean between us and the difference in our geography, history, and culture, Japan and America share the same deeply held values.
Both our nations are democracies founded on the sacredness of the individual. We both believe that every person deserves to be listened to, so we give all of our citizens a voice in government. And we both hold that every man and woman has certain inalienable rights, so we enshrine these rights in law.
As the American educator Robert Hutchins wrote, "Democracy is the only form of government that is founded on the dignity of man—not the dignity of some men, or rich men, or educated men . . . but on all men." Democratic freedoms, we both know, make a nation not only noble but dynamic. Individuals in democracies can give full scope to their energies and talents, conducting experiments, exchanging knowledge, and making breakthrough after breakthrough.
In just the past few decades, men and women acting in freedom have markedly improved the health' and living standards of the whole human race. Innovations in fertilizers, farm machinery, land use made in democracies have increased agricultural output across the world.
Medical advances made in democracies, from the discovery of penicillin to the identification of vitamins, means that people everywhere on Earth live longer than ever before. And electronics breakthroughs made in democracies have produced a telecommunications network that links nations around the globe. Of course Japan has been leading the way in one of those—electronics. And, Mr. Prime Minister, I can't resist telling you that we Americans who have traditionally prided ourselves in being the first with the most have now met our competition. [Laughter] I understand that in a single Tokyo store, one can find 205 varieties of stereo headphones and 100 different television models.
Today it's the democracies—especially Japan and America—that are leading a high-tech revolution that promises to change life on Earth even more profoundly than did the industrial revolution of a century ago. This revolution ranges from electron microscopes that can inspect molecules to satellites that are probing the dark infinities of space. It's a revolution that's making industries vastly more efficient, putting the world's great literature, film, and music at families' fingertips, and producing medical breakthroughs that are helping many of the blind see and many of the handicapped to walk.
State-controlled economies, by contrast, just haven't been able to keep up. Before Korea was divided, its industrial center was in the north. Today the Republic of Korea outproduces North Korea by 3 to 1. In Europe the per capita income of West Germany is more than twice that of East Germany. As we both know, Mr. Prime Minister, the true division in the world today is not between east and west, but between progress and stagnation, between freedom and oppression, between hope and despair.
Looking back on his long career, one of Japan's foremost leaders, Yukio Ozaki, said, "For the happiness of one nation we should endeavor toward the enhancement of the happiness of the entire world." Both Japan and America share this view, and we both know that the happiness of the world depends on liberty.
Mr. Prime Minister, as a man who has worked tirelessly to defend and promote human freedom, you have led a career of long and varied service to your country. You first won a seat in the Diet in 1947; since 1959 you've held five Cabinet posts; and today you lead your nation. With gratitude for your efforts, on behalf of the American people, I salute you.
And, ladies and gentlemen, also please join me in a toast to His Imperial Majesty, the Emperor of Japan.
Note: Prime Minister Nakasone spoke at 2:13 p.m. at the luncheon he and Mrs. Nakasone hosted for the President and Mrs. Reagan in the Banquet Hall of the Prime Minister's official residence. The Prime Minister spoke in Japanese, and his remarks were translated by an interpreter.
Earlier in the day, the President and the Prime Minister held an hour-long meeting in the second floor lounge of the residence. At the conclusion of the meeting, they were joined by Mrs. Reagan and Mrs. Nakasone and attended a reception which preceded the luncheon.
Ronald Reagan, Toasts of the President and Prime Minister Yasuhiro Nakasone of Japan at a Luncheon in Tokyo Online by Gerhard Peters and John T. Woolley, The American Presidency Project https://www.presidency.ucsb.edu/node/262196