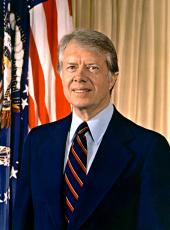 Toasts of the President and Prime Minister at a Working Dinner for Prime Minister Rabin of Israel
THE PRESIDENT. I think maybe something is expected of me. [Laughter]
First of all, I want to welcome all of you to the White House. When something occurs with which I'm not familiar, I call Ambassador Dinitz1 and ask him, "What do I do next?" And he always tells me how my predecessors have performed, and what's expected as the next event on the program. And I think he was filling very large shoes when he took over as Ambassador himself.
I met Prime Minister Rabin for the first time when he came to Georgia. I was a new Governor, and he came down to pay his respects to me, along with his wife, Lea. And we had an instant friendship. I had the greatest possible admiration for him because, as a military man myself, I had studied the Six-Day War and recognized his superb courage and leadership in the major test of the military strength and deep personal commitment of the people who live in the heroic nation of Israel.
I have been proud of that friendship ever since. And when I went to Israel a few years ago, although Prime Minister Rabin was in temporary retirement from politics at that time, he was already making plans for the future. He didn't tell me about them. I was making plans for the future--I didn't tell him about them. [Laughter]
But I had spent 5 or 6 days driving around in Israel, learning about the country and learning about politics there, and had a whole series of questions that I wanted to ask someone who was knowledgeable. And he was gracious enough to return to Tel Aviv a day or two early to meet with me, and we spent 2 or 3 hours talking about Israeli politics. I was fairly well impressed with his knowledge of the subject. I was even more impressed a few months later when he became Prime Minister. [Laughter] And since then, we've tried to stay in touch with one another.
As all of you assembled around this table know, there is a kinship between our Nation and Israel that's almost unique. Our principle of government is the same--a principle of commitment to individual human rights and to democracy in its purest form; a matter of pride in one's present and in one's past, and confidence about the future, even in times of trial and tribulation; and sharing of a religious heritage that, to me, is very significant.
I was particularly eager for Prime Minister Rabin to come to our country early in my own administration so that we could renew our friendship and to talk about the future. Many people in our own country have looked on our relationship with Israel as one of support and one of friendship that was to Israel's benefit. I have never looked on it that way. I consider it to be an equal partnership that's derived for our country and for the cause of freedom tremendous benefits for us. And this is a time of a sharing of plans for the future.
I had a chance this morning, along with some of you around the table, to discuss at length the possibilities in 1977 of helping to carve out for Israel and for Israel's neighbors a time of permanent peace, of mutual respect, of trade, better understanding, and of the acceptance of differences that in the past have been divisive. But, perhaps in the future, if our prayers are answered, those divisions might be eliminated.
We recognize that the responsibilities fall on the participants, themselves, in the negotiations that I hope might take place later on this year. And we will offer our good offices, if they are requested, in trying to reach some understanding and provide some common ground on which peace might come in a permanent fashion.
We understand very clearly in our own country--strong and powerful and secure-that security is important and is the essence of what Israel can expect from us and from the rest of the world-a recognition of their existence now and in the future.
I have a lot to learn as a new President. And I'll spend as much time as I can on this brief visit of Prime Minister Rabin, learning from him about the special yearnings in Israel for recognition and for peace in the future, and learning about the strengths and capabilities and needs of that great country.
I think it was about 29 years ago that Israel became a nation. And my understanding is that 12 minutes later, President Truman recognized Israel, and that recognition and that friendship has never wavered. And as long as I have any influence on our Government, and as long as these other gentlemen from our Government have any influence, that recognition and that strength and that friendship and that sense of mutual purpose will never waver.
I'd like to propose a toast to the brave and courageous leader of a brave and courageous country--our friend, the people of Israel--Prime Minister Rabin.
THE PRIME MINISTER. Mr. President, distinguished Members of the Senate and the House of Representatives, members of the administration, my colleagues from Israel:
I would like to thank you, Mr. President, very much for your kind words, for your kind invitation, for the time that you have spent with me and the attention that you have paid for the problems that we have brought to you as the President of the United States, as the leader of the great democratic country of the world.
You mentioned our first meeting. I think it was in 1971. I don't know if you remember, but I remember what you did say then to me. You said that we started from a different beginning, and we reached in the opposite direction. You mentioned that I started by studying agriculture and became a soldier, and you started at the Academy, the Naval Academy, and became a farmer. [Laughter] Then, I didn't know that I would be a Prime Minister. I don't know if you knew that you would become President. [Laughter]
The second meeting, of course, was 3 1/2 years ago, the middle of '73. I was a newcomer then to politics. Only then, I decided to enter politics. Before I left Israel, somebody asked me if I would go to meet President Carter to learn how to succeed quickly in the elections as a newcomer to politics. [Laughter]
But beyond all this, Mr. President, we in Israel appreciate, appreciate very much your understanding and the understanding of the United States towards Israel, towards what we represent, towards what we aspire to achieve. And I believe there is something unique in the relations between our two countries.
Sometimes I feel almost ashamed to mention the two countries together--over 220 million, the biggest, the largest, the strongest country on Earth, and a tiny, small Israel of 3 1/2 million. But I believe that there are certain values, certain beliefs, certain heritage, certain faith, certain tradition that are beyond question of size. I believe that there is something that brings us together. It's the spirit of freedom, the belief in democracy, and the permanent search for peace and happiness.
I believe that only these values can explain the unique relationship that has been developed between our countries. Mr. President, you mentioned that with President Truman, the United States was the first country on Earth to recognize the independence of the Jewish people in its own country, in Israel. I don't believe it is just by sheer coincidence.
And since then, three decades almost, these relationships have been developed, have been strengthened, have, to my opinion, brought tranquillity and hope of better life and peace to the Middle East, not only to Israel---I believe to the region as a whole.
I'm sure that the understanding and the cooperation between our two countries is the basis and the hope for peace in the area. I'm sure that the talks that we have started today, and I'm sure that the understandings that will be reached, will serve and will help bring meaningful negotiations, agreements, and in the long run--let's hope shorter than long--bring peace to the area.
I've said to you, Mr. President, this morning, that it might be this is the first visit of a Prime Minister of Israel that has come to the United States without a shopping list, without the need to make imminent decision because of the pressure of events.
I believe that your initiative to start these talks and to invite me this time will allow us to build the kind of thinking and, I hope, also action with coordination with other leaders of the area that will bring about an end to a long, futile war and will start a new beginning to Israel and to all the countries in that area.
We trust that you, and the United States under your leadership, will do whatever is possible on the one hand to pursue the course of peace, but at the same time, to make ,sure that Israel's strengths will allow it to defend itself, by itself, till peace will be achieved.
Allow me to raise my glass, Mr. President. To you, Mr. President, and to whatever you want to achieve for your country, for the welfare of the world and, I hope, for peace in the Middle East.
To the President.
1 Israeli Ambassador Simcha Dinitz.
Note: The President spoke at 8:40 p.m. in the State Dining Room at the White House.
Jimmy Carter, Toasts of the President and Prime Minister at a Working Dinner for Prime Minister Rabin of Israel Online by Gerhard Peters and John T. Woolley, The American Presidency Project https://www.presidency.ucsb.edu/node/242920