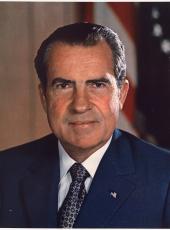 Toasts of the President and Prime Minister Wilson of Great Britain
Mr. Prime Minister, Mrs. Wilson, all of our distinguished guests this evening:
We are very honored for the first time in this house, since we have been here in the office that I presently occupy, to welcome the Prime Minister of Great Britain.
While it is the first time for us to welcome him here in an official capacity, of course it is not the first time that he has been here. As I pointed out this morning, he has been to the United States, according to those who keep records of these things in the passport department and visa department, 21 times. He may have come in other times, but people didn't know.
He has been here at least five times officially since he has been Prime Minister, and he is always welcome, and particularly welcome tonight, because of our personal friendship as well as our political responsibilities.
I was delighted that both Mrs. Wilson and the Prime Minister approved of the musical selections tonight. As a matter of fact, Mrs. Wilson was so kind as to refer to the quality of the music as we walked down the red carpet to this room, and also to say that she was pleased that the Strolling Strings, that she had heard once before, were here again.
I think, however, the Prime Minister will note how we selected the numbers with somewhat more diplomacy than we have on other occasions--because I have heard it recorded on one of his previous visits, when his country had some monetary problems incidentally, if you have found any solution for yours, tell us how to solve ours--that the Marine Band on that occasion played numbers of George Gershwin, and the first number they played was "I've Got Plenty of Nothin'." They compensated by playing "It Ain't Necessarily So."
Tonight we are delighted that there are no monetary problems, or at least no significant ones, that needed to be discussed on this visit, and that the problems that we discussed were in the mutual interests of our two countries for peace and progress in the world.
But I would not want this occasion to pass without saying to the Prime Minister, to Mrs. Wilson, and to all of our guests from Great Britain today, and also for the benefit of our American guests--say something that I feel very deeply about the heritage we share in common.
Some of you may recall that, when I delivered a eulogy to President Eisenhower, I quoted from what I think was probably the finest and most eloquent speech he ever made, a speech at Guildhall right after World War II's great victory. Some of you around this table may have heard it. I only had the opportunity to read it.
In that speech, a very brief one of about 15 minutes, he had several memorable lines. One thing that he said that I quoted in the eulogy was, "I come from the heart of America." He also said, by implication, that he came from the heart of Britain, because he described most eloquently the common traditions that we have--the common law, a common language, and great principles for which we have fought together in two wars.
And then he said, when we think of these great principles, "the valley of the Thames draws closer to the farms of Kansas and the plains of Texas."
And so it is, as we think of our country and yours, Mr. Prime Minister, we think of those great values, those great principles which do draw us together, and I think of them also in a much larger sense. I think of my travels around the world and of those countries all around the world which have had the same heritage and which still have the common law, which still have the English language and still have--even though the colonial ties may have been completely severed or partially severe&--still have adherence to those basic principles which are yours and which are ours as well.
I know it is, of course, the fashion these days to find nothing good to say about any kind of colonialism. I will depart from that fashion by simply saying that the proud heritage that the British people have left around the world in institutions, institutions which, as President Eisenhower said, draw the valley of the Thames closer to the farms of Kansas and the plains of Texas--these great principles, these great institutions are a heritage far more important than military might or economic strength that might exist in those areas of the world because of the power that you might have.
So, speaking as an American to our friends in Britain, we can only say that we are very proud to have you in this house as representing your country; and also it gives me an opportunity to present you to our guests by indicating one area where we have departed from your custom in our own system.
The language we try to speak, not well, but we try to speak; the common law the Chief Justice tries to interpret, and interpret it all over the Nation in the same way, sometimes with some objections; but in terms of the system in our House of Representatives and in our Senate, we have departed somewhat from your system.
We think that it is quite an ordeal to go through a televised press conference in that East Room where we met you a few moments ago. I will be doing one on Friday of this week, where you stand before the press for 30 minutes on live TV, before 60 million or 70 million people, trying to answer their questions. Incidentally, I usually turn to the Vice President for my advice for the press these days.
But I want to say to our guests here that while I think that is certainly an exquisite type of political torture, to see a Prime Minister of Britain in the House of Cornmons in the question period, that is, in my view, the greatest example of intellectual acrobatics in the whole political field, and Prime Minister Wilson, whom I did see in this situation, when I was privileged to be in the House of Commons, as the first American President ever to be present as President in a session of the House, I must say that I could see why he had earned the reputation of being one of the most skilled politicians in his country, and after seeing him, I would say, one of the most skilled politicians in the world.
And so finally, I would simply say that I ask you to join me in saluting him and his country today, not simply for those personal virtues and for those political virtues, but because he represents a nation to whom we owe so much and with whom we are so proud to work together for these great principles that transcend all of the differences that we might have.
I know that you would want to rise and raise your glasses to Her Majesty, the Queen.
Note: The President spoke at 9:55 p.m. in the State Dining Room at the White House. See also Item 15.
Prime Minister Wilson responded as follows:
Mr. President, Mrs. Nixon, Mr. Vice President, Secretary of State, Senators, Congressmen, ladies and gentlemen. As an Englishman, I feel tempted also tonight to say "Mrs. Miniver."
May I first thank you, Mr. President, for the very kind welcome you have extended to Mary and myself, to the Foreign and Commonwealth Secretary and Mrs. Stewart, his Mary, and to those who have come to Washington with us, and that you have unearthed the fact that I have been here 21 times. I am even more glad that it has been authenticated by the passport and visa authorities. There was that little problem about the McCarran Act, I remember one time, and I had to fill in the form that was rather difficult. They asked me what race I was. Well, I mean, what answer would you give to that question? I said "Human race," and I found it wasn't what they really wanted to know about. At about that point they stopped asking, but then there was the problem about an ethnic qualification.
Well, can any of us answer that question? When I said "Yorkshire" again we had a little problem there, but now I am delighted to feel I am a guest of a President who, amongst his other many qualifications, actually has a Yorkshire Terrier on his establishment.
Sir, you quoted your moving eulogy to the late President Eisenhower to whom you were, yourself, so close. It was my privilege, at St. Paul's Cathedral in London, when representatives of our country--and what a tremendous gathering that was--paid our tribute to General Eisenhower and I find--and I am glad to hear you confirm this again tonight--that both of us on that occasion quoted from that memorable speech of his at Guildhall when that great American became equally a citizen of London and one of ourselves. I am glad you reminded us of that this evening.
Mr. President, this morning at the memorable welcoming ceremony to which you invited us, I expressed my hopes about the talks that were about to start. I suppose we might say that tonight we are at the halfway stage and I feel that you will agree, Mr. President, as will your colleagues in the administration, that what we then hoped this morning is being realized. We have already covered a very wide area of world affairs and some particular issues that we ranged over this morning have been further examined in great depth in the concurrent talks between the Secretary of State and the Foreign and Commonwealth Secretary.
Again, as we hoped, we have examined together what each of our two countries, and indeed those other countries with whom we work in close partnership, can do to deal with the most urgent, the most human, indeed, some of those we discussed, the most poignant of world affairs.
As is fitting at the first major Anglo-American meeting of the 1970's, we have been able to begin to look forward through the years ahead to some of the main developments of world affairs. And we have begun in these meetings today to prepare an agenda for further cooperation between us to help to shape those years of the seventies and beyond.
This afternoon I derived both enjoyment and encouragement through talks that I had with the Secretary of the Treasury, the Director of the Bureau of the Budget, the Chairman of the Council of Economic Advisers, and the designate-Chairman of the Federal Reserve Board.
And if it is true that the musically minded once greeted me with the song "I've Got Plenty of Nothin'," it is true that we had transmuted, like the alchemists of old, but in reverse, a lot of our gold into dollars; and I am very happy to say that we have not lost by it. There were others at that time who were transmuting their dollars into gold and they were sorry they did it.
And we, this afternoon, were encouraged by what we were able to discuss together. All our discussions this afternoon reflected the keen interest that each of us, and indeed countries far over the world, take in our progress and our problems and our actions.
We are meeting at a time today when for the first time for many years international economic relationships are more settled; when, after years of effort and patient endeavor, we are able to record a significant move forward in world monetary cooperation, a move forward that would not have been possible, I believe, without the cooperation of our two countries.
We meet at a time when the international monetary seen% the position of leading currencies is no longer beset with the turbulence of recent years, when we may fairly claim that international statesmanship and cooperation are matching up to the challenges of what not long ago seemed to be blind economic forces capable of engulfing the whole monetary system.
And this is very significant in terms of our discussions this afternoon, Mr. Secretary, that there is no one following those discussions who wants to ask any questions about sterling or about the dollar. Not for the first time in our meetings, Mr. President, I have felt that we have been able, because I have had this experience twice over the past year when you have visited Britain, that we have been able to cover a wide area of world affairs, to do it in depth because of common understanding between our two countries.
It is not simply the advantage of a common language, it is the background of common experience, more particularly common understanding, which enables us to say what needs to be said in a very few words, in a very few words because each of us is aware that behind those few words lie volumes of thought and experience which do not need to be made articulate.
Even behind those volumes of thought---because we do understand one another and don't need to spell everything out--is, as you have said, the whole record of centuries of understanding and of common ideals and of the thought and the education and the background that has made each of our two countries what they are.
That is why, when I referred last night in New York to the new concept of the special relationship which should guide us in the 1970's, I laid stress also on the common problems of our two societies and on how much each of us has to give to the other in the experience of dealing with those problems.
You and I recognize, Mr. President, that sharing experience, sharing thinking, spelling out more clearly our social ideals for the 1970's, is not a task for governments only, for Parliament and Congress only, but for our social administrators and social workers, for our managements and our trade unions, our students and our children.
We have the privilege of feeling, Mr. President, that the relations between our two countries have never been closer and that that expresses not just the talks that are held from time to time between representatives of government, but between all the contacts that go on between our two countries, contacts--and I would like to say this tonight--that have been so enriched by the work of our respective Ambassadors from our two countries in their relations with each of the governments to which they are accredited.
It has been our privilege to welcome our new Ambassador to the Court of St. James, as you have welcomed Her Majesty's Ambassador here in Washington, and to express jointly our confidence in what each of them are doing. For very many years it has been the position, I think, in Anglo-American relations that when you send us an Ambassador or when we send you one--yes, we send them to represent our own country, to the other--but before very long they are claiming your representative in London and you are claiming our representative in Washington as "our man."
I believe that is true of both of our distinguished colleagues and friends, personal friends, both of them, of mine, who are engaged in this most vital task of representing not two governments to one another, but two peoples.
In that spirit, Mr. President, may I ask all here to join with me in drinking to the health of the President of the United States and Mrs. Nixon.
Richard Nixon, Toasts of the President and Prime Minister Wilson of Great Britain Online by Gerhard Peters and John T. Woolley, The American Presidency Project https://www.presidency.ucsb.edu/node/239805