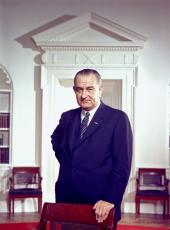 Toasts of the President and Prime Minister Thanom Kittikachorn
Your Excellency, Lady Chongkol, Mr. Vice President, Mr. Secretary of State, distinguished guests, ladies and gentlemen:
Mr. Prime Minister, your visit today is historic and very pleasing in more ways than one. Right after we finish this dinner, you and I will go upstairs to the Treaty Room in the White House. We will place a telephone call to Bangkok. Together, we will talk to your Acting Prime Minister and, thus, we will inaugurate a new and a direct telephone service between our two Nations that are so many thousands of miles apart.
I have already assured the Prime Minister that I will not abuse the privileges of this new Thai line. His personal phone number will continue to remain unlisted.
As we meet here tonight, our Nations are linked closer together in another way. Your arrival at the White House this morning, Mr. Prime Minister, is being telecast to Thailand. This is the first direct telecast from the United States across the Pacific to the new Asian mainland. Your Government, sir, has helped to make this miracle possible. You have had the vision, the imagination, and the courage to go ahead and build the ground station that is now receiving signals from an American satellite which is orbiting far out over the Pacific.
This telecast is evidence of a tremendous and recent leap in man's ability to communicate with man--to see, to speak, and to learn about the world in which he lives-to better understand all the peoples of the earth, and all the truths that can join us as one human family on one peaceful planet.
It is our space technology that has given us the miracles of satellites and these worldwide telecasts. Most of us never recognize that at all. It is the millions of dollars and the many millions of man-hours that are invested in our space program that give America and Thailand a new link tonight-just as this technology draws all men closer in understanding and the partnership that can come from it.
That, I think, is the real message that should go out over the airwaves tonight. I hope that it will be heard--and, Mr. Boggs, I hope it will be heeded in the Congress-when the critics of the space program sit down to do their budget calculations.
Personally, I am delighted that we have already slipped under this wire.
Speaking of telecasts, I am tempted to ask the Prime Minister for equal time tonight, because I understand that he made a very special side trip on his recent visit to Florida. He requested--and I think was granted--a special tour of the hall where the Republican Party will evolve its plans to defeat us and where it will hold its convention a little later this year.
Mr. Prime Minister, should you choose to visit Chicago, I think there are some people who would be delighted to serve as your guide. The Vice President has a very crowded schedule these days but he has never failed me in any request I have made. I am sure if you put Chicago on your itinerary and you desire to go and take a look at the convention hall, we could call upon the Vice President to go and show you through it.
I have some doubt, Mr. Prime Minister, as to who is going to be the star of the telecast that you will see. As you and I were making some very solemn speeches this morning, according to the press, out here on the South Lawn, Mrs. Johnson noticed that the cameras kept looking away from us. She told me later that they missed what we had to say because they were focused on a very happy little boy in the White House doorway. He had a Thai flag in one hand and an American flag in the other hand, and every time he saw a camera, your grandson looked directly into the eye of it and waved both flags so the camera could see them.
I learned to admire your little grandson this morning, Mr. Prime Minister. He is a fast learner, and I predict he has a great public future. I believe he is only 2 years old. He seems to have done something that I have been unable to do in 60 years--he has mastered the very difficult art of charming the American press.
Luckily, I did not bring my own grandson along this morning. If I had, Mr. Prime Minister, I don't think that either of us would have been in any pictures at all.
Mrs. Johnson and I know that this visit is your first opportunity to see two of your grandchildren. We know from personal experience how delightful that must be for you and your wife. We are very pleased to share with all of you that joy.
Our families mean much to both of us. We both know in very personal terms what it means to have members of our immediate family away from home fighting in Vietnam--you, through your own son, and me through both of my sons-in-law. The hope that sustains us, and the things which make our burdens easier, is the conviction that our sons have seen their duty--and they are going to succeed in it.
These young men--and the many hundreds of thousands like them--are our guardians tonight. I believe in all faith and in great pride that these young men are also the builders of a greater and a better world. They are the builders of a more secure and a prospering new Asia, a peaceful and progressive partnership among men.
All of us know and value the contributions that the Royal Thai Government, under your own wise and strong leadership, is making daily to that dream.
Your role in SEATO is fundamental to the collective security and growth of Southeast Asia. You stand steadfast with us and our allies, holding up the shield behind which a new Asia is building tonight. By helping to mediate old and outworn quarrels, you are inspiring your neighbors to come and reason together and to work in new and creative enterprises.
By working through the United Nations, you are helping to harness the mighty Mekong River for the benefit of literally millions of your own people and millions of your neighbors. By creating and encouraging a host of new cooperative institutions, you are laying the foundations of a system where Asians can work out their own destiny in their own way.
These are the goals--and these are the stakes--of our common commitment in Southeast Asia. These are the reasons why I take those commitments so seriously, why we are pledged to honor them scrupulously. We seek nothing more than an honorable settlement of conflict and difficulty. But, Mr. Prime Minister, we are determined to accept nothing less.
We will negotiate in good faith, but we will never--we will never--abandon our commitments nor will we ever compromise the future of Asia at the negotiating table. We will sit down in Paris as cordial, fair-minded, and openhanded men. However hard or however long the labor, we will not tire in keeping our public trust.
I hope that our own people, all of them, and our adversaries as well, will realize that increased infiltration, sending new MIGs to new air fields south of the 20th parallel, will not go unnoticed, even when we have summoned all of our patience and our fairness in an attempt to peacefully sit down at the table and be fair with our fellow men.
Mr. Prime Minister, it is as I described it the other evening. We want to move from enmity to brotherhood, from destruction to common efforts on behalf of the men, women, and children of Southeast Asia.
In this we ask the prayers of all of our fellow men tonight throughout the world, because this is the eve of our delegation's departure for what I hope with all of my heart will be the table of peace.
Let us toast their going. Let us toast their success and to the precious gift that they may bring us on their return.
But let us never enjoy the illusion for a moment that the road is not going to be long, hard, and difficult; that it will try men's patience and men's souls.
Let us remember and toast tonight others whose mission is peace, to the gallant and the magnificent soldiers of Thailand whose courage and whose sacrifices give their South Vietnamese and American comrades so much heart. These brave men and their families give us all so much confidence that the day of reconciliation must come someday, and we hope it will come soon.
Ladies and gentlemen, those of you who have come from throughout the breadth of this land, from most of the 50 States, I should like to ask you to toast now to all that we share with the people of Thailand and all of our warm regards for Their Majesties, the King and the Queen of Thailand.
Note: The President proposed the toast at 10:13 p.m. at a dinner in the State Dining Room at the White House. In his opening words he also referred to Lady Thanpuying Chongkol, wife of the Prime Minister, Vice President Hubert H. Humphrey, and Secretary of State Dean Rusk. During his remarks he referred to Representative Hale Boggs of Louisiana, member of the Ways and Means Committee of the House of Representatives. The Prime Minister responded as follows:
Mr. President, Mrs. Johnson, Mr. Vice President, distinguished guests, and friends:
May I thank you, Mr. President, most sincerely for your generous words of welcome and for your gracious hospitality extended to all of us. I am indeed grateful to you, Mr. President, for your heartening expression of friendship toward Thailand and its people.
We highly value the opportunity given by this visit to meet and exchange views with you, Mr. President, and with other distinguished leaders of your Government on many matters of mutual interest and concern.
I feel highly gratified that on the vital question of peace and stability of Southeast Asia, with particular relation to Vietnam, the United States and Thailand share the same views that aggression must not be allowed to succeed and that smaller nations must not be subjected against their will to alien domination by the sheer use of force, terror, and subversion. For if such conquest were allowed to take place, the seeds of wider conflict would be sown with dire consequences for our Nations and the rest of mankind.
With keen realization of this great danger, you have taken, Mr. President, a courageous stand to forestall the dreadful event and prevent grievous sacrifices which otherwise would befall your great Nation and the rest of the world.
For this wise and farsighted decision, the Thai people and the free nations of Asia are forever grateful to you and will always keep in their memory the name of Lyndon Baines Johnson as a benefactor who has gallantly upheld the cause of their freedom and independence.
They fully realize how difficult and painful it must have been for you, Mr. President, as a man of peace, to reach such a momentous decision which would involve the well-being and the lives of many brave, young men, especially your sons-in-law.
If any vindication were to be needed, it will be by history that, in accepting the present heavy and grievous burden, many more lives will have been spared for this great Nation and the rest of the world.
Already the course that the United States and its allies have taken is proven to be a correct one as our firm resolve has convinced the aggressors that they cannot overcome free nations by violence and conquest.
A grave and important task, however, remains to be accomplished, namely, that of preventing the enemy of freedom from reaping at the conference table the victory they could not achieve on the battlefield, for otherwise, the costly sacrifices of our gallant soldiers would have been in vain.
You, Mr. President, and the American Nation, may rest assured that Thailand and its people, who have braved the risk of war and destruction, stand with you and the United States in forging a firm and meaningful peace which will insure that free peoples will always remain free.
Conscious of its duty, the Thai Government and people have not remained idle. As fighting goes on, they have, by themselves, and in conjunction with some of their neighbors, laid the foundations for peace and future progress of Southeast Asia.
We shall need you, as perhaps you will need us, to join together in constructive endeavors in building a better and more harmonious world in which free men can engage without fear of death and destruction in the pursuit of their happiness.
It will always be our fond hope, Mr. President, that the great American Nation and the small Thai Nation will always join hands in such a practical and mutually beneficial partnership for peace, for freedom and progress.
I should like now to propose a toast to the President of the United States and to the everlasting friendship between the American Nation and the Thai Nation.
Lyndon B. Johnson, Toasts of the President and Prime Minister Thanom Kittikachorn Online by Gerhard Peters and John T. Woolley, The American Presidency Project https://www.presidency.ucsb.edu/node/237526