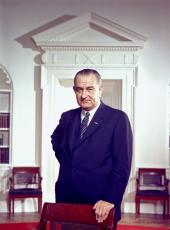 Toasts of the President and Prime Minister Pearson
Mr. Prime Minister, Mrs. Smith, Mrs. Neuberger, gentlemen:
The Prime Minister asked me if I was going to make a speech and I told him I was going to attempt to, not over 3 minutes in length, but I would expect loud and vociferous applause.
I choose to feel that this is not just a meeting today between two heads of government, but rather a reunion of neighbors who meet around the dining table in friendship and with affection. Mr. Prime Minister, we in this country are proud of your achievements and we are joined in your purpose. We have applauded your craftsmanship and approved of your leadership from your major role in the creation of the United Nations to your winning of the Nobel Peace Prize and even your performance as defense man on the Oxford hockey team.
I attended a delightful dinner last evening at the Canadian Embassy and found myself greatly outnumbered. That is not a unique experience for me. Having been in political life as long as I have, I frequently find myself in a minority. But this is such a minority that I thought I should do something about it. We had seven men from Oxford, one from Cambridge, and one from the San Marcos Teachers College. So, not to be outdone, I invited my friends from the Congress to come join us today for lunch.
Mr. Prime Minister, I remember so well the largest American hero of his time, Franklin D. Roosevelt loved so warmly the greatest Canadian of his era, MacKenzie King and, indeed, you may have been present on the occasion in Quebec in 1943 when President Roosevelt said to Prime Minister MacKenzie King, "My old friend, your course and mine have run so closely and affectionately during these many long years that this meeting adds just another link to the chain."
Mr. Prime Minister, may I take the liberty and may I be presumptuous enough to suggest that our friendship may run this same cheerful course that was so stoutly started by our great predecessors and so cordially continued by ourselves. I believe, Mr. Prime Minister, that we have built here on your first visit the intimacy and the candor that belong to two good and old friends. As I suggested this morning, as we walked out on the porch to observe this beautiful sunny day, that whenever we have anything to say to each other, let us just pick up the telephone and say it, whether it be to discuss a problem or simply to ask, "How are you getting along up there?"
So if you would join me now, I would like to ask you to rise and raise your glass, and let us toast at this high moment Lester B. Pearson, "Mike" Pearson, the Prime Minister of Canada, a loyal neighbor, a durable ally, hockey star, and a good and most understanding friend.
Note: The President proposed the toast at a luncheon in the State Dining Room at the White House. Prime Minister Pearson responded as follows:
"Mr. President, Mrs. Smith, Mrs. Neuberger. and gentlemen:
"May I thank you very warmly, sir, for your kindness in proposing this toast and you, gentlemen, for the friendly way in which you acknowledged it.
"You, Mr. President, said how outnumbered you were last night at the Canadian Embassy when you honored us by dining at our Embassy. You were outnumbered, I think, nine to one, Oxford and Cambridge versus the Teachers College. But I would remind you, Mr. President, that those of us who went to Oxford and Cambridge went there because we had done so well beforehand at our teachers colleges. Now if you had worked as hard as we did and if you had been as good an athlete as Dean Rusk was, you might have got to Oxford, too. But if you had, you probably wouldn't have become President of the United States.
"I am very grateful to you, sir, for your generous and friendly hospitality and particularly, if I may say so, for giving me the opportunity of meeting so many members of the Congress. I used to be a diplomat; I used to be Ambassador in Washington. And in those days the State Department would never let me talk to members of the Congress. No doubt they were right, because if diplomats started establishing contacts, too close contacts, with members of the Congress, it wouldn't have any great effect on the Congress, but I don't know what it would do to diplomacy and the State Department.
"But I am grateful, sir, for the opportunity of meeting so many old friends from the Congress. And I am very conscious of the fact that in the relations between our two countries, which are of such continuing importance, that while it is of vital importance for our governments to keep in close touch, and they will, it is I think of equal importance for our legislatures to keep in close touch. And I am very grateful, indeed, that during the last years we have built up this kind of congressional and parliamentary contact.
"And I believe we had a very good example of its importance last week. I don't like to single out anyone in particular, but perhaps, Mr. President, you might let me mention a senator from a State so near Canada, who had so much to do with that development, Senator Aiken. We are very happy, Mr. President, to be here today, also, because we are signing a very important treaty for the development, in the interests of both our countries, of the Columbia River, a treaty which will be of such great importance to the Northwestern part of the United States. Senator Magnuson will forget about lumber difficulties, perhaps, and Senator Morse. And, also, we are to sign this afternoon an agreement which hasn't the tangible importance that the Columbia treaty has, but has a very great sentimental and symbolic significance.
"In setting aside Campobello as a sort of international tribute to a very, very great American, I want to thank those who have been good enough to make that possible. We have had very good talks in our short, short visit--the kind of discussions that you expect between representatives of the United States and Canada. They have been frank, they have been friendly, and they have covered a great variety of subjects. There have been no inhibitions of any kind. Why the President and I, in the midst of more important matters, took some time off to argue whether the greatest quarterback in American football history was Sam Baugh from Texas or Y. A. Tittle from San Francisco. We didn't agree on that.
"We have, I think, not solved problems, but we have established a good and friendly relationship between ourselves and strengthened that relationship which existed already between our governments, which will make it easier for us to solve these problems. Our relations, the relations between our two countries, are so close and so friendly, so intimate, and our peoples are so close together, that this in a sense is our problem, because it is taken for granted, I think perhaps more on our side of the border than on your side of the border, that we are so much alike that we will never have any difficulties.
"The particular triumph of the Canadian-American relationship is that we have had difficulties and that we have solved them and we are going to have more in the future, but we are going to solve them, too.
"It is easy to keep the peace when you have nothing to row about. But rows without wars, that means something. That is the symbol of our relationship. I remember saying some years ago in Toronto--and I got a great deal of criticism, and was Secretary of State for External Affairs at that time--that the days of easy and automatic relations between our countries are over. So they are. I don't know how easy or automatic they used to be, but I know that in the future we are going to have problems and difficulties.
"There are no two countries where the relations are more important to each other economically and in every other way than those between our two countries, but I am not frightened about this kind of thing because I have absolute confidence that with the kind of friendly understanding which we have, we will be able to face these problems and we will be able to solve them.
"We in Canada are very, very sensitive, indeed, about the development of our own Canadian identity building up in the northern half of this continent, a nation which stands on its own feet as much as any nation, any nation anywhere, can stand on its own feet these days.
"You may at times think we are perhaps a little too sensitive, but we do appreciate, we do realize, that in our relations with the United States, why, we will have our bilateral difficulties, we do realize that in this country you are bearing the greatest burden that any country at any time ever had to bear, the burden of maintaining peace and establishing security and insuring progress in a nuclear outer space atomic age.
"I was talking--and I don't know whether I perhaps should say this--but I was talking last week to General de Gaulle in Paris. We had a very happy visit there and we were very warmly received by the country which, after all, is the other mother country of Canada. Sometimes down here in the United States they forget that one-third of our people in Canada are French-speaking. I mentioned this to the President this morning. General de Gaulle said, 'You are always boasting, you Canadians, that you know the Americans better than anyone else.' Which is true. We really should. 'What do you really think of them?'
"I was trying to find words to express at the same time my admiration and anxiety about the United States, and I said, 'Well, General de Gaulle, as I have often put it in speeches in Canada, my feeling about the United States is this: To live alongside this great country is like living with your wife. At times it is difficult to live with her. At all times it is impossible to live without her.'
"Thank you."
The President's opening words referred to Prime Minister Lester B. Pearson of Canada, Mrs. Margaret Chase Smith, U.S. Senator from Maine, and Mrs. Maurine B. Neuberger, U.S. Senator from Oregon.
Lyndon B. Johnson, Toasts of the President and Prime Minister Pearson Online by Gerhard Peters and John T. Woolley, The American Presidency Project https://www.presidency.ucsb.edu/node/240202