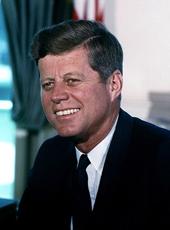 Toasts of the President and Prime Minister Lemass.
Ladies and gentlemen:
We have attempted to collect together here tonight in Washington distinguished Americans of Irish extraction--like the Chief Justice of the United States; the Majority Whip, Senator Humphrey; Dean Rusk; and others--who owe allegiance and emotional attachment to Ireland, if not fortunate enough to be by blood.
For the rest of us, this is a particularly happy occasion to welcome tonight the Prime Minister of Ireland, the Foreign Minister, and other members of his government.
This is an occasion that is particularly important to us because of the warm welcome which all of us received in Ireland in June, and which I think brought home to us the strong attachment for the United States which is felt in Ireland and which is reciprocated here.
John Boyle O'Reilly spoke about a peoples' fight outliving a thousand years. But the fact of the matter is that all of us who went to Ireland, who met the Prime Minister and the Foreign Minister, the President, and others, had a very immediate impression of a fight which was much shorter but which was even more significant.
We have become used in the last decade to welcoming heads of state and others who have participated in the fight for their country's independence. I think when we welcomed the Emperor of Ethiopia I mentioned the fact that in the last 10 years, 29 states of Africa have gained their independence. This is now a flood, but in the years between World War I and World War II, it was only a drop. And the most significant example, the predecessor of this tremendous parade which has been the most astonishing fact of post-war life, the most unique example, of course, was Ireland which blazed the trail, set the example, was the point of the spear, the arrowhead. Almost alone during the period through World War I and World War II Ireland won her independence. And, therefore, we value especially welcoming the Prime Minister, the Foreign Minister, and others who played such an important part in that fight.
We are not welcoming to the White House tonight those who are the heirs of this fight for independence as we are in the United States. We are welcoming those who participated very actively--not only they themselves, but also the members of their families.
So we are glad--those of us who are Irish on St. Patrick's Day and those of us who are Irish the other days of the year, which includes everybody in the room--we are very glad to welcome them to the White House and to express our appreciation to them for the past but, most especially, for what they are doing now, because I think it is a source of some satisfaction that Ireland, which, after all, is a small country, should be playing such a significant role on the world stage.
When I was in Ireland, I noticed all of the military personnel--so many of them who wore a blue badge of service in the Congo. Today, there is a battalion of Irish troops in the Congo, very far from home.
Ireland is not a major participant in the cold war struggle, as size goes, but it is a fact that in the struggle for peace and order, which is of very much interest to all of us who believe in freedom, Ireland is playing a role beyond her size.
So, we are honored tonight, Mr. Prime Minister, by your visit, and we are honored particularly because you bring with you, in a sense, the person of your distinguished President.
In the course of the visit to Ireland, the President gave what I consider very good advice to all of us who hold office. I had said something about his interest in the Gaelic language at lunch. And that night he said that in negotiating with those with whom you disagree, that if you are subject to flattery, they will cajole you; if you are weak, they will use strength against you; and if you are reasonable, they will reason with you, and, in any case, you will be defeated. I thought that was very good advice.

So, we are proud to have you here, Prime Minister, as a very active participant in that fight of living a thousand years--Minister of Foreign Affairs, Mr. Aiken, members of your families and government--and I hope that all of you will join in drinking with me to a man who has held power and influence in his own country but whose moral leadership has gone far beyond his own country for more than 40 years, a great American, as well as the President of Ireland.
Note: The President proposed this toast at a dinner in the State Dining Room at the White House. Prime Minister Lemass responded as follows:
"Mr. President, I would like to express briefly my appreciation for what you have said. I have already tried today to convey adequately the thanks of the Irish people for the honor which you have done them by inviting me as their representative to make this visit to the United States,
"I think I should tell you a story which may amuse you. A fortnight ago, I was visiting in Westport, County Mayo. There was a function there, and a little old lady, as I was passing by, said, 'So you are going to the United States, and you will be seeing President Kennedy in the White House.' I said, 'That is true.' She said, 'Will you thank him for me--thank him for me--for the example he has given of a fine Christian gentleman. I promised her that I would, and now, Mr. President, I have redeemed that promise.
"I think it is so to say that in most countries, certainly in Ireland, the tendency is amongst the people to judge public men not by their diplomatic skill or their economic sense but by the personal qualities they reveal, the extent to which they can demonstrate a capacity for purpose and integrity, for humanity. I think that is true to say, Mr. President, that the Irish people have tested you in this way and may I assure you that you emerged with full honors.
"I suppose all of us who hold responsible public offices involving responsibility for national policies sometimes ask ourselves how the historians of the future are likely to assess our policies and our work. Some of us know our fate already. In my case, I will be lucky to get off with the charge that, 'We are sure he did his best.'
"In your case, Mr. President, your place in American history has already been adequately assured, assured by your achievements since your inauguration, by the leadership which you have given not merely to America but to the free world during these years.
"I can tell you that your place in Irish history is doubly assured. Everybody there is still talking about the young man who came to Ireland to visit with us--the President of the United States of America--and won all their hearts with his charm and a smile.
"We are, as you know, a small country, and during the lunch with your Secretary of State, Mr. Rusk, which he was so good to give me today, I said that we did not aspire to possess nor desire to possess a military or economic power, and we have no ambitions to influence the course of the events of the world except by the consistency of our support for the aims and principles by which you have guided your policy and, indeed, upon which the future of mankind depends.
"Being a small country is not necessarily a disadvantage. Indeed, some 1400 years ago a man named Aristotle wrote an essay on politics, Mr. President, which you may have read, but in the course of this essay he said the ideal size for a democratic state was one where all of the boundaries could be seen from the top of a fair-sized hill. Of course, he lived before the days of Telstar and television and supersonic things, and he might have adjusted his measurements a little if he had known about these things, but, nevertheless, there may have been something in his conclusion which is of value and is still valid. I don't know that I should be talking about this in this vein in the capital of the greatest democracy in the world, but the point I want to make, Mr. President, is that in my country I think I know what motivates our people, the thoughts that are running through their minds. I may not always draw the right conclusions from this knowledge, and many things I say are often controverted in a political way, but I am sure that in this understanding of the meaning of the Irish people I can express the respect they have for this great country of yours and for you personally, and their desire that the Almighty will protect and prosper you in the future.
"I hope, sir, that someday, somehow, you will be able to answer the command of the song, 'Come Back to Erin,' and nothing will give our people any greater pleasure than that.
"May I now ask you to join me in a toast to the President of the United States."
In his opening remarks the President referred to Chief Justice Earl Warren, U.S. Senator Hubert Humphrey of Minnesota, and Secretary of State Dean Rusk. He later referred to Haile Selassle, Emperor of Ethiopia, Frank Aiken, Ireland's Minister of External Affairs, and Eamon de Valera, President of Ireland.
John F. Kennedy, Toasts of the President and Prime Minister Lemass. Online by Gerhard Peters and John T. Woolley, The American Presidency Project https://www.presidency.ucsb.edu/node/236416