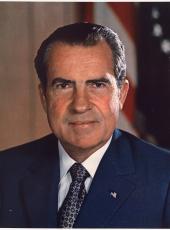 Toasts of the President and Prime Minister John M. Lynch of Ireland at a State Luncheon in Dublin.
PRIME MINISTER LYNCH. I ask you to rise with me to honor this toast to the President of the United States of America, Mr. Nixon.
THE PRESIDENT. Ladies and gentlemen, I ask you to rise with me as I propose a toast to the President of Ireland.

To the President of Ireland.

[Following the toasts Prime Minister Lynch spoke and the President responded as follows:
Mr. Taoiseach,1 Your Eminence, Your Grace, Your Excellencies, friends of Ireland and friends of America:
I wish to express on behalf of all of us from the United States today, our appreciation to the Prime Minister and Mrs. Lynch for their hospitality at this very gracious and splendid luncheon, and also to express our feeling as we complete our trip to Ireland and a trip to Europe on this occasion.
1 Gaelic term for Prime Minister.
As I listened to the eloquent words of the Prime Minister, I thought, of course, of those bonds that keep our two countries so closely united in so many areas of the world. While sometimes the tendency of American politicians to try to trace their ancestry to Ireland is looked upon as being somewhat strained a bit, I can assure you that in these days we will do anything that will help us win, and I think that helps us win.
However, Mrs. Nixon is very proud of her Irish ancestry. Her father's father was born in this country. And I am very proud of my Irish ancestry, which goes back many centuries and which is attested to not only by the Irish Historical Society, but also by my really more famous cousin, more famous than I, Jessamyn West, who is here today and who wrote about the Irish Quakers.
But rather than simply speaking in terms of what we as individuals owe to this country, I would like to tell you what America owes to Ireland and its Irish heritage. I speak first in terms now of our official family in this administration, as distinguished from the personal family to which I have already referred.
We have on this trip with us one of the most distinguished members of our Cabinet, one of the most farsighted leaders in the social, economic, political field that America has produced, Dr. Daniel Patrick Moynihan. He doesn't have to search as hard as I have to to find how quickly he came from Ireland.
I also have as a member of my staff-and I think anyone who is in service would say an absolutely indispensable member of my staff my personal executive secretary, Rose Mary Woods. Both her mother and father were Irish. So, if there is any question about my straying from the path now and then, she brings me back.
I would like to point up, too, something that the Secretary of State reminded me of before we arrived in Ireland, about the special qualities that we like to find in government service, and particularly in the diplomatic service, and that sometimes we find in one who has an Irish background. The Secretary was attempting to find the ideal man to be the Assistant Secretary in charge of information for the State Department. He was looking for a man, he said, who was both warm and cool. Now, that sounds like a contradiction, but we can work it out, I can assure you. A man that was both warm and cool, so that he could be warm in his relations with the members of the press and others that he met around the world, but also cool in any crisis that might come up.
So, for someone who was warm he had to find someone with an Irish background. And why not a Collins, a Michael Collins, in this instance, who was Irish on both sides of his family, with all of the warmth and the graciousness of the Irish personality? Then how do you take that warm, Irish Michael Collins and make him cool? You make him an astronaut and send him to the moon.
So, we have an Irish astronaut as the man with the top position in our Foreign Service for the purpose of being the warm, cool man that we need in a crisis.
You spoke, Mr. Prime Minister, of this being a small country. It is a small country, but it is a great people. We are a large country, but we are a large country made up of many great peoples. And when we think of the great peoples that make up America, we are very proud of what those who have come from Ireland and who are descended from those who came from Ireland, what they have contributed in many, many areas--the areas of business are well known, men like John Mulcahy who represents that--the areas, of course, in politics, where the Irish seem to have a particular capability.
All that I can say, Mr. Prime Minister: I think politics is hard in our country, but in Ireland, when you have to run against somebody who is Irish all the time, it must be impossible. I have had some experience that way myself.
We think, of course, of the individuals, we think of their work in various fields. But we think primarily, of course, of the spirit, the spirit that you referred to, the spirit that I sensed as I traveled through this land yesterday and today, and a spirit that is very much needed in the world today, and particularly needed in our country with its responsibilities of world leadership, warm, friendly, with that ability to have a sense of humor even when things are very, very difficult. And the Irish have all of these capacities. They have also stamina, character, a deep religious faith. These are qualities that make a great people. These are qualities that have contributed enormously to America. They are qualities that make this small country a great country.
We measure a nation today not in terms of simply the number of its people, or the size of its armaments, but in the quality of its spirit, the kind of people it produces, the quality of its leadership.
I think of the Prime Minister. I studied a little about his background. It impressed me very much, impressed me because when I was in school, I was very interested in sports. I went out for every. thing--football, basketball, baseball-never made the team. He was the champion in Irish hurling, and I understand that that is one of the most rugged sports that we can possibly invent.
So, that impressed me. But what impressed me even more, was that in the field of politics he had never lost an election. So, these qualities came to mind. But others, of course, that are even more important than these, which are basically somewhat superficial, the quality of that spirit that has seen this people and this land through centuries of what to most people perhaps would have been a hopeless situation, and in which despite the disappointments, the difficulties, wars; famines, and oppression, the spirit of the people stayed strong. The sense of humor stayed strong. The ability to stand proud, dignified in the world, regardless of what the wealth might be or what the power might be--these are the attributes that have earned for those of Irish background in America the highest respect and that earn for Ireland, this nation, the respect of the world.
I would refer also to Ireland, the new Ireland that we see today. I am delighted to see the progress that is developing.
I am delighted to see that the emigration which we, of course, have been beneficiaries of in America has now finally leveled off so that the nation will have its opportunity to grow again.
And I am delighted, too, to see that this nation is playing a very significant and helpful role in the world. We are aware of the fact that in the peacekeeping forces of the world, whether it is in very difficult areas, like the Congo or the Mideast or Cyprus, that the Irish forces have been in the forefront.
We are most grateful, not only we in the United States but other nations in the United Nations, for the fact that the Irish--this nation, Ireland, has met its responsibility in such a forthcoming and effective manner.
So, consequently, as we complete our trip through Europe and finish it in Ireland, I would end on these notes:
First, a sense of very great pride that I can claim an Irish background and that my wife can.
Second, a sense of very great appreciation expressed on behalf of all of the American people for what those from Ireland have contributed to our country, a country that is made up of many, many people.
And, finally, a recognition of the fact that the Ireland of today, the Ireland that I see, is, though it is a small country, is potentially a great country because it has a great people.
As I leave Ireland, I know that its future is assured, that it will move forward and progress. And we in the United States hope that in the years ahead, in our position of enormous world responsibility, we can develop those policies that will make it possible for that progress to occur for Ireland and every other nation in the world in a period of peace.
The Prime Minister has very generously referred to the foreign policy of this country. I realize that our Nation is subject to very great criticism in the world because with our responsibilities naturally will come decisions that sometimes will not meet with approval by all peoples.
But I can assure you, as I said at Timahoe today, coming as I do from a background which is deeply dedicated, totally dedicated, to peace, there is nothing that I want, nothing that the American people want more, in this period in the world's history when the mantle of leadership is ours in the free world, not because we worked for it or asked for it, but because of what happened after World War II-there is nothing more that we want than to exercise our responsibilities in a way that will bring peace to the world, bring it not just for the next election, not just for the next 10 years.
It is easy to end wars; it is difficult to build a real peace. And what we want to do is to build a real peace, a lasting peace, a peace that the people of Ireland, the people of America, all the people of the world, can truly enjoy.

Thank you.
Note: The President spoke at approximately 3:25 p.m. in Dublin Castle in response to Prime Minister Lynch's remarks which follow:
Mr. President and Mrs. Nixon, Your Grace, Your Eminence, Your Grace, Excellencies, ladies and gentlemen:
We count it as a high honor to have here with us in Ireland you, Mr. President, the President of the United States of America, and you, Mrs. Nixon, the First Lady of that great land.
We are proud that you have come, as it were, to visit family. Mrs. Nixon's name proclaims her Irish ancestry. The name of Ryan goes back to the earliest period in our history and continued to be famous in later times.
Every Irish school child learns a 17th century poem in Irish which tells of the adventures and exploits of Eamonn O Riain, Eamonn of the Hill, or Eamonn on Chnuic. The poem begins: "Ce he sin amuigh a bhfuil faobhar ar a ghuth ag reabadh mo dhorais dunta."
Translated it means, "Who is that outside beating on the door with anger in his voice?"
Mrs. Nixon does not need to beat on any doors because they are all open to her. We all know that there is no anger in her voice.
You, Mr. President, you have today visited the place where some of your ancestors met to pray and were finally laid to rest.
In that quiet place in County Kildare, the Religious Society of Friends have for centuries played a distinguished if quiet role in our community. It was in my own city of Cork that William Penn wrote a famous letter calling for toleration and freedom of conscience.
It is probably not very well known, Mr. President, that William Penn sailed from Cork before he established and founded Pennsylvania. But I am sure the President knows this because it was to Pennsylvania that Thomas Milhous went when he settled in the United States. The Milhous family lived in many parts of our country from Antrim to Kildare before some of them emigrated, like so many other Irish people, to America.
In their new home, they did not forget Ireland, and now seven generations later a descendant, one of their descendants, gaining the highest office in America, remembers the land that they, his ascendants, came from.
We in Ireland remember the devotion of these same Friends to Ireland in a time of great tribulation for this nation, the time of the great famine of the last century. Headed by Jacob Harvey, a citizen of New York, an Irishman and himself a Friend, they organized an appeal to which the United States replied with the generosity that is characteristic of that great land.
Not far from where the Millhouses lived in Timahoe was the homestead of another family, the Tones, from whence sprang Wolfe Tone who first dreamed of an Irish Republic and gave his life for the cause. When Tone was just 8 years old, just 200 years ago, Benjamin Franklin was a guest in the Irish Parliament House, which is just down the street from where we are now.
"I found them," he said, "disposed to be friends of America in which I endeavored to confirm them with the expectation that our growing weight might in time be thrown into their scale."
The American war of independence in which there fought many Irishmen from north and south, and the establishment of the American Republic, kindled in many lands hopes for a democratic society.
Tone failed in his attempt to help set up such a society here. "Washington succeeded when Kosciusko failed," as he said to the tribunal that sentenced him to death.
But his dream lived and when an independent Irish State was achieved, its Constitution, like that of other European countries, drew inspiration from American example.
I mentioned earlier, Mr. President, cooperations between Ireland and the United States in many fields. There was one little feature of cooperation, one little exercise in cooperation, which yesterday failed and cast a certain gloom over our country. That is the failure of Nijinsky to win the Arc de Triomphe. It is an American. owned, Irish-trained horse.
Had he won yesterday, he would have had 100 percent record in his particular field of horse racing. But not very long ago there was another great Irish horse named Arkle, and we were then and still are proud of his achievements. And there was one occasion when the despondency which might now pervade our country because of the defeat of Nijinsky was jubilance in that he defeated his great rival in England named Millhouse.
However, Mr. President, something more serious. In your time, America and mankind have reached out into the stars but you, yourself, you have reminded us in memorable phrase, and I quote, that "however far we reach into the cosmos, our destiny lies not in the stars but on earth itself, in our own hands, in our own hearts."
Like you, and like America, the people of Ireland too seek peace, again to use your words, Mr. President, "with compassion for those who have suffered; with understanding for those who have opposed us; with the opportunity for all the peoples of this earth to choose their own destiny."
Mr. President, we interpret your visit to Europe and to Ireland at this time, as being fully consistent with the import of those words that you spoke at your inauguration. We see your mission as one of peace. Your important and impressive statement today at Timshoe, where your forefathers came from, gives this emphasis. The opportunity you spoke of at your inauguration is also a right, the right of the small nations of the world, as well as of the great.
Ireland, like other small nations, has asserted this right. Many of them, like our country, have played their part in promoting peace and freedom and in the elimination of fear throughout the world. Though they have exercised an influence far beyond material strength, far beyond what would appear to be justified by that strength, they look, as we do, to America, and the other world powers, to uphold their right to choose their own destiny, their right to freedom and peace.
Mr. President, we know that this is your commitment and America's purpose.
In welcoming you and Mrs. Nixon to Ireland, we are expressing once again the friendship of the spirit that unites the people of Ireland and the United States of America. May you come many, many times again amongst us.
Richard Nixon, Toasts of the President and Prime Minister John M. Lynch of Ireland at a State Luncheon in Dublin. Online by Gerhard Peters and John T. Woolley, The American Presidency Project https://www.presidency.ucsb.edu/node/240859