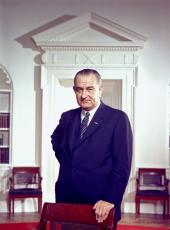 Toasts of the President and Prime Minister Inonu of Turkey
Mr. Prime Minister, gentlemen:
This house and this Nation are honored today by the presence of one of the 20th century's truly distinguished world statesmen. Free men everywhere have long known and honored the name of Inonu of Turkey.
Nowhere is that admiration greater or more sincere, Mr. Prime Minister, than in the United States of America.
We remember the immortal founder of modern Turkey, Kemal Ataturk. We remember as he worked to build a great modern state that you worked by his side, never flinching before difficulties, never shrinking from dedication to democratic values. Your joint accomplishment is visible to the world today, Mr. Prime Minister, in the land that I was privileged to see myself with you only 2 years ago.
We in America, proud of our own democratic traditions, remember especially the courageous defense of the democratic processes which the Prime Minister made in 1946. At that time the Prime Minister insisted that free and fair elections must be guaranteed not only as a legal obligation to the people but as a matter of conscience.
The Prime Minister has been called upon again to serve his people and we salute him for his steadfastness to principles that we also revere. Under his leadership Turkey has launched a promising 5-year plan to modernize the Turkish economy.
We are confident that long strides can be made toward realizing the vision of Ataturk, of nations joined in seeking happiness and true prosperity for their peoples, if we jealously guard our freedom and we zealously seek peace.
So, Mr. Prime Minister, we welcome you here. We welcome you as a close associate in the undertakings among nations dedicated not only to the defense of free men but to the betterment of all mankind. Turkey stands at the gateway to the East, but is also of the West. Its unique understanding of both worlds thus contributes greatly toward merging the two into one, one which looks toward the goal of stability and justice for all peoples in all corners of the earth.
Now it gives me great pleasure to ask my guests to join me in a toast to the continued close friendship between our countries, to the President of Turkey, and to success in our mutual determination to preserve world peace and justice.
Note: The President proposed the toast at a luncheon in the State Dining Room at the White House. Prime Minister Inonu responded as follows:
I am very grateful for the very warm and splendid welcome we received this morning. I am also touched by the very kind words that you have spoken about me. As you have underlined, Mr. President, under the great leadership of Kemal Ataturk, and in close cooperation with him, our efforts were directed to the founding of modern Turkey, and to the establishing of the closest partnership with the West.
I believe, Mr. President, that we have been successful in fulfilling these cherished ideals of the Turkish people and in making democratic principles live and flourish in Turkey.
We have always looked toward our great partners, the United States of America, as our truest friend, and we continue to do so. It is a deep satisfaction for me to reiterate these deep sentiments of the Turkish Nation toward the American Nation. In cooperating very closely with each other, I believe we can look with great faith and hope to the future, since our common goals are, as you have correctly pointed out, stability and justice for all peoples of all nations, large or small, weak or strong, in all corners of the world.
Thanking you from the bottom of my heart, I would like to ask the honored guests to join me in a toast for your continuous health and happiness, Mr. President, and the continued close friendship between our countries.
Lyndon B. Johnson, Toasts of the President and Prime Minister Inonu of Turkey Online by Gerhard Peters and John T. Woolley, The American Presidency Project https://www.presidency.ucsb.edu/node/239298