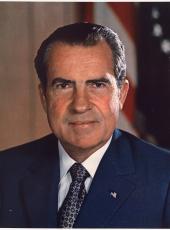 Toasts of the President and Prime Minister Golda Meir of Israel
Madam Prime Minister and our distinguished guests:
As I am sure you have noted, the tables are rather crowded tonight, and I can let you in on a little secret about how White House invitations are issued and what happens on an occasion like this.
Normally invitations go out, as you know, about 3 to 4 weeks in advance, and because we want to be sure that for our distinguished guests we have all of the places filled, we usually send 20 more invitations than the 110 that this room will seat, and always the cancellations make it possible not only for us to have not just the 110 that the room will seat, but we can add a few more at the last minute.
This time, all 120 accepted and invited a few friends.
I don't know of a dinner we have had, Madam Prime Minister, in this house since we have had the honor of being here, in which more people wanted to come and in which we could make fewer friends and more enemies than we did by inviting the group that we have here. But this company is one that is very distinguished. It represents our Government, our Congress; it represents also this whole Nation.
As you noted, they came from Los Angeles, San Francisco, New York, the South, the North, the East, and the West. And that tells us something. It tells us about the respect and the admiration they have for your country, for you, personally, and for your people.
Before proposing the formal toast to you, I think it is only appropriate on this occasion to say a word about one who has served your country so well and the cause of good relations between our two countries so well.
Ambassador [Yitzhak] Rabin came to Washington as Ambassador 4 years ago as one of the most respected military leaders in the world. He leaves Washington on his 51st birthday, which is tonight, as one of the most respected and able ambassadors ever to serve in the Washington Capital-as a matter of fact, if you want to give up your citizenship, we have a job for you.
And now, to our distinguished guest, there is so little we can say to this audience made up of her friends and her admirers. I can, however, speak for all of us by saying that we appreciate what she has done for her country; we are proud of the fact that she began in our country. We also are aware of the fact that she has played a great role in the past and will play a great role in the years to come, not only in the future of her country but of the Mideast and, therefore, of the world.
I was reading a little background before this evening's dinner, and a statement by Ben-Gurion about our distinguished guest tonight in which he said that history will record that, thanks to a Jewish woman, the Jewish State came into existence. And that is an enormous compliment to one who had contributed as much as he had to the creation of and the initiation of the State of Israel.
We don't need to go into that background with this company. I will simply say that as we look at the problems today, and as we look at what our distinguished guest has accomplished through the years, we can have hope as to the future.
All of us remember that when Israel became independent, there were those who said it was impossible. All of us remember that after Israel became independent, there were those who said it was impossible that they could defend that independence surrounded as they were by implacable enemies. And now today it is said that it is impossible that there is any chance to build any kind of a stable or lasting peace in the area.
Well, our distinguished guest has played a great role, first, in proving that it was not impossible that Israel could become independent, that it was not impossible that Israel would develop the strength to maintain and defend its independence. And also I certainly believe that she can and will play a great role in the future in building that peace which seems to be impossible, but which is her dream, the dream of all people in the world, in the Mideast and in all the areas around it.
I would not suggest that it is easy. I would not suggest that it will be soon or instant. But I do suggest that the kind of leadership, enlightened, courageous and strong, that built an independent Israel, that has defended its independence, has the genius within it to contribute to the kind of peace in that troubled part of the world which will provide real security for the states involved, as well as peace.
And it is this, of course, which has been the dream of the Prime Minister. It is this goal which we have discussed and toward which we are working. And it is in that spirit that I know that all of you will tonight want to rise with me, and as you rise, I would suggest that we are proud to have her here again as she has been in this house before, 4 years ago, proud because she is the Prime Minister of Israel, proud because of everything she has done for her country, proud because she had her roots in our country. And may our two countries always stand together in the cause of peace and independence and freedom for all people.
To Prime Minister Meir. To the Prime Minister.
Note: The President spoke at 10:01 p.m. in the State Dining Room at the White House.
Earlier in the day, the President and Prime Minister Meir met at the White House.
Prime Minister Meir responded to the President's toast as follows:
Mr. President, Mrs. Nixon, dear friends:
Several times in my life I thought there were certain moments when one can wish for nothing else to come, and yet, I have had the privilege to live quite long, but I have had things happen and goals reached and hopes and dreams come true.
I wonder, Mr. President, whether even you can realize what it means for a little tiny country, certainly in comparison with this great country of the United States, tucked away far from your people and your country, somewhere in a corner where not everybody in the world knows exactly where it is--is Israel in Jerusalem, or is Jerusalem in Israel? Some people, for instance, like the United Nations, still have Palestine on the agenda.
You don't know probably what it means that this great Nation and this great people has shown so much friendship, so much consideration, so much understanding--and has come to our aid at most critical moments--what this means to our people, to the young and old.
Very often in our long history, we said to ourselves, "We are alone." At moments when nobody else disproved the fact that we were alone, we drew courage from the fact that we can be alone altogether and not give up.
We had a very, very tragic history. And yet, every one of us that studies our history, the history of the Jewish people, the one thing that stands out, I believe, which made it possible for us to be what we are back in our own home, back to our sovereignty, with difficulties, with dangers, with worries, with disasters, all this is true--and a long, long history was never free of all these elements--but somehow we remained what we are.
We remained ourselves. We didn't run away from ourselves; we didn't look for easy solutions to run away from facing sometimes very dangerous situations and very difficult facts. And even since Israel was reborn, there were moments when we felt all alone.
When moments like that faced us, we faced up to it, but no people in the world really wishes to be all alone, and we are not an exception.
Mr. President, I don't know whether you know what it means to Israel today when we don't have to say we are all alone, when we know that the greatest country in the world, the country that understands and practices freedom more than anywhere else in the world, a country who still remembers its forefathers that fought for one thing, for this very simple thing--to be free, to be free to believe in what they believed, to practice their faith and to believe in it, and to practice a life of difficulties and hardships and pioneering and to build for the future.
If we had the choice, if people would say to us, "Look, you can only have one friend in this world. Choose," I have no doubt whom we would have chosen. Throughout the years, in these very recent years, you know very well what you and your people mean to Israel.
I have personally very many things to be thankful for in my long life. I include even the difficulties that I had to face, because I can honestly say at least one thing. I never ran away from a difficult situation. I have more courage to face our young men and women at home.
We discussed at the table the heroes, the heroes of the wives and parents of your prisoners of war, the joy that we feel, all of us in the world, that they are coming back to their families. The difficulty to sit around at home for me with a group of these young wives--not very many, thank God, only 13 men in Egypt and in Syria but I look at these young women, with their little children, and their husbands torn away from them, brave, courageous, or when I have to face widows, orphans, mothers, and fathers who have lost their dear ones--in moments of that kind, I have been able to be stronger in my ability to face these real heroes of all nations, because, Mr. President, you have made it possible for us to know we are not alone.
And again, I have been privileged--I don't know why--that in the last few years I should be the messenger to bring this great message to my people, young and old, and say to my people, "We are not alone; we have a friend." This people, through the man who carries the greatest burden and highest office, through its President, made it possible for us to know in the dangerous position that we still are, that we are not alone.
For this, Mr. President, for all that you have done, for your understanding of what we are striving for, for your not doubting that what we really want is an honest and real and true and lasting peace with our neighbors, that the greatest dream that we are dreaming is to cooperate with our neighbors, to cross the borders not with tanks but with tractors, to help, together with our neighbors, to build the area that has known so much bloodshed and so much war and so much destruction, to build together with our neighbors an area where people, men and women and little children, will be happy and will live and will find all this worthwhile.
When that great day comes--I said the other night to a group of friends, we have a song about peace, what will happen when peace comes, and the song has a refrain: This is not a fantasy, this is not a dream, this is true; if it won't happen today, then tomorrow; if not tomorrow, then the next day; but this is not a fantasy and not a dream.
Mr. President, when that great day comes, and I am convinced that it will come, we will always remember that in days of sorrow and difficulty and danger, we were not alone, we had a friend.
Ladies and gentlemen, to the President.
Richard Nixon, Toasts of the President and Prime Minister Golda Meir of Israel Online by Gerhard Peters and John T. Woolley, The American Presidency Project https://www.presidency.ucsb.edu/node/256089