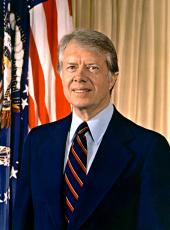 Toasts of the President and Prime Minister Fukuda of Japan at a Working Dinner for the Prime Minister
THE PRESIDENT. First of all, I want to say how delighted I am to have all of you guests in the White House. If any of you missed seeing the beautiful bonsai trees in the Blue Room, I hope that you'll go by and take a look at them before you leave. This was a gift of the Japanese people last year on our 200th birthday. And it's one of the most delightful and enduring gifts that could be exchanged between two great peoples.
We have also asked that they bring some Japanese cherries in tonight for our decorations in the corners. And I think these exchanges of flowers and beauty are a great credit to the Japanese and also very enjoyable for our own people.
We have been greatly honored by the distinguished visitors from Japan coming to see us. Prime Minister Fukuda is an old friend of mine. I was privileged to go to Japan a couple of years ago. And while I was there, as an ex-Governor and an unknown candidate, he was gracious enough to meet with me and to talk to me about the economic structure and the political structure of Japan and the relationship between our country and theirs.
He has proven a modern adage which I'm sure will pass in the history in the not too distant future. He comes from a peanut farm, and as a young man he helped to grow peanuts. So did I. And I think that at least the present truth is that the best way to become the leader of a country is to grow peanuts as a child. [Laughter]
We have in Plains now, as you probably know, in my first cousin's antique store and in the depot on the corner, we have a lot of peanuts that are sold as souvenirs-little, small, beautiful peanuts that are bronzed and have silver and gold on them. I'm sure most of them came from Japan. [Laughter]
Prime Minister Fukuda is a great leader. He was in the Department of Finance in 1929. He knows the Japanese Government and the Japanese people from firsthand experience. He's been honored by his own citizens with the highest office than can be acquired by an elected official. And he's a man who's set a standard in international diplomacy, a search for peace, proper economic management, a knowledge of internal and external politics, that's an example for us all.
His basic foreign policy philosophy can be expressed, as he has said; that's the "duck" diplomacy--everything is very calm on top, but paddling like mad underneath. [Laughter]
This has been very successful for Japan. And I think you all know, as I said in my welcoming remarks, that Japan has now become one of the foremost nations of the world--an intimate friend of ours and destined for even more greatness in the future. I hope that in the United Nations, which will be strengthened in the years to come, that Japan might join us as permanent members of the Security Council. We would like to have you with us because you and your great country deserve this honor.
There are some differences between our Nation and that of Japan. Theirs is very ancient; ours is quite new. Theirs is a relatively homogeneous society where people can communicate almost without speaking, because they understand each other and they think alike. Ours is a nation of immigrants, highly heterogeneous, searching for a way to accommodate one another, quite often speaking even different languages. Our Nation has been blessed with abundant natural resources, plenty of energy; theirs is dependent on energy imports to an extraordinarily high degree.
But there are more things that are similar and of much more significance. Japan is a nation that believes in democracy, in the fight of individual people to hear the truth, to have open debate; a country where people can express themselves without constraint, with a free press; a country that since the Second World War has been completely dedicated to peace, has renounced the ability with their enormous economic strength to seek for military preeminence. They've renounced the use of atomic power for anything other than peaceful means. And these are the kinds of commitments in Japan which bind us to them.
It's a nation that, like our own, has seen the advantages of the free enterprise system. It's a nation that has a great past heritage and a great future in the Pacific region. And we consider ourselves the other side of the Pacific influence, all designed for the furtherance of peaceful lives for those who live around this great body of water.
The last point I'd like to make is this: We have tied ourselves together in the most close and intimate possible position. In more ways than I can describe in a brief presentation, we are truly partners in the finest sense of the word.
We have pledged to the Japanese leaders here, that whatever our future goals might be, our future posture in the Pacific-in fact, throughout the world--that we will let them know what our plans are; we will consult with them and never again bypass the tremendous, sound judgment of the Japanese before we make a decision that's of import to our own people.
So, exchange of ideas and common trust and a mutual desire for friendship, democracy, the free enterprise system, and a powerful and benevolent impact on the rest of the world--these things we have in common.
I would like to propose a toast now to the Prime Minister and the people of Japan: May their life ahead be as long as it has been in the past, and blessed with permanent peace.
To the Prime Minister.
THE PRIME MINISTER. Mr. President, distinguished guests:
This is my first visit as Prime Minister to Washington. In Japan, the cherry blossoms do not bloom until April. But here in Washington, you were gracious enough to have the cherry blossoms in full bloom for my visit here. And I would like to thank all of you here for your gracious welcome, too.
When I did meet you, this was the year before last, in Tokyo. Since then, you ran for the Presidency. Your photograph was on television and in the papers every day in Japan.
Last year, you sent your friend from Georgia, Mr. John Pope, and he had a letter from you to me, and in that letter you said that the next time we might meet in an official capacity. This, I think, reflected your confidence. You were very confident that you would win your election. You did truly win the mandate of the American people, and I am really happy from the bottom of my heart. And so, although this is the second time that I have seen you, I feel as if I have known you for a long time.
The United States for Japan is a most important ally. About 110 years ago, you opened our doors to modern civilization as such. And just excluding a very short, tragic period, we have enjoyed the closest of friendship between our two countries.
When I look at the world situation, I am quite concerned about the present state of the world economy, which I may describe as being rather chaotic. I'm concerned that this might lead to political chaos, and we must do our best in order to save the world economy. For this our two countries must consult closely and take the lead in the world towards solving this problem.
And at the same time, when I do look at this question, we must realize the fact that we are now in an age of limited energy resources. And in the background of this age of limited energy resources, I feel it is more difficult to secure the peace and prosperity of the world. We are faced with new challenges and more difficulties.
And so, the cooperation between our two countries is even more required in this present age. So, facing today's difficulties and the difficulties of tomorrow, I hope that we can meet it with a spirit of peanuts, if I may say that. [Laughter]
The peanut that I am describing there are two fruits inside--one is the United States and one is Japan, and the shell that surrounds this peanut is individual liberty and human rights.
I'd like to propose a toast to President Carter and also to the people of the United States of America.
Note: The President spoke at 8:40 p.m. in the State Dining Room at the White House. The Prime Minister spoke in Japanese, and his remarks were translated by an interpreter.
Jimmy Carter, Toasts of the President and Prime Minister Fukuda of Japan at a Working Dinner for the Prime Minister Online by Gerhard Peters and John T. Woolley, The American Presidency Project https://www.presidency.ucsb.edu/node/243242