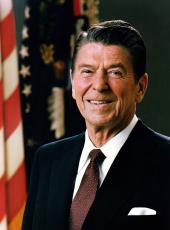 Toasts of the President and Prime Minister Edward Philip George Seaga of Jamaica
The President. Mr. Prime Minister, Mrs. Seaga, Mr. Shearer,1 distinguished guests: It's a pleasure for Nancy and me to welcome all of you here today. It's an honor of great significance to be host to the leader of a nation that is not only a close friend and a good neighbor of the United States but, with recent struggles to remain free of foreign interference, is an inspiration to the world.
Mr. Prime Minister, you are the first head of state to be our guest since I have taken office, and this tells me a great deal, because it speaks to the bond between our two countries. We share the commitment of free people around the world. We also share a personal bond, because we have come to office at nearly the same moment in history. We are both faced with problems, and we both perceive great opportunities for our countries.
Discussing some of our natural concerns during the meeting this morning made me even more mindful of the matters that bring us together. The times in which we find ourselves, the world in which our countries and the people exist require great courage. The trust given to every free individual, and particularly to you and me, is to protect and ensure for our children and our children's children liberty.
It's a special pleasure, Mr. Prime Minister, to welcome a leader of such unique and personal courage. That courage and the bold message that your people sent the world in electing you to lead them is testimony to the power of one man's dedication of the affirmation of free people, a democracy, and free enterprise. I pledge to you the good will, the cooperation, and the moral and material assistance of the United States as you are to meet the many challenges that you will face in the months ahead. Some of these challenges will come from forces hostile to our shared transitions and mutual interests. I'm confident that you will fulfill the trust that is placed in you by your country and embody the hope of all free people, not only in the Caribbean but in this hemisphere and around the world.
Those here today who believe in free enterprise have a great opportunity to put that belief into action. The Prime Minister shares that belief, and his country's greatest need is the development of business and industry to provide a sound private-sector economic base in his country.
Now, ladies and gentleman, I would ask that you join me in a toast to the Prime Minister of Jamaica and Mrs. Seaga, and to the friendship and alliance that we've renewed here today, and to the common endeavor to preserve the peace, independence, and the freedom of his country.
The Prime Minister. President Reagan, Mrs. Reagan, Vice President Bush and Mrs. Bush, Your Excellencies, Your Worship, distinguished guests, ladies and gentlemen:
It has been a great honor for my wife and myself and my delegation to have been the first invitees of your new administration to Washington on an official visit. This honor has in fact caused some degree of speculation as to why we have been selected as the first of many. And in pondering the many possibilities as to the reason for this honor on my country and on ourselves, I'm reminded of the story of a centipede that was suffering from arthritis. [Laughter]
And the centipede decided to consult with a doctor who was a stork. The stork made the obvious observation that he didn't have as much a problem in arthritis as the centipede did because he had only two legs, and therefore the solution to the problem was to reduce the centipede to two legs. The centipede considered this and realizing that there would be a 98-percent improvement immediately—[ laughter]—decided that it would be worthwhile. But out of the caution of all those creatures that move slowly, he was prompted to ask, "Tell me, how are you going to make this transformation?" to which the stork replies, "I don't know. That's policy." [Laughter]
Well, we don't know whether we are here for reasons of policy, but we would like to think that there are policies being evolved surrounding our presence. We know that we too suffer from the problems of the centipede. As a nation, economically and politically, we are arthritic. We have inherited the malady, and it is a malady that is going to take time to cure. We know that you have policies that can assist us in curing them, and if there is one policy that ought to predominate in our thinking at this stage, it is the common outlook that we have in regards to how to deal with the difficult situations.
I say it here and now that although we are your guests, we are not guests who are here to take advantage of a situation by making enormous requests for assistance and for aid. That is not the purpose of our visit. Indeed, of the many issues that we are raising for discussion between the two administrations, aid plays a very minor role. Our concept of policy in this matter is one which directs to the possibility of developing greater flows in trade and in finance, the flows that will move capital and technology across the border to the economic development and betterment and mutual betterment of our people. This being our policy outlook, therefore, we hope that our arthritic problem may have the necessary injections, which won't be by surgical means, but by medicinal doses which will assist in helping us to overcome the problems we have inherited.
I would like to think also that our presence here is not only connected with the question of the transfusions between financial and trading movements of capital and goods. I would like to think that the signal that has been sent is a signal of the resumption of the great friendship that used to exist between the peoples of Jamaica and of the United States.
That great friendship had blossomed over many decades, cemented by bonds of migration, by bonds of investment, and by bonds of a commonality of interest among our people which have created a degree of inseparableness over which years we came to look at things together in like mind and in like manner. Over the past few years that bond was tested, tested severely, and indeed ruptured in many instances when this country and its people were being made the maligned butt and reason for the failures of the policies of the regime which ruled in Jamaica at that time. We hope that our being selected as your first visitors is a sign and a signal that we can resume the friendship in the strength of bonds that we used to know between the American and Jamaican people.
And as a token of that resumption, I would like to make reference to a matter of human compassion, something that has nothing to do whatsoever with our reception here, for which we have had the greatest expressions of warmth on both sides. We are cognizant of the fact that the American people have suffered through 444 days of captivity of 52 of their citizens as hostages in Iran. And at times you wondered who your friends were. Well, some of your friends were sitting by and waiting for the day when they would be able to assist and to share in any manner in which they could find possible towards the solution and towards all the recovery programs that must proceed after the solution.
And on behalf of my government I have the greatest pleasure in offering towards that recuperation and recovery some of our sunshine, some of our beaches, some of our climate, by offering 1 week's private vacation to each of the hostages and their families at any time that they may wish to take this up in the course of this year.
Mr. President, we have had your great friendship and your hospitality. We have had the warmth of your Cabinet ministers and a great deal of cordiality from all with whom we have met. It has been a delightful occasion and one which we hope will set the base for our future relations. We congratulate you on your magnificent victory, and we look forward to your party taking up the enormous task that it has on its shoulders of world leadership and domestic leadership and responding to the cause of world needs, responding to the cause of domestic needs in a balanced manner which will enhance your victory as a considerable achievement of the American people.
We thank you for the hospitality that you have offered, and we wish you the greatest success in your regime.
May I ask you all to rise and toast President and Mrs. Reagan, the government and the people of the United States.
1 Hugh Lawson Shearer, Deputy Prime Minister of Jamaica and Minister of Foreign Affairs and Foreign Trade.
Note: The President spoke at 12:25 p.m. in the State Dining Room at the White House.
Ronald Reagan, Toasts of the President and Prime Minister Edward Philip George Seaga of Jamaica Online by Gerhard Peters and John T. Woolley, The American Presidency Project https://www.presidency.ucsb.edu/node/246838