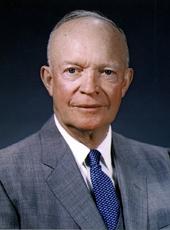 Toasts of the President and Prime Minister Diefenbaker of Canada
Mr. Prime Minister, Mrs. Diefenbaker and friends of Canada and the United States:
Every member of this company feels a very definite sense of honor and distinction in the privilege of having with us tonight the Prime Minister of the great republic of Canada.
It would be a fitting occasion, since this is at least semiformal, to address you, sir, in sonorous phrases, telling about the history of our relations between our countries and expressing the admiration and respect we feel for you as the leader of that country.
Actually, we feel that here we are in the family. You are another of our best friends. You are the head not merely of a great republic that borders us on the north, you are the leader of a people that with us shares common idea!s, common international purposes, and common culture and language.
So the sense of honor and distinction we have is more than that of an official character. It is extremely personal and cordial.
This afternoon the Prime Minister and I had a long talk, as we have in the past. I suppose it is two and a half years now and more that we have been discussing our common problems. And whether they would be of wheat or oil or any other difficult matter, they are dealt with as friends should deal with such problems: as a family deals with its own problems; and there emerges from these discussions the kind of compromise, the kind of composition of difficulties with which we can both live, and which can serve as guides for the future.
And the one thing that I want to take the privilege of repeating to you, that the Prime Minister said to me this afternoon, and in which it gives me the greatest pride and satisfaction, is this: "In the last two and a half years, Mr. President," he said, "the relations of Canada and the United States have reached the height of friendliness, cordiality, and true cooperation that has never before been attained so far as I know." "And," he said further, "to my mind those relations are a model for the world, if the world is truly seeking, through cooperation, to attain a just and permanent peace."
So you can understand how happy all of us are here, to say through me, that we are proud to have with us this great representative of Canada-and to ask all of you to join with me in a Toast to Her Majesty Queen Elizabeth the Second.
Note: The President proposed the toast at 9:57 p.m. at a state dinner at the White House. Prime Minister Diefenbaker responded as follows:
Mr. President:
May I say how deeply grateful I am to you for the opportunity that you have given my wife and me today, to enjoy a day that will always be memorable to us.
You summarized a moment ago the views that I expressed this afternoon, and those views I reiterate now: during the last several years that I have held the position of Prime Minister, our relations and the relations between our two countries, outstanding as they have been in the past, have not been excelled in any other period in our history.
And we owe quite a bit to you in the United States. As a matter of fact, if it hadn't been for Benjamin Franklin--and that is going back a little before our time--if it hadn't been for Benjamin Franklin, we wouldn't have had a Canada, because in 1761 the government of Great Britain gave serious consideration to trading us for the Island of Guadalupe.
And then again, as you Toasted Her Majesty the Queen, we have had differences in the past between the British people and the people of the United States, but as to the Senators here present, you recall on another occasion the only reason that the British have a Commonwealth at all is because there were thirteen Colonies in North America who took a strong and a firm stand in 1775.
And it was in that year--I like to remind people of the old country of this-it was in that year following Bunker Hill and Concord and Lexington that Benjamin Franklin went over to England and took with him a petition signed by several, some sixteen in number, who subsequently signed the Declaration of Independence. This was the Olive Branch Petition which set forth in regard to the experiences of recent months--which had brought about bloodshed as between us and the mother country--that we will become your loyal and devoted servants for this and future generations, provided that you give to us the right of self-government within our own confines.
So in point of fact, if the Olive Branch Petition in 1775, prepared on July fifth of that year, the first signature of which was John Hancock's, had been accepted by the British government of that day, then the Toast that you drank tonight would have been the Toast that we in Canada would drink to you.
Sir, we recall too that we had quite interesting relationships with you during the 1860s and many of our people from Canada enlisted in the Northern army, and some loaned their money to the South; and when it was all over, they once more joined together and gave that reverence to the Union that has been characteristic of the people of this land and out of which the name of Lincoln earned eternal reverence everywhere where liberty is respected and regarded.
And we have had our relations over the years. We were together in two World Wars. We were together, particularly in the Second World War.
That unity which today was epitomized in the manner of the reception that began when you, Mr. Secretary [Herter], received my wife and me at the Airport, there is something about this relationship that I can't describe.
I come into your country. You come into mine. We don't always agree. We sometimes have our differences. But I will always look back on this day as one that represents, to me, the embodiment of those great and eternal principles of liberty. We get together. We discuss. We are not at all afraid. I did not look to see whether the coat of arms of the United States had any sound recording instruments in it. We speak freely. We understand each other.
I see the Chief Justice of the United States here this evening. I think of how your shrines of freedom are our shrines-our shrines are your shrines. And that is the spirit in which we have met again today, a spirit of deep attachment to our respective countries, and only with that recognition in unity can we be assured among the free countries of the world of the maintenance of those things in which we believe.
And I assure everyone here that I come here not to discuss the great election that is about to take place, because after all one of the greatest elements in statesmanship is to view what takes place in another country with detachment, although even with interest. But I say to you, sir, that now that you approach the end of your service to the United States, you have earned from all of us in the free world not only affection, not only the realization that a few short years ago you led the legions of freedom, but in the last 8 years--and I was present when you received your nomination in the City of Chicago--in the intervening 7½ years you have become the embodiment of those principles to which each of us owes our common dedication to the United States of America; great in the opportunities that Providence has given it, magnificent in the manner in which it has discharged its responsibilities that today cover all the seven seas and all the continents.
To you, sir, as the leader of this Nation--this may be my last opportunity to do so, and not only on behalf of my own country but on behalf of the nations of the Commonwealth, which recognize the Queen either as the head of the Commonwealth or in the capacity of Queen of Canada--all of us owe to you, in these days of peace, the same debt of gratitude that we pay you for what you did in the days of war. I am not going to say any more than that.
Thank you, Mr. President, for what represents to me one of those occasions when idle sentiment and words do not convey the meaning I want to express.
To the people of the United States, may I say this: we live side by side, and the fact that we do, and have, in peace, for 150 years, is the greatest answer that can be given to the forces of communism everywhere in the world when they say that this Nation is a warlike and aggressive nation.
We give the people of the world the answer to that statement which has received at the hands of the Communists widespread circulation.
Sir, it has been a privilege to be here. My wife and I very much appreciate everything that has been done. Tomorrow, when I return to my own country, I shall tell the people of that country what they already know: that you and I recognize, and our countries recognize, that only in the maintenance of a unity of purpose and objective, and a common dedication, will the things for which we stand be finally successful.
I ask you, ladies and gentlemen, to rise and drink a Toast to the President of the United States.
Dwight D. Eisenhower, Toasts of the President and Prime Minister Diefenbaker of Canada Online by Gerhard Peters and John T. Woolley, The American Presidency Project https://www.presidency.ucsb.edu/node/234572