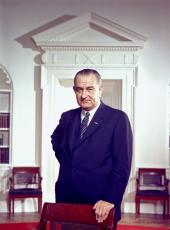 Toasts of the President and President Yameogo of Upper Volta
Mr. President, ladies and gentlemen:
I am not unmindful of how you must feel and I was thinking, as the music was leaving, about a story that occurred down in my own hills of Texas. One of our eider statesmen found difficulty in his hearing and he went to the doctor. The doctor examined him carefully and said, "How much are you drinking these days?" He said, "Well, I drink about a pint a day." The doctor said, "If you want to improve your hearing you are going to have to cut out your drinking."
About 90 days later the fellow went back to the doctor and the doctor examined him again and his hearing hadn't improved a bit. And he said, "Now have you cut out your drinking?" And he said, "No."
"Well," said the doctor, "I can't do anything for you if you won't follow my advice and take my prescription. Didn't I tell you when you were here that you should cut out your drinking if you wanted to improve your hearing?" He said, "Yes." The doctor said, "Why didn't you do it?" He said, "Doctor, when I got home I considered it and I just decided that I like what I drink so much better than what I hear !"
So I know that, as that music was playing, you enjoyed those attractive young men and what they were playing so much more than you are going to enjoy what I have to say that I hated to see them leave.
This has been a delightful day for us here at the White House and we are so pleased that our friends in America could come here from all parts of the country to join us tonight in welcoming our distinguished guests.
Five years ago the people of Upper Volta won their independence. At that time the constructive and courageous statesman who is our guest tonight made a most memorable observation. He was then speaking of the young African nations, and the President said: "... If history makes them belated Wise Men, the gifts they bring to the cradle of the New World are no less costly, for they are made of age-old wisdom and the will to construct."
Then, Mr. President, you went on to pledge that the spirit of modern Africa would be devoted to what you described as "the only worthwhile cause--that of man himself."
Your words recall for all Americans the words of one of our own patriots who said when our Nation was quite young: "The cause of America is the cause of all mankind."
We in America covet nothing on any continent, but so long as the independence and the freedom of any peoples may be in jeopardy we of the United States shall never cease our sleepless vigil.
But ours is much more than just a material commitment, for we keep a moral commitment, too. So long as men anywhere go hungry, so long as men anywhere live in poverty, so long as their bodies are afflicted with disease and their children are denied the light of education, this great and restless Nation that we call America will be searching without ceasing for ways to overcome these curses and tribulations of mankind.
We are enemies of no people. But we are enemies always of human privation and prejudice--and we shall not rest until justice prevails throughout the world against these adversaries.
Some in Africa may feel, Mr. President, that America is far, far away--both in distance and in development. I hope, sir, when you return, that you will take with you this message.
More than 100 years ago--back in 1859--the first library on West Africa west of our Mississippi River was established in the capital city of my native State, the city of Austin, Tex. That collection is still preserved and used at the University of Texas today. But there is much more to the story than just that.
Over the past 3 years that university-representing only one of our 50 United States--conducted a major study of the grasses of West Africa, including your own Upper Volta. The most popular general book on the list of the University of Texas Press is about the folklore of West Africa, including Upper Volta. Students on that campus, where my beloved wife once roamed, study the dialects of West Africa, including Upper Volta. And, because of the very growing demand, I am told that an Institute of African Studies is being inaugurated devoted to Africa's rich history and culture, including Upper Volta.
I mention only my home State, Mr. President, but I could mention many others. All across this great land of America, among both young and old, there is a strong and a swelling interest in your continent and in your country.
You have an old proverb, Mr. President, that reminds us, "If the head burns, let not the shoulders rejoice." Certainly it is in unity and solidarity that free men find the full meaning of independence--and it is in unity and solidarity that the free peoples of America offer their friendship to the free peoples of Africa.
Mr. President, I want you and your lady to know, and all of your party particularly to know how much we have enjoyed having each of you with us and I believe that your visit will be helpful to both countries. I know that the suggestions you made this afternoon were constructive and I think that in time all the people of my country and your country will recognize that in liberty and freedom that we both seek, we shall bring education and health and prosperity to our respective lands by joining in partnership and comradeship and working shoulder to shoulder.
So we look to the other 114 or 115 nations in the world, not because we seek bases, not because we seek subjects, but because of our dedication to the cause and the welfare of the human being.
Seated in this room tonight, my mind went back to 30 years ago this year when as a young man I was crusading for our young people--boys and girls who were hungry and couldn't eat, boys and girls who needed education but had no teachers, boys and girls who needed clothes but had no fiber--and in that great effort many people were assembled under the leadership of President Roosevelt.
That has been 30 years ago and little did I think then that we would be here together tonight. But the Assistant Secretary of State in charge of the African Continent, Mr. Williams, is one of them. Stand up, Mr. Williams. And the Senator from Connecticut, Mr. Dodd, was another one. Stand up, Mr. Dodd. And the Congressman from Texas, Mr. Pickle. Stand up, Mr. Pickle. And there is another one here--I don't know where he is--Mr. O'Hara. Stand up, Mr. O'Hara. And I guess, Mr. President, I was the fifth.
So as we started out 30 years ago to fight the ancient enemies of mankind here in our own home country, tonight we unite with you to fight the ancient enemies of mankind everywhere in the world--ignorance, poverty, and disease.
So, ladies and gentlemen, may I ask that you raise your glass with me to the success of the people of Upper Volta and the forceful spokesman of their aspirations, the great inspiring President of Upper Volta. Mr. President.
Note: The President proposed the toast at a dinner in the State Dining Room at the White House. President Yameogo responded as follows:
"Mr. President, Mrs. Johnson, members of the Cabinet, Excellencies, ladies and gentlemen:
"I believe that I shall fail if I attempt to translate into words the feelings of gratitude, friendship, and admiration that we feel for the American people and its dynamic President for the welcome that we have received ever since we set foot on American soil. I confess that what we feel deep inside is so eloquent that it cannot be put into words.
"We knew before we came that the American people had a sincere and impartial liking for all the African people and in particular for the people of my country because your Ambassador to our country, Mr. Estes, has not only made his country known in our country but he has also developed the very genuine sentiments of your people and your President for the people of our country. So when we received your invitation we were only too happy to accept it, knowing that by coming to America we were coming to a country where man has received his fullest realization.
"And so we were not too surprised by the great enthusiasm that met our arrival. We believe that today, as tomorrow, there will be even more enthusiasm to develop our friendship because we feel that the objectives that your country and your President are pursuing are the same objectives that we are pursuing for the dignity of man, liberty, and the welfare of mankind.
"We know that the life of President Johnson until he acceded to the highest of all offices in his country is a life of continuous example. During his 30 years in Congress he had been a fighter throughout and we know that he is ready to fight now. We can see him and we can understand that his deep intelligence is the necessary complement to his temperament of a fighter.
"In Williamsburg we recalled the ideas from which this country had its beginning and we evoked together the statement of a Member of Congress at the time, Patrick Henry, who said, 'Give me liberty or give me death.' Free America chose to be free-as good chance would have it, it did not die.
"We want to understand the example of the greatest of all Western democracies, the United States. We want for this liberty to be respected because man was created in the image of God, not merely to worship Him on earth but to become mingled with Him. And if there are some countries in the world who feel that existence of man does not go beyond this, we feel that between us and the United States there is a great community in the path we have chosen and the objectives we share. And so our country, small as it may be, as will many other African countries when the time will come, will bring our own contributions and stand side by side by you in the defense of liberty and dignity.
"We know that America did not colonize African countries and we are deeply touched by the fact. In spite of everything on the morrow of our independence, it was America who first came to our help in such dramatic manner, to the help of so many African countries.
"Today a number of African countries are going through growing pains but by and large Africa is healthy. Leaders may err in the policies they seek, but it is clearly understood that the soul of Africa is pure and the efforts that you put into play in the United States to help the less privileged countries will succeed. Because in the further analysis, man, whatever his color or religion may be, remains man and your brave efforts to display, with the great talents that we know, this equality of man unto man gives to your work a perennial sense. God we know is with you because God smiles on men of good will and we pray God that He may always keep you healthy.
"Earlier this evening Mrs. Johnson was reading to me this inscription which is behind you on the mantelpiece, which I cannot read again, but which was a prayer by one of your predecessors to the effect that only wise and honest men inhabit this Mansion. This prayer has been fulfilled, Mr. President, from President Kennedy on to yourself. We feel in this distinguished house God resides with its occupants.
"Mr. President, Mrs. Johnson, today we held official and private talks and I believe the country's answer will be food for the future.
"I should simply like to say on behalf of my wife and the entire delegation surrounding me, we are deeply thankful to you for the fraternal and human welcome you have extended to us, to a small country which is lost in size compared to yours and in terms of population, but our country is as great as the heart can be when it loves. To you, Mr. President, to all your associates, thank you for this welcome which we shall tell our people about, so they shall know in the United States there are men responsible who love our country, who follow our path toward independence.
"We feel that the blessings of God have been bestowed upon our country also, because since independence there have been no disturbances in our country. We have remained united--we know that without such unity one cannot build a nation--and will receive the blessings of God. Even more, the Communists who try to divide everywhere will be even more repelled in the future because the Holy Father has just given a Cardinal to our country and where their red meets our red we know the elimination will be automatic. And this will even further bolster our faith and the great prescription of the Church, love among all men, a prescription which you, Mr. President, are the embodiment of here.
"So may God bless you people and give you all health--and long live the United States."
President Johnson's mention of music, early in his remarks, referred to the tom-tom accompaniment in a program of entertainment provided by a group of American Indians in a performance of tribal dances.
During his remarks the President referred to G. Mennen Williams, Assistant Secretary of State for African Affairs, Senator Thomas J. Dodd of Connecticut, and Representatives J. J. Pickle of Texas and Barratt O'Hara of Michigan.
Lyndon B. Johnson, Toasts of the President and President Yameogo of Upper Volta Online by Gerhard Peters and John T. Woolley, The American Presidency Project https://www.presidency.ucsb.edu/node/242052