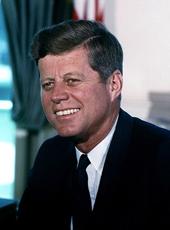 Toasts of the President and President Tito
Ladies and gentlemen:
Mr. President, it is a source of great satisfaction to all of us to welcome you to the United States and to welcome your wife, the Foreign Minister, members of your government.
You have had an extraordinary career in war and in peace, and while there are differences in viewpoint which separate our governments, nevertheless, this administration and my two predecessors, President Eisenhower and President Truman, all believed strongly in the independence of your country and all appreciated the extraordinary efforts you are making to maintain that independence, situated as you are in an area of great importance.
Because of our respect for this accomplishment, our appreciation for the very valiant struggle of your own people for a period of 20 years, and because we like to have people come to the United States--who perhaps have read about us--and see our country, see our people, talk to them, get some idea of what the great Republic stands for--for all these reasons, you are a most welcome guest, and I am confident that when you leave the United States you will have a greater understanding of the very clear desire of the people of the United States to live in peace.
Nature has been very good to us--to live in peace here and to live in a world of diversity, a world of free, sovereign, and independent countries, all of whom are able to go about developing a more fruitful life for their own people, that is the grand objective of the United States, the object of our foreign policy and, internally, the objective of our domestic policy.
So, Mr. President, you are welcome here. You will be welcome all over the country, and I hope that your visit here increases the ties of interest and friendship between our two peoples.
I hope all of you will join in drinking with me to the well-being of the people of Yugoslavia and to the very good health of the President.
Note: The President spoke at a luncheon in the State Dining Room at the White House. In his response President Tito began by expressing, in English, his regret at the lack of sufficient fluency for a toast in that language. Continuing through an interpreter, he spoke of the many Americans of Yugoslav descent, and of comradeship in arms in two world wars, as bonds joining the two peoples. He voiced the graditude or Yugostavia to the Goveminent and people of the United States for their aid to his country after World War II. The purpose of his visit, he added, was through personal acquaintance with the American people to broaden mutual understanding and extend fruitful cooperation between Yugoslavia and the United States, together with other nations, in the interests of world peace.
President Tito stated his deep conviction that his visit and exchange of views with President Kennedy and U.S. officials would help "pave the way for a constant and stable relationship between our two countries."
"We are today somehow on the crossroads," he continued, "and we see the horizon and can visualize a better future, and it is my deep desire that the American people and the American Government, together with . . . other peace-loving governments and countries, should play a decisive role so that with these common efforts we can preserve the peace and secure . . . peaceful international development and cooperation."
President Tito concluded by proposing a toast to the President and to friendship and cooperation between the people of the United States and Yugoslavia.
In the first paragraph President Kennedy referred to Jovanka Broz Tito, wife of the visiting President, and to Koca Popovic, Yugoslav State Secretary for Foreign Affairs.
John F. Kennedy, Toasts of the President and President Tito Online by Gerhard Peters and John T. Woolley, The American Presidency Project https://www.presidency.ucsb.edu/node/236428