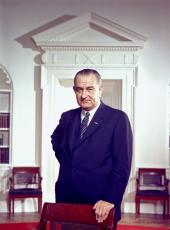 Toasts of the President and President Segni at the Italian Embassy
Mr. President, Mrs. Segni:
I want to express my sincere appreciation for your kind words and for your very warm hospitality.
This has been a most heartwarming visit and a great personal pleasure for Mrs. Johnson and myself.
The conversations that the Secretary of State and I have had with your Foreign Minister Saragat have been quite useful. They have also demonstrated in a very unmistakable way our commonsense of values and purposes.
In a world where we depend more and more on each other, our two peoples have become most closely tied together. Together we try to secure freedom and peace to the benefit of all who live on this planet.
I think we can both say, Mr. President, with great pride and satisfaction that the purpose of our common effort in the framework of the Atlantic Alliance is a world without war, a world with peace, not the tyranny of one people over another but the freedom for all people; not wealth for the few and hardship for the many but a much better way of life for all humanity.
To these great tasks, Mr. President, our peoples bring not only courage, industry, and initiative, but we also bring a love of freedom and independence and a tremendous reservoir of good will.
Mr. President, I am confident that our nations have the resources and the energies to move these goals, to solve these problems, to face these tasks that confront us both.
As we move forward, your wise experience, your many years as a public servant, your wisdom will be most important to us all.
Mr. President, these have been two delightful days. We have listened and we have learned. We have been comforted and we have been strengthened by your presence and that of your lady. Now, as time draws near when you will leave us, we want to say thank you for coming. We want to tell you that we will long remember your stay, and I eagerly look forward to the day when the American Congress will receive an American President as enthusiastically as it received an Italian President.
If my burden becomes heavier after your departure, I shall forget that you talked to the Congress, but if my load is lighter, I will remember your persuasiveness and the reservoir of good will that you left with it.
So, I should like to propose a toast, Mr. President, to the continuing friendship, to the understanding, to the cooperation of the peoples and the governments of the Republic of Italy and the United States of America.
Note: The President proposed the toast at a luncheon given in his honor by President Segni at the Italian Embassy. President Segni, speaking before the President, proposed the following toast:
Mr. President, I am not giving you an address of goodby now. I would like to say, as we say in Italy, arrivederci at the end of these two days of hard work and of very warm reception that you have reserved for us.
True, there was snow outside, but we could feel the warmth of the heart of those who had come to receive us and again in Congress today I found an enthusiasm which I seldom found in the Italian Chamber of Deputies when I had the opportunity to address it.
So, in spite of the snow and the ice, the welcome was very warm, and this corresponds to a feeling that binds our two nations--the United States and Italy.
We share many things, Mr. President. We have a common civilization. We have a common Christian religion. We have given many of our sons to the United States and the United States has paid us back with a great contribution. I cannot forget, and Italians cannot forget, the major contributions that Americans made in the 1915-1918 war and at the end of the Second World War, and after the war when the generous American people gave freely and generously and were close to the Italian people who were trying to get back to their position.
Yesterday, I had already recalled--and I do not wish to come back to it now--that the history of our two countries in the past 18 years has been closely interwoven, even more interwoven than before, and I take note with deep satisfaction and I am sure that this is a very good omen for the future. I am sure that the link and friendship which we have will blossom even more in the future.
I must confess, Mr. President, I was rather nervous this morning when I had to address Congress. I was there for the first time. I was speaking in a language that not everybody knew, and I was in a new environment. I have spoken very often-- possibly too much and not too well--at the Italian Chamber of Deputies and never, I can assure you, never did I find such enthusiasm; never did I find such a reception and such response. This is the proof or the sign of the true friendship that exists between our two countries and our two peoples.
This is not something I am saying as an official toast, Mr. President; it comes straight from my heart. Those of you who have come to Italy--and you have visited our country, too, and I hope you will be back very soon--know that Italy is a country where people get enthusiastic rather easily. Sometimes this enthusiasm may be wrong, but I know that in our case, in the case of friendship between Italy and the United States, we have been very right indeed, and it is sufficient to remind you of the reception that President Kennedy received in Naples.
So, sometimes even if it is said that the intelligence of the mind does not go together with the intelligence of the heart, well, in this case, it has been proven wrong. The heart was more right than the mind.
So this visit, Mr. President, has been very heartwarming for the friendship of our two countries and, not only for that, for this idea that we share of Europe with the United States--this idea of the Atlantic Community. I do not want to utter trite words now. It is a feeling that I am expressing on behalf of all Italians, also of the Italians who are resident here in the United States. They know that I am expressing a sincere feeling, and they know that we are more united than ever.
That is all I wanted to tell you, Mr. President. We have worked hard in these 2 days. We have exchanged views, we have agreed, we have come to agreement, and this has been a habit with us.
I have been in politics for the last 20 years. Before that, for obvious reasons, I was out of politics. But in these 20 years, Mr. President, I have seen an ever greater strengthening of the relationship between our two countries. Therefore, Mr. President, I say that these 2 days of work have been personal pleasure and very moving for me, and they have been also very useful.
That is why I would like to say arrivederci. We certainly will have the opportunity of meeting again Very Soon.
Now I would like to propose a toast to your health, Mr. President; to the health of Mrs. Johnson; to the future of the great American people; and to the friendship of our two countries.
Lyndon B. Johnson, Toasts of the President and President Segni at the Italian Embassy Online by Gerhard Peters and John T. Woolley, The American Presidency Project https://www.presidency.ucsb.edu/node/238740